It's amazing to see the kind of surprises our underground scene has in store… As like that time when
Aaron Edge

(Iamthethorn, Roareth) was diagnosed with multiple sclerosis, and decided to put all the energy he had left into an ultimate music project, inviting

Mike Scheidt

(YOB) and

Tad Doyle

(Tad, Brothers of the Sonic Cloth) to join him. The result of this reunion of three iconic figures of the independent US metal scene goes way further anything we could have expected, with

twenty-five minutes of doom catharsis

in its most gripping and resounding form…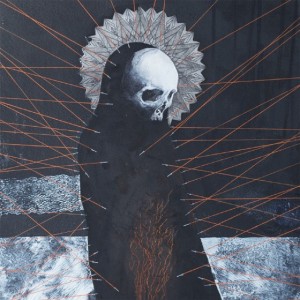 ARTIST : Lumbar
ALBUM : "The First and Last Days of Unwelcome"
RELEASE DATE : November 11th, 2013
LABEL : Southern Lord Records (reissued via Argonauta and Anima Recordings on 11/01/18)
GENRE : Doom metal
NOTE : ✩✩✩✩
MORE : Facebook – Website
It is hard to describe all the feelings induced by the listening of "The First and Last Days of Unwelcome"… If I had to keep short, I would say that listening to LUMBAR feels like getting brutally trampled by trolls, then being thrown in a stinky car trunk, to end chucked out into the ocean with a concrete block tied to your foot. I may not have even a slightest idea of how Aaron felt when he first heard about his disease, it might have raised the hugest storm in his mind; yet, when I listened to this record for the first time, I felt like both the ground and skies opened around me, and that I would (finally) be able to unleash all the angst I had inside without hurting anyone. I won't write make a track-by-track description, for each one of them tells a unique story that will certainly speak to each listener in a different way.
LUMBAR deliver twenty-five minutes of doom at its finest, an outburst of sonic power served with dark and thick-as-hell riffs, and Scheidt's and Doyle's devastated incantations. No guitar solos, no "groove" (despite the titanic bass lines), but a monolithic riff wall — which could have been even more monolithic if it wasn't scattered with background noises that greatly contribute to the record's Purgatory atmosphere. Each detail was so finely thought out, each sonic wave counts. LUMBAR is the brainchild of a doomed craftsman.
The seven tracks on this one-shot project may be short (most of them don't exceed three minutes), but it is more than enough to blow your mind straight away. Oppressive as can be, but never off-putting. As if something in there was echoing our inner neurotic and outraged self. As if we could find relief through Mike Scheidt's screams. "The First and Last Days…" represents seven days, a seven track-long outlet, like the diary of a slow and introspective march into Hell. For those who didn't think doom metal could harbor any sort of beauty, then this album will prove them just the opposite. MONUMENTAL.
Last modified: 7 January 2019