If you're addicted to stoner blogs and webzines, then you probably feel like stoner bands are systematically compared to Black Sabbath or Led Zeppelin. Which is pretty normal, since the latter (and a few other bands) have bred an army of heavy musicians, for the sake of rock and metal. But these are remote comparisons, because music listeners always need references, they need to cling to things they know.

KADAVAR

 deserves way more than remote comparisons, because this trio from Berlin definitely masters the Essence of Sound. Their first record sounds like a relic of the past, it's a singularly creative and qualitative product.

"Kadavar" is so great that it is hard to put words on it

, but I'll still try to talk about it, because THE WORLD NEEDS TO KNOW.

The first time I heard about KADAVAR, I was like : "ah, another vague black metal band". Then I saw their logo with all its triangles and I added : "hipsters black metalheads, what's more !". Then I saw their friendly faces and Haight–Ashbury attitudes, and I know I got it all wrong. You can imagine that my first contact with KADAVAR was explosive. You smell that grass smoke filling the room ? You feel the touch of used leather and velvet ? You see those three fellas who look like Hawkwind's former roomies ? Well this is quite the feeling you'll have with their music, which is stimulating, trippy, old school and rock'n'roll to the bone.

Far from Berlin's high-tech recording studios, the three men preferred the feeling and grain of analog recording. Good boys. The result is as noble and fine as their approach itself : "Kadavar" crackles with delight, the sound is round, warm and sumptuously vintage. A bunch of songs like "Black Sun" or "Forgotten Past" could have made it to the tracklist of one of Black Sabbath first records, and THAT makes them even more exciting. At the risk of sounding repetitive : KADAVAR's music has nothing to do with some pale copycat product, because it OOZES 70's heaviness… While Ozzy wastes his time in the torment of his dusty subconscious, Christoph "Wolf" Lindemann goes straight to the point and delivers some catchy singing, while making his guitar roar with killer hippie riffs. As for the bassist "Mammut" and the drummer "Tiger", both dudes charge as one man with such a frenzy and groove that it's astounding. Proof that there is no need to be a lot of musicians to make it heavy as hell.

After a full blast of swinging heaviness (which clearly made everyone shake their bell-bottoms), let's enjoy an "acid" epilogue with "Purple Sage" (written as a tribute to Hawkwind) and "Living In Your Head". Even plunged into a fifteen minutes feverish space trip, you wouldn't help banging your hair and stamping your feet like crazy ! No doubt about it : this unrelenting psychedelia will thrill even the less receptive listeners.

With these seven tracks, KADAVAR strikes even harder than all the Swedish 70's-inspired bands put together. "Kadavar" is one  6-hands made record that brilliantly honors psyche heavy rock, without wasting too much time in some smoky maze.  Kickass riffing, furious rhythms, opened doors to the Occult : forget that vintage rock is trendy, because these three will clearly take you higher than that… with what is undoubtedly one of the best records of the year.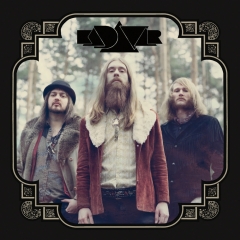 ARTIST : KADAVAR (Facebook)
ALBUM : "Kadavar"
RELEASE DATE : July 2012
LABEL : Tee Pee Records (USA) / This Charming Man Records (Europe)
GENRE : psychedelic rock / doom rock
NOTATION : ✩✩✩✩✩
Last modified: 11 February 2015