I've been talking so much about the 
STONED GATHERINGS

, it was about time I attended my first gig there ! First weekend of spring, a perfect moment to "breathe" the finest stoner airs with Lille's 

GLOWSUN

, Netherland's

SUNGRAZER

, plus a little surprise from Belgium called 

HYPNOS 69

. A warm and wet night that made us forgot we're only in March, 'cause it felt more like an indoor Duna Jam than an average rock gig in Paris…
I've heard a lot about GLOWSUN… Pretty normal actually : this band is amongst the most active stoner bands in France at the moment. They're part of 2012 Desertfest's lineup, played at Stoned From The Underground 2011 and opened for mythic artists like Karma To Burn or Brant Bjork… Things are going fine for them. After lighting an encense stick, the band starts to set a cool and mystic atmosphere, which drives my thoughts floating around an imaginary firecamp, "Easy Rider" style. The guitar's smoky curls are opening a new space-time, the lack of singing allows us to get completely cocooned by the music. The whole stuff sounds heavy as hell, and the drums are just… TERRIFIC. The crowd obviously knows the band and encourage them to go on. 45 minutes later, I can say one thing : an encense stick + a heavy psych gig + 100 excited people (for now) = DAMN IT'S GETTING HOT AT LES COMBUSTIBLES !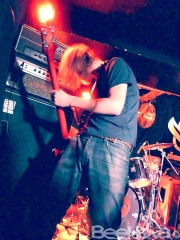 My throat feels so dry, I need to get something to drink quickly, very quickly : the venue has gotten busy in a flash, a lot of people are now crowding around the front row. SUNGRAZER's three gentlemen are now setting up on stage, but while they're starting to play a few notes, something happens :  "there's a problem, we don't have any beer" (original words in French). Believe me or not, the guys begin to jam on "trois bières, s'il vous plaît" ("three beers, please")… They're all smily and charming, we're in a perfect mood to start the gig. And what a start ! SUNGRAZER enter the cosmos and possess us within a few seconds. Let me describe you their music in a few words : generous handfuls of burning hot sand + delicate psychedelic whirlwinds + two voices framing 70's-rock harmonies = pure velvet for the ears. Just close your eyes and surrender to the warmth…  The crowd seems "owned" by the music, it just looks like a human tsunami ! The guys also look like they're really digging the energy (they told us so), so the gig goes on and on… til there are no songs left. Everybody's content and smiling from the stage to the end of the venue, as far as I'm concerned I just got slapped in the face. A dude from the audience told me "they weren't even headlining, but they put the crowd on their knees". Literally.
After a surreal small talk with some (drunk) bass player, it's time to see the Belgian headliners : HYPNOS 69. Before the show, a lot of people came to me with a weird look on their face "you know, Hypnos 69 is all about saxophone". So I was picturing some kind of Jethro Tull on saxophone with a bit of distorted guitars background. Actually, HYPNOS 69 has nothing to do with flower shirts and flutes, deadly trumpets and swashbuckling. They're a band of rock veterans who strongly master the art of blending heavy rock, old school influences, and cool brass. Well, it's largely different from the two previous bands, so I listen to a few songs then go outside to chat with some people. But the few songs I've heard sounded amazing, like this oriental "Cairo". It seems like they've played for at least 2 hours, very impressive since the place is really really hot.
This show was totally mind-blowing to me : GLOWSUN's real Stoner (with a capital S like in "Spychotropic") and SUNGRAZER's super vibrant performance offered a supreme deluxe live session. This STONED GATHERINGS session was my first (the first of a long serie) and it set the bar high for the upcoming gigs. I think I do need some rest now… See you on Wednesday for Monkey 3 and Phased !
ALL THE INFOS ABOUT  STONED GATHERINGS GIGS ON THEIR  OFFICIAL WEBSITE 
Last modified: 11 February 2015