Please mind the gap between the train and Desertfest London! Desertfest London offers an avalanche of heavyweights each year, allowing the most introverted to see most stoner, doom, sludge and proto-rock headliners within three days, then spend the rest of the year hard gaming what not. But the festival is also a breeding ground for more underground bands, which we've been scrupulously looking into again this year. To find your way around, we suggest you pick your own itinerary… (Photos by Tim Bugbee and Jessy Lotti // Words by Matt and Sofie)

Piccadilly Line: Passing through the major touristy spots, this line will take a few surprise detours. Your driver on this journey will be Matt and he wishes you a pleasant journey.

Northern Line: This will take you to an underground world full of discoveries, but it also calls at a few hubs with connections to the Piccadilly Line. This train is piloted by Sofie, who recommends that you hang on tight.
Whether you're an early fan of the genre's pioneers or an adventurer with a penchant for obscure names, you should find something that tickles your memory or at least ease the frustration of not attending this memorable edition. All you have to do is pick your line… or take them both!
Piccadilly Line
Spaceslug
And so begins my London adventure with Spaceslug at the Electric Ballroom. I must say that the Electric Ballroom was the only British venue I've ever been to … back in 2010. Once the nostalgia is over, I get into the swing of things for a performance that pretty much sums up what we should expect from this weekend. Relentlessly heavy riffs, soaring peaks, and a band that hold their own on this big stage, that's all we're asking for. Special mention must go to occasional yet impressive screamed vocals blasts.
Mr. Bison
It's already time to work up a sweat and elbow our way through a rammed Black Heart (you can't breathe once the crowd exceeds 40 people) to enjoy Mr. Bison's set. This is ultra-conventional but super effective. The audience is particularly receptive, the beer is good and their show puts me in the best possible mindset to tackle my biggest expectations of the day.
Mountains
I can't approve of that. In 2023, no band should be allowed to wear such a generic name. It's unacceptable. How am I supposed to find them online without going through all 55 of their namesakes? They take over the Dev — which will soon become The Heavy Chronicles HQ for the entire festival — and bring a bit of that post-sludge vibe à la Baroness, Mastodon and Kylesa with flights of vocals recalling a Biffy Clyro on steroids. A fine discovery whose name I had ticked off a little by chance after a few listens on the Desertfest playlist. No regrets!
Church of Misery
Here we are. Back to the Electric Ballroom for the one band I've been waiting for today. The Nipponese madness takes hold of a quickly captivated audience and is off to a real masterclass. Don't get me wrong, Church of Misery is all about the science of the riff, the art of the groove, catchy hooks, and perfectly managed stagecraft… These guys have it all: the anthems, the sound, the presence, the crowd. A real treat, and undoubtedly one of the best performances of the weekend. When you consider that the current lineup is only new guys (apart from COM mastermind Tastu Mikami), it feels like a dream. Incidentally, the Tokyoites treat us to a new track from their forthcoming 2023 album, and it's a killer. In one word: grandiose.
Vinnum Sabbathi
What is the Desertfest London magic about? It's that slot when you don't have any gig on your Clashfinder and just go with the flow. This is when I put my "Sofie the adventurer hat", and venture out to enjoy Vinnum Sabbathi's droney doom at the Black Heart. It's impossible to make headway in the room, yet I enjoy this wall of sound of unusual violence. Then I think to myself: is there actually a band on stage or am I witnessing an episode of collective madness? Because from where I'm standing, I can't see a single musician: only the frenzied silhouettes of my fellow doomsters in the pit.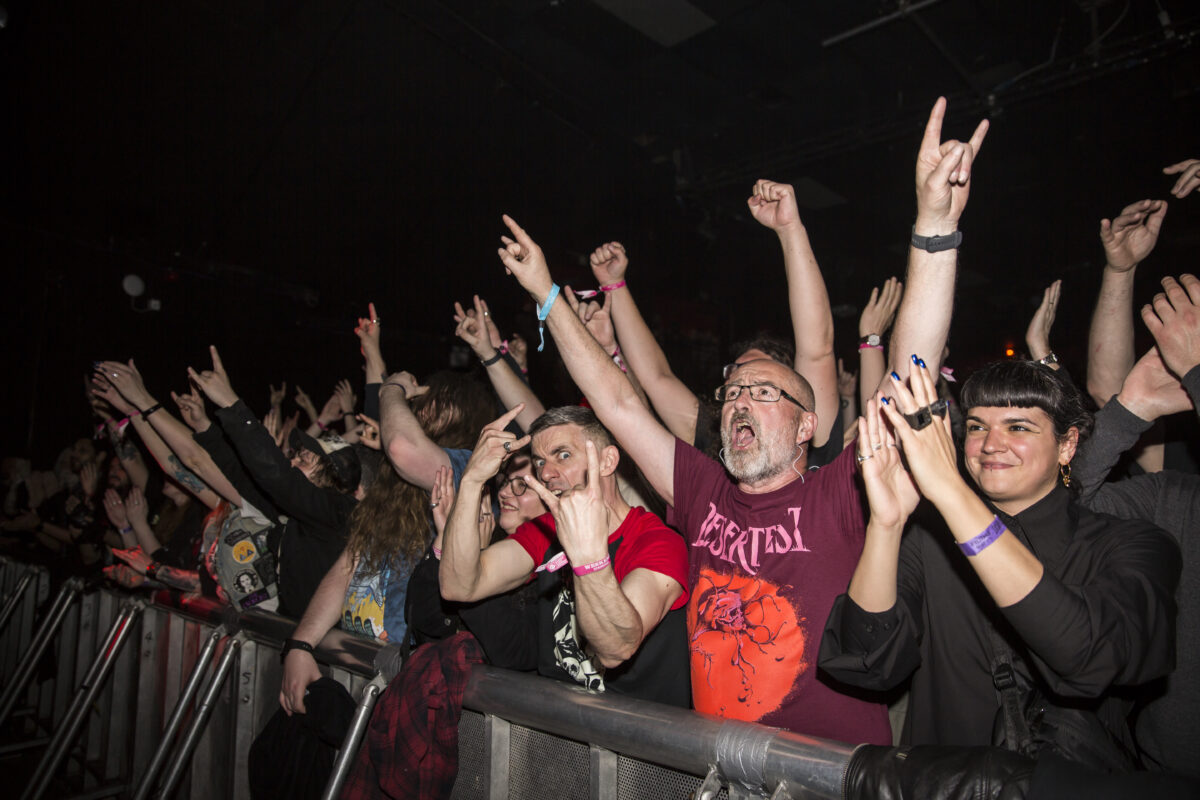 Northern Line
Kurokuma
I'm heading for the depths of the Underworld, and what better way to kick off that riff feast than with a band who recently stated "We were smoking a lot and listening to Electric Wizard". Hailing from Sheffield, Kurokuma deliver deathly grooves filled with neo-oriental scales, flangers galore and tormenting vocals chanting about pre-Columbian legends. Active since 2014, they have waited until 2022 to deliver their debut full-length, for which the "rhythm'n doom" might well be coined shortly…
Dawn Ray'd
Let's stay at the Underworld for one of my highlights of the weekend: Dawn Ray'd. Imagine three crusty-looking Liverpudlians, yet bright as freshly polished custom bike chrome. The Kurokuma-hot crowd bellow with conviction as charismatic frontman Simon Barr tunes his electric violin. And off we go for an hour of intense, mid-tempo anarchist black metal driven by his remarkable technique as he seamlessly navigates between growls and clean vocals. This all has some kind of a pagan feel but in a different sense from what we're used to. Even though I don't get a word they say, their human and political commitment drips from every word, right up to the moving finale, all a capella vocal harmonies. Check this band out, it's an instant crush!
Earth Moves
It's time to gallop along my beloved Kentish Town Road to my no less beloved Powerhaus, THE well-appointed venue guaranteeing a clear view of the bands no matter how big or small. Surprise: the sound is loud this time around. REALLY loud. And it doesn't fit Earth Moves' screamo/post-black crossover, as they seem to struggle to hear themselves, to say the least. Eventually, everything hangs together and binds the multiple emotions, most notably through Sam Ricketts riffs, who definitely knows how to use his gorgeous Gibson Cherry. Behind him, a drummer who plays with nuances — and the only band member who doesn't seem to suffer too much from the PA's butchery. As for the vocals, the screamed parts sound clear as hell but clear vocals also get butchered by the mix. This is a band I would have rather gotten into in the intimacy of the Black Heart, preferably without everything turnt to eleven
Kadavar / Graveyard connection
Via Piccadilly line
You know Kadavar, I know Kadavar, the whole world knows Kadavar. We know we're in for a masterclass of stage presence, hits… and rock'n'roll. So what about this very performance then? Well, the trio is now a four-piece and this is the first tour in that format. I don't feel like this adds much in terms of sound, songwriting or stagecraft, but it's a little early to be convinced. On the other hand, the band's mastery is astounding as always, and I'm sure I would be absolutely stunned if this was my very first Kadavar show tonight.
Closing the night, especially after Kadavar, is no mean feat. I love Graveyard and Nilson's inimitable voice, so when the first notes of "The Siren" ring out, my little heart melts like Cadbury chocolate on the Camden sidewalk. However, it has to be said that their static stage style and the mellower songs have put the Ballroom's valiant crowd to sleep.
Via Northern Line
I promised a discovery-oriented review but I failed thrice this weekend, mostly because of Kadavar and Graveyard. I mean, WHO can resist such a deadly glamorous line-up featuring the finest in German and Swedish proto-heavy? As far as Kadavar is concerned (and unlike my colleague), I find that the addition of Jascha Kreft as second guitarist and keyboardist brings the Purple-esque thickness they missed on bigger stages. Sat on the Ballroom's balcony with a bird's-eye view of the festivities (including a mosh pit), I give in to the most radical fandom. An almost ritualistic dance performed with a Spanish flamenco teacher during Kadavar will be followed by shared tears as the Gothenburg darlings unpack their lovesong-rich setlist. Marshmallow and sisterhood…
End of the lines
Everybody off the train! No madness or wild after-party on this first day: we have to stay in shape because tomorrow's journey promises to be much longer and more demanding. We hope you enjoyed your trip, and we'll see you soon for the second day of this Desertfest '23 review!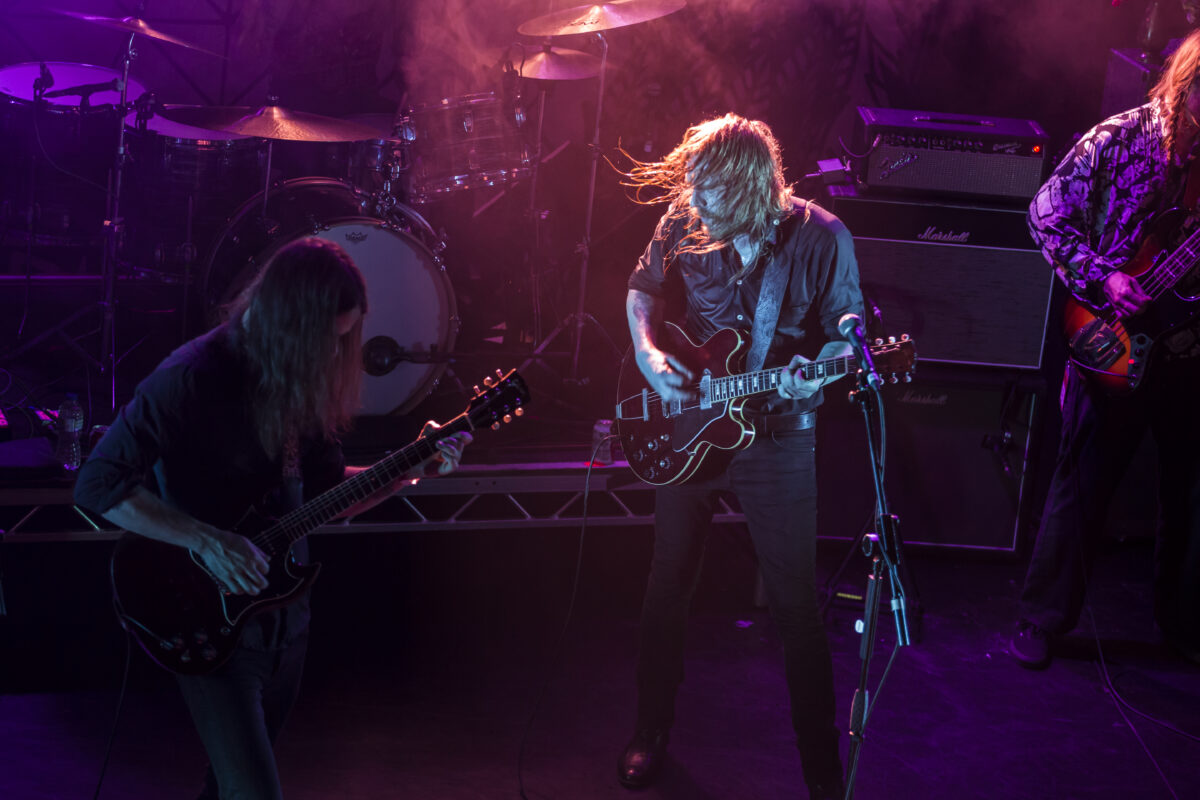 Last modified: 13 June 2023