Well well, here it is! The
HELLFEST

promoters just revealed what seems to be the second best lineup ever put out by an international metal festival (the first being their 2014 vintage). The last batch of tickets got

sold out

 in the blink of an eye today, considering the very first announcement, they just break a record here. This June 17-18-18th, Clisson will vibrate with

the greatest metal anthems from Black Sabbath to Rammstein

, and doom/stoneheads' favorites Converge, Down, The Melvins, Fu Manchu, Goatsnake, Hermano and dozens more. As we're used to say:

BE THERE OR BE SQUARE

.

HELLFEST 2016
June 17-19th in Clisson, France
Infos & lineup at www.hellfest.fr

Here at THC, we will once again spend most of our time at The Valley stage, worshipping the likes of legendary bands such as Fu Manchu, The Melvins, Earth, Hermano (the great return, guys!) and our all-time NOLA faves Down, but we'll also beat the dust to the crushing sounds of the much praised Windhand, Monolord, all-star outfit With The Dead (with former members of Cathedral and Electric Wizard), and supporting our national heroes Stonebirds and Hangman's Chair earlier in the morning. Oh, and needless to add that we'll be headbanging like nutters with Turbojugend chapters from here and there for Turbonegro and The Shrine, sweating in the pit with Dropkick Murphy's, Gojira, Kvelertak, Torche, and many more. Bloody hell, it's gonna be epic.

What are your picks for Hellfest 2016, guys? Let us know in the comment section!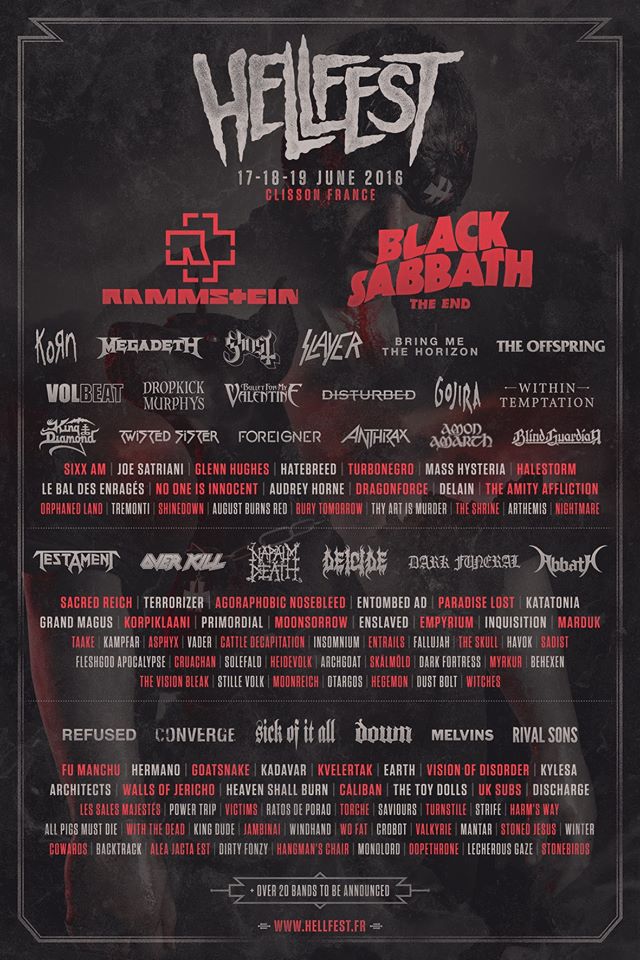 Last modified: 31 October 2015