As you probably know, The Heavy Chronicles loves
BLACK TUSK

and every announcement regarding a release or a tour is always welcomed here like the perspective of something huge, something that would undoubtedly blow our metalheads' minds. So yeah, after releasing their feral full-length record "Set The Dial" in 2011, it has felt like years have passed on the road (with Red Fang, Cancer Bats or even Kvelertak)… So the guys decided to put up some new stuff to make up for the wait. Needless to say

"Tend No Wounds" will be released on Relapse Records

. July 23rd, my friends. Prepare for war.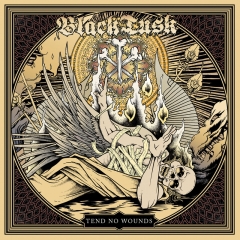 "Tend No Wounds is a 6 song/20 minute blast of high octane raging Southern rock/metal that merges the classic original backwoods metallic hardcore Black Tusk sound with the newer more polished rock based tunes the band has honed after years on the road on the road with bands like Baroness, Skeletonwitch, Mastodon, Kvelertak and more."
The EP was recorded with producer Phillip Cole (Kylesa, Baroness), and the artwork was created by awesome designer
Brian Mercer
.
OUT JULY 23 IN THE US and JULY 22 IN THE REST OF THE WORLD. BOOM.
Tend No Wounds Tracklisting:
1.     A Cold Embrace
2.     Enemy of Reason
3.     The Weak and the Wise
4.     Internal/Eternal
5.     Truth Untold
6.     In Days of Woe
And as I said, Savannah's swamp devils just completed a US tour with Kvelertak and Cancer Bats, and will be soon back in our lands for some dates… Something we wouldn't miss for sure !
FIND ALL THEIR NEWS ON FACEBOOK
Last modified: 11 February 2015