It's not everyday a split EP gets fully reviewed on the blog, yet 
"Reflections of the Negative"

 clearly deserves it. 

COUGH and WINDHAND

(Richmond's two heaviest bands) are about to release 

an explosive 3 track doom record

, which is likely to become one of your favorite doom releases of the year. Because it's no more or less than a 35 minutes orgasm.  By the way, Cough will be touring Europe this spring, so it's another good excuse to get this EP.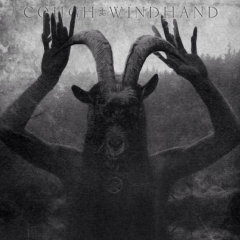 ARTIST : COUGH / WINDHAND
ALBUM : "Reflections of the Negative" EP
RELEASE DATE : April 16th 2013
LABEL : Relapse Records
GENRE : doom metal
NOTATION : ✩✩✩✩
My review could come down to one word : ffssshhhhhhh… Because the EP's first 30 seconds will make all brains melt.
"Athame" is the only track presented by COUGH, yet it's the quintessence of doom and it doesn't wait to toss the listener in the pit. Their throbbing and slow-as-f*** drum intro will make you feel like you're stuck in a cell with an orc who's about to slaughter your ass, making the iron of his club resonate onto the bars of your rusty cage. Then a gloomy Hammond organ infiltrates progressively into the song, adding a grim but poetic aesthetic to the whole thing. For 9 minutes, überheavy guitars give rhythm to Parker Chandler's distress cries. It feels as intoxicating as any Electric Wizard song : you know, when heaviness gets all crushing and orgasmic. The climax is reached halfway through the song, when a low-tuned guitar comes and introduces the second phase. It's time for revenge. You can't see Chandler, but you can easily imagine a hateful and evil grin on his face : "The time has come for sacrifice…". This killer break helps giving a brand new dynamic to this superb piece of doom metal. Cough couldn't have found a better title for "Athame", inasmuch as we can feel the penetrating riffs like a dagger sinking painfully into our veins. Painful but necessary.
After such a demonstration, WINDHAND have to show their skills. Unlike Cough, they chose to blast their riffs straight away, showcasing their power over two tracks that almost sound like they slot together. While listening to the EP for the first time, I didn't even realize that "Amaranth" was over and that I was now listening to "Shepherd's Crook". Actually, I found Windhand's work so uniform on both songs, that I don't really understand why they needed to write two tracks. One 18 minutes long track would have done the trick (and it could attempt to measure up to "Athame") ! Windhand had a way more old school and dirty approach than Cough did : Dorthia Cottrell's distant vocals are not supported by a wall of fuzzed guitars, but the one and only lead guitar's expression. Even though the band's effort doesn't hold a candle to Cough's only song, it's so heavy and brilliantly executed than it will give you chills no matter what.
I don't what is the exact source of inspiration for Richmond's bands, and I don't want to know, but it sure has a very positive effect on this scene. This EP is a must-have for every doomster around, play it over and over again on your turntables, until death comes.
Last modified: 11 February 2015