It may sound a little bit narrow-minded, but I don't know if many people here in Europe are really aware of the existence of
a metal scene in Latin America

(except when it comes to Sepultura). Well if you're still reading this page, you'll soon be enthralled by such news, considering

Venezuelan sludge pride CULTURA TRES

is on the roll and will soon release their

third album "Rezando Al Miedo"

and tour Europe. God it feels good not being so self-absorbed for once… (Photo : CT Facebook)

Their last album "El Bien Del Mal" released in 2011 was a breathe of fresh air in sludge metal, as it combined "brooding cocktail of classic psychedelic rock, 90's death metal and gloomy grunge". Sounds great, right ?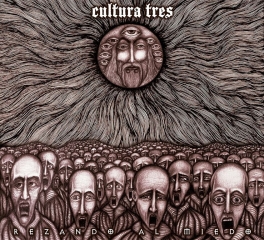 "Rezando Al Miedo" will be out on May 15th 2013.
It won't be very different from the previous record, in that it still depicts the same dark moods and stories, with the same thick and heavy sound. However, it is described as "
a journey inside the collective subconsciousness, a walk on the edges of sanity, between the illusive religious relief and acceptance of death as a clear end […] Music explores the harshness of the thrashing roots of the band to the polyphonic movie soundtrack approach that characterizes Cultura Tres. The band has never been afraid to take chances and this album proves it
".
The eight songs were written and orchestrated like pieces of a soundtrack, which will highlight many instrumental parts to make the listener's mind wander into the band's world. The album was produced, mixed and mastered by Alejandro Londono and recorded in Cultura Tres studios by Juan De Ferrari and Alejandro Londono.
"Rezando Al Miedo", will be released on CD in UK by Devouter Records and in South America by the Argentinean label Cumpa Records. The digital version of the record will be available on the same date.
CULTURA TRES will also start a European tour this spring, more dates coming soon :
20.03 – The Netherlands, Amsterdam @ The Cave
22.03 – Germany, Cologne @ MTC Cologne
23.03 – Czech Republic, Cheb @ Jazzrock Café
28.03 – Austria, Vienna @ EKH
30.03 – Luxemburg, Dudelange @ Why not?
31.03 – France, Paris @ Les Combustibles
09.04 – France, Saint-Etienne @ Thunderbird Lounge 42
13.04 – Spain, Barcelona @ Be Good
For more information, check out CULTURA TRES 

official website

 and why not 

Facebook
Last modified: 11 February 2015