Our Stoner kings were eagerly awaited at this thursday's Stoned Gatherings. Being able to attend a gig of KARMA TO BURN in such an underground venue as Les Combustibles is something quite rare and precious, so you can imagine how crowded the place was. The lineup was also made of  young and talented BLACK BOMBAIM who completed the job "the psych way", and also HAG and their roady stoner. Once again, Les Combustibles almost burst under the pressure of 200 fucking insane people. #Hot #wet #electric #wildness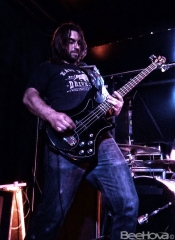 HAG opened this Stoned Gatherings in front of a frozen crowd (not for long, hehe…). Everyone was focused and quite industrious, but the band just had to blast a few noisy riffs to get all the heads mechanically banging. The three-piece gave all its enenergy to conquer the audience, even if as far as I'm concerned, the music was pretty cool BUT the singer's high-pitched voice quite hurt my sensitive eardrums. Maybe he's more of a studio singer, but to this point of the show I didn't really care. So I decided to concentrate on the music as well as the bass player's strong arms for half an hour of noisy and dusty stoner.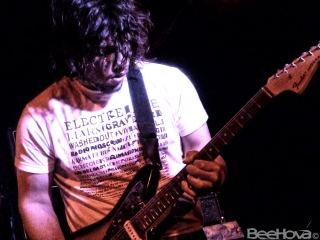 After this appetizer, here was the band from Portugal
BLACK BOMBAIM
. Temperate and concentrated, these three gentlemen managed to make the crowd drift away, with a psyche sound that reminds me a lot of Earthless, you know, with their "50 minutes smoky cool jam" kind of style ? The bass/drums line took some time to get some real groove, but the lead guitar player made us forget this small detail :
his Hendrix-like riffs made even the most angry people trip in a blink of an eye
. Everyone was seriously tripping, because the sound was sooooooo hypnotizing.
A non-stop instrumental 45 minutes jam, not a single from the band, then the gig ended…on a fucking heavy ovation from the whole crowd ! BLACK BOMBAIM aka "hello, we just slapped 200 stoner-heads in the face". No encore, but the consolation was an awesome one thou : in a few minutes we'd be able to rock with the kings of stoner…
Well it wasn't that cold anymore since 200 people were now fucking opressing the atmosphere. I know there was going to be some serious moshpit in the house.  Rob, Rich and Will got on stage and made a few soundchecks then the SERIOUS MADNESS started, hell yeeeah ! When the second tune was on, I was forced to put my body in the same weird position as the bassist's, to avoid falling my head first on the amps. He held me out his iPhone so that I could film the warriors' pit in action… As I was really stumbling over and over again, Rich called me to come up on stage with the band to continue my filming from a safer place. Daaaaaaaaaammmmmnnnn, that's a hell of a privilege !!!!!!!
From where I stood (which means between a wall, a fan and a certain bearded drummer called Rob Oswald) I could see Chaos with a capital C. I also definitely witnessed the instinct, the tremendous feeling and power this drummer has in his hands.
Classic songs were played in between a few recent ones, but no matter what was played that night : people were all widely smiling, massively air-drumming, stage-diving like hell, crashing on amps like mosquitos on a windshield
. These people had the time of their lives.
With this insane set,
KARMA TO BURN
once again didn't have to prove shit to anyone, because : they are the KINGS. The venue emptied, then I saw that the floor was as wet as a pool. I had the chance to share a few kind words with Will Mecum and Rich Mullins, as for Rob, he was busy updating his Facebook status (that's why we love him so much, right ?). I'm such a lucky b**** : I'm going to see this guys playing again in my hometown Bordeaux at the Heretic Club in May. Fucking A, KARMA TO BURN you rule my world!!!!
Nineteen & Twenty Eight (from the stage !) : http://youtu.be/zrz2y0F_ubk
Five & One  (from the stage !) : http://youtu.be/ye0cG4Gf30s
Fourteen & Thirty (from the stage !): http://youtu.be/GGTfCS059Qc
Forty Seven : http://youtu.be/XFBycSiiwuw
Twenty : http://youtu.be/ZYkEtBlXOZI
Thirty Nine & Forty One  (from the stage !) : http://youtu.be/VLVZsdQAT0E
Last modified: 11 February 2015