Just yesterday I was listening to one of my fave bands, SLIPKNOT, and particularly to this very beautiful bonus song on their latest album "All Hope Is Gone", Til We Die. Whereas I don't usually pay much attention to lyrics, these ones got me, so due to the recent things the band had to go through, I decided to quote and comment…
My friends are all hurting from moments and regrets and charity laced with a lie
And still we keep hoping, to fix all the defects and strengthen these seminal ties
We go on together for better or worse, our history is to real to hate
Now and forever we stay until morning, and promise to fight for our fate
'Til we die
The start of the journey is every bit worth it, I can let you down anymore
The sky is still clearing, we're never afraid and the consequence opens the door
I've never stopped trying, I've never stopped feeling like family is much more than blood
Don't go on without me, the piece that I represent complements each and every one
'Til we die
We won't be forgotten, we'll never give in
This war we've acheived has allowed us to win
'Til we die
My last true confession will open your eyes, I've never know trust like the nine
Let it be spoken, let it be screamed, they'll never ever take us alive
'Til we die
We won't be forgotten, we'll never give in
This war we've acheived has allowed us to win
Carry on
We'll never be broken, we won't be denied, our war is the pressure we need to deny…
"The nine" simply represents the 9 bastards, the 9 members of SLIPKNOT, la famiglia so to speak. This song is all simply a tribute to friendship, to the fraternity that has bound the band members for 20 years now. This part of the song gave me shivers, especially when he says "They'll never ever take us alive" I told myself "dammit one of them was already taken, I wish they wouldn't take another in a while". If you try to think of it, these words now resound like a prophecy…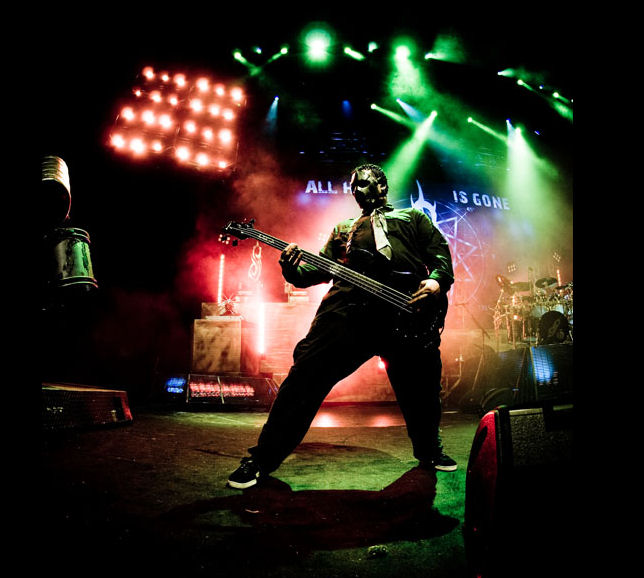 A few months ago I was talking about SLIPKNOT's possible hiatus after Gray's death, I thought they would take a break and focus on their side-projects. They didn't : SLIPKNOT will be back on the road this summer to attend the European Sonisphere on more than one and only date (they've been announced as headliners on several dates). Moreover they'll play at Graspop Metal Meeting in Belgium and at Rock In Rio.
Although I'm pretty pleased of this undetermined return to work, it's a bit confusing as they told they wouldn't do anything with SLIPKNOT for now, no gigs but probably just recordings done without the help of another bass player, only played by the band members who could handle it right. It was "Paul Gray or nothing".
Will there be a bass player on stage ? If it's the case, who will it be ? One of the two drums (Shawn ?) ? A ghost member who'll temporarily take #2's place ?
They declared playing "in honor of his death" or more like "to celebrate his life", I think they rushed on the first occasion they had to relaunch the business.
Let just hope they'll rock the show…
Last modified: 11 February 2015