Concours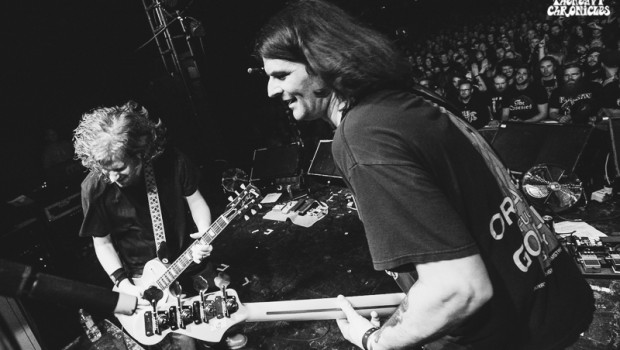 Published on November 25th, 2015 | by Beeho
0
[TERMINÉ] Gagnez vos places pour les dates françaises de THE ATOMIC BITCHWAX !
La déferlante heavy bluesy en provenance du New Jersey
THE ATOMIC BITCHWAX

débarque pour une mini-tournée française qui va tout retourner sur son passage !

Toulouse, Nantes et Paris

: be ready, on vous file vos invits.

Formé en 1993 par Chris Kosnik, Ed Mundell et Keith Ackerman, on retrouve chez THE ATOMIC BITCHWAX la même pulsation électrisante qu'Earthless, mettant à l'honneur le riffing luxuriant venu tout droit de l'Amérique fantasmée des stoneheads : sable chaud, cadillac et LSD. Avec fuzz et grandeur pour maîtres mots, TAB redonnent au live ses lettres de noblesse et emportent dans une cavalcade stoner bluesy à en perdre haleine quiconque se trouve dans leur sillon…
(Facebook – Site web)

► 28 NOVEMBRE – TOULOUSE @ Le Saint des Seins avec SIMPLE JACK
Event Facebook – Tarif : 8€ sur place (Orga : Noiser)

► 29 NOVEMBRE – NANTES @ Le Ferrailleur avec GLOWSUN
Event Facebook -Tarif : 14€ en prévente et 18€ sur place (Orga : Stoned Orgies)

► 30 NOVEMBRE – PARIS @ La Mécanique Ondulatoire
Event Facebook -Tarif : 12€ en prévente et 15€ sur place (Orga : Stoned Gatherings)
POUR JOUER et GAGNER VOTRE PLACE :
1/ Vous devez être fan de The Heavy Chronicles sur Facebook
2/ Envoyez votre NOM + "ATOMIC + VILLE CHOISIE" à

theheavychronicles@gmail.com
Les gagnants seront informés le 28 novembre via Facebook.