QOTSA. Josh Homme. Mark « Uptown Funk » Ronson.

Enough said: haters gonna hate. Even before hearing the first notes of « The Way You used To Do », fans of the Songs For The Deaf era curse this odd wedding, while respected and respectable medias hail genius. Since then, you've probably read everything about this hot topic, and were asked to choose your side regarding those Villains: whether you belong to the stoner die hards (and sound like a cold fish) or you're part of the trendy new avant-garde (in which case, you're a sellout). So what?

But first, allow me to play devil's advocate. Fans from the outset who reproach Josh Homme with his foray into pop music (boohoo, shame!) don't really get the man. He has never hidden his intentions of making danceable music, and has started sprinkling his songs with pop gimmicks since Songs For The Deaf. His recent collaborations with the likes of UNKLE, Primal Scream, Peaches, his wife Brody Dalle or even Lady Gaga (who's produced by Mark Ronson) are here to prove it. Putting him on the forefront of a whole music genre he has certainly helped become popular, would be the best way to underestimate him.

From another collaboration, this time with Iggy Pop, Josh Homme gave birth to one of the biggest rock records of 2016, as well as being a great legacy of the Godfather's prolific career. The nurturing shadow of pygmalion David Bowie – another genius and music transformist – also haunts this record. In the style of Iggy renouncing the sloughing from Godfather of Punk to originator of the Cold Wave movement alongside the Thin White Duke during their Berlin Era, Josh Homme has slowly left the desert behind and gave way to convoluted arrangements, cold synth strings, and insidious guitars.

This way, the previous experience has presumedly fed QOTSA's creativity and led them to dare eve-ry-thing. So what came out of this? On Daft Punk's « Robot Rock », Ginger Elvis warbles as never before with his smooth vocals, pushing the pop trick on any occasion and borrowing from Bowie's Berlin Trilogy while bringing back the fire of yesteryear through sharp and frantic riffs. The Homme/Ronson team works at full blast. We're close to another (feel good) hit of the summer with « The Way You Used Do » and its outrageous claps. In that, working with Mark Ronson turned out to be sagacious in order to avoid tackiness, or worse, overdose.

Yet everything in this album isn't as groundbreaking as they claimed it to be. Structure-wise, Villains remains a hardline QOTSA record. Some songs could fit in Era Vulgaris or Lullabies to Paralyze (« Domesticated Animals », « The Evil Has Landed »). It's only in its form that the album shows an evolution, with the massive use of synthetizers (« Un-Reborn Again »), sharp yet epilepsy-inducing entangled riffs, and multiple choirs. Change everything, change nothing.

Unfortunately, Villains sounds more like a display of multi-instrumental skills than a thrilling record in its whole. Blame a mastering inherent to a producer like Mark Ronson. It's too plain: they traded off the organic chemistry for a synthetic processing that sterilizes all emotion. You don't get bored and it's not a bad record per se, and paradoxically, these robotic turbines actually are the driving force behind all this. But the fire isn't here.

Risky bet, you'd say? In the eyes of their fanbase (seemingly stuck in 2002), it was. Regarding boldness and originality, we'll pass. But please, let the man create. With such a music fiend at the helm, be sure we'll be treated to a few other timeless gems and once again, we'll be able to hail Rock renewal.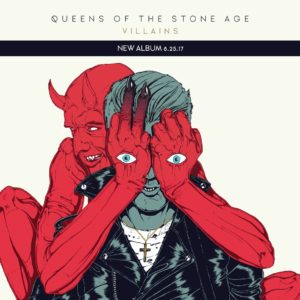 ARTIST: Queens Of The Stone Age
ALBUM: « Villains »
RELEASED: 25th August 2017
LABEL: Matador Records
GENRE: Rock / Homme Pop
MORE: Facebook / Website
Last modified: 11 septembre 2017