EGYPT

, author of (arguably) the best self-titled demo of all time, is a band who has been through a rocky history but now

stands among the finest acts of the stoner and doom scene

. While at Desertfest Berlin, we chatted with

Neal Stein

, a passionate fan of Egypt for twelve years and their guitarist for five. He talked about the peculiar circumstances of his recruitment, the band's creative process and the efforts behind Endless Flight – a last-minute guest in many 2015 year-end lists. Good news : there's more where that came from!
Desertfest London was a pretty ballsy way to start the tour.
Yeah! I've been listening to Asteroid for a couple of years and all of us in the band have been fans of Crowbar and Corrosion of Conformity for two decades. Sharing a stage with them was huge. We played first, at 5 o'clock, we didn't know how many people would be there – but it was packed! All the way to the end of the Ballroom, farther than you could see.
How long have you been in Egypt ?
About four, five years. Been friends with the guys on the original line-up for a long time. We had jammed together, but nothing serious. Some day they called me – I recall this clearly, because I was taking a shit… But if Chad Heille [drums] calls me, I'm going to answer the phone no matter what I'm doing! He asked me if I could help them record Become the Sun. Everyone involved wanted the album finished, it was to be the band's last hurrah, getting out some material that had been around for a long while. Then we thought "oh, we have an album, we should probably do a show". And here we are four years later, still doing shows!
Endless Flight has been my most obsessive listening experience in 2016 so far. I'm particularly addicted to the guitar solo on "The Tomb "…
It's a weird solo. Not really a blues atmosphere. Most of the song was brought by Aaron [bass/singer]. Chad and I write riffs all day, every day, but Aaron is the songwriting kind of guy. He brought in this structure, we started jamming on it, changing stuff here and there, and the solo sort of just happened. Of all the songs on the album, it's probably the most challenging to play live. We plan on doing so over the tour, though.
How about Paris, for the Doomed Gatherings?
Yeah, let's do it in Paris, man!
I'll hold you accountable to that! Now, I think that I speak for a lot of bloggers when I say that releasing Endless Flight mid-December 2015 made a lot of us second-guess our year-end lists.
We were actually wondering: "should we wait until next year and release it?" But frankly, that album should have been out six months earlier. The logistics of it were a pain. We do 99% of recording and mastering ourselves, which makes it difficult to say when it's ready. We're not paying a sound engineer by the hour, just renting a space by the month. We can obsess over the sound of the snare drum for weeks… So it's not a matter of saying "this album is done", but rather "OK, I'm done working on it, let's get it out there".
Compared to Become the Sun, there's been an effort on your part to focus more, go straight to the point.
Become the Sun is a long album, covering a lot of ground musically, which is cool… but it's a looong album. Probably because they've been written a long period of time [Egypt' self-titled EP was released in 2009 and Become the Sun in 2013], most of it before I arrived. Now, the split album with Wo Fat and Endless Flight, it's more efficient, more condensed. I'd rather have a short song that you want to listen to again, rather than one where you think "man, is this ever going to end?"
What I enjoy most about your solos is that you're not playing a whole lotta notes gratuitously, just to show off. You really create something melodically, telling a story every time.
That's really something that I care about. There are lots of guys who can play more notes per second than I can. I'm not interested in the whole shredding "arms race"… It's important for me to develop a theme. Singing should have a hook, the drums should make sense, and the solo shouldn't just be a bunch of notes.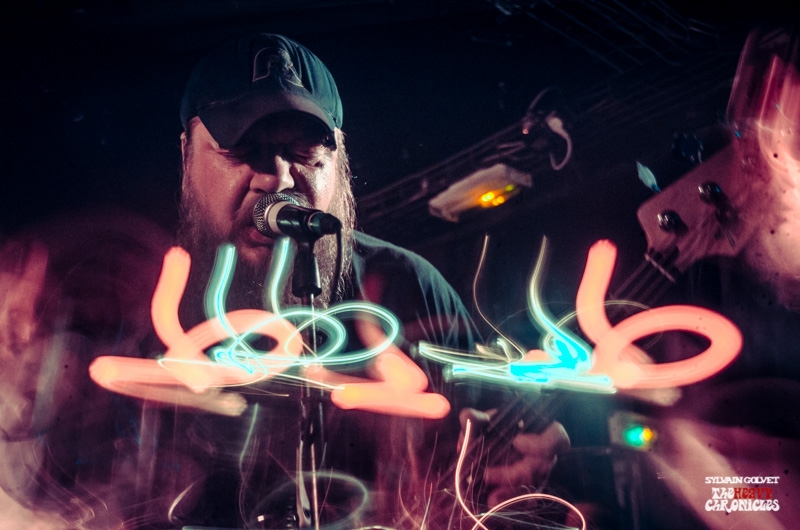 Aaron's singing has gotten extremely powerful over the years.
He works on it a lot. Aaron is very conscious of his abilities and limitations. Some people have been saying that the singing is different from what it was the first record… but that was 12 years ago! People change, bodies change, none of us are getting any younger. He's still a powerful singer though. Some singers rely on engineering, whether it's "studio magic" or the volume that you can get on a live show, but not him. Sometimes, when we have the amps at full blast, and Aaron's just testing his voice without a microphone, I can still hear him! He's not messing around. And he can also be very soulful, very bluesy, there's a lot of heart into it – even when he's singing about exploding suns or whatever…
Speaking of which: do you try to get some sort of message across with your lyrics?
No, we don't have a political agenda or anything. Many other bands are singing about partying and banging chicks, so that's covered… Singing about weed is definitely covered… And some bands go overboard with the whole "dark despair and misery of my life in complete collapse" or something. Aaron's putting his heart out there through performance, but not much through the lyrical content. He draws inspiration from sci-fi, fantasy, video games, a bunch of things that he's into.
These guys leave you quite a lot of space to express yourself musically.
Yeah ! More generally, I think we give each other quite a lot of space. We try to complement each other, not stepping on anyone's toes, and leaving small pockets here and there to showcase all instruments. The new material that we're hoping to release in the next year reflects that as well.
Oh! So there's more where that came from?
Yes, we went on a songwriting spree for Endless Flight, which left us with a lot more extra songs, which are in various stages of being recorded. We picked five songs that went well together, and saved the rest for later. I can't make any promises on the release date though, given how long it's taken for the previous ones…
Kent Stump from Wo Fat told me that Texas was a weird place for politically progressive people like them to be in. How do you guys fit in Fargo, North Dakota?
We're treated pretty well over there, but it's not very big. In this part of the Upper Midwest, the closest city to play a real show is Minneapolis, a three hours drive away. There's a cool venue in Fargo but otherwise, most bars just pay cover bands to perform "Jessie's Girl"… North Dakota may not be as conservative as Texas, but it's still a lot of people who care mostly about drinking, fighting, guns and pick-up trucks. So if I could be on the road all the time, I would!
Egypt seems to have a relatively low-key approach to communication. You don't give a whole lot of interviews, for instance.
We're glad to talk about our music when opportunities come to us, but we don't go very far out of our way to make it happen. I feel better about it if we don't try to push it on people. None of us have a car salesman mentality, like "step right up and get some of this!" I like to think – maybe I'm wrong – that it's nicer if the music speaks for itself.
Last modified: 1 September 2016