KARMA TO BURN are the kings of instrumental stoner escaped from West Virginia, USA. 3 incredibly talented dudes who have a surprising ease to create catchy, elaborated yet uber-groovy riffs. You'll headbang on KTB, you'll drive at breakneck speed on KTB, you'll ruin your guitar strings on KTB. When it comes to live performances, it's just as good as on the record. Report.
Last year we went through a 2-hours drive under the shittiest weather ever to see them performing in a small bar in Poitiers in front of barely 50 people, that's why we ain't afraid at all of getting on the road again, taking the highway to Périgueux. Let's attend KARMA TO BURN's coronation at the Sans Réserve in that far-off town of the South West.
No one's there yet, 40 minutes right before the opening, am I supposed to worry ? Nah this band is too awesome, I'm pretty confident. Time for some friendly encounters then we enter the venue to witness an off-topic opening act : BACK GROUND, a local…HARDCORE band ????? The HxC fans around (there are a few who came only for that, obviously) are pretty enjoying themselves, losing control into an anarchic mosh pit. Whereas in December 2009 in Poitiers, the opening band was a wasted doom crew (which was a little bit more circumstantial), I just cross fingers for tonight's crowd to do justice to our awesome legends.
Opening act over, thank God we can take off our earplugs, go get some fresh air outside and come back with all our rage for THE show. As soon as we're back inside, guess who I see on stage doing his soundcheck ??? Daniel DAVIES, YEAR LONG DISASTER's fucking singer [NB : Year Long Disaster is KTB's side band, the two bands split founding the actual KTB line-up with its new singer] !!!!! I didn't know he was part of the KTB adventure for good, goddammit ! Talking about a good surprise, I'm twice as more excited now ! No sooner said than the show starts…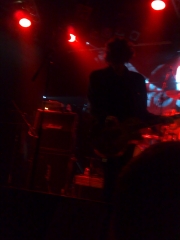 Here's for you Nineteen intro, okay the quality is shit (I just had my phone) but you can feel the energy in it.
On the menu, 1 hour and 20 minutes of a monstrous show with some great classics from Almost Heathen and Wild, Wonderful…Purgatory, and some new tunes (Waiting On the Western World with Mr Davies on the mic, for example)… They are fired up as hell !!!!!!! One word to describe the feeling of the moment : KARMA TO BURN = NEW KINGS OF THIS WORLD. Adding Davies on the mic AND on guitar (playing lil improvised solos during the songs, which is quite refreshing) creates something truly awesome and gives twice as more power to their sound. This guy has some charisma too, and despite a tuned-as-shit microphone you can tell they found THE singer who fits to their music. It's fantastic to witness such an alchemy on stage. A CRAZY show during which I stick to the stage and never looks behind me to see if the rest of the crowd is on fire or what, 'cause here first row, we're MAD.
Their performance is way more punchy than the one I saw in Poitiers on December '09 (more audience and a real stage with a real sound, it changes a lot of things believe me), once again I drove 2 hours to come see the show and I will do it again and again if that's how I can see them on stage…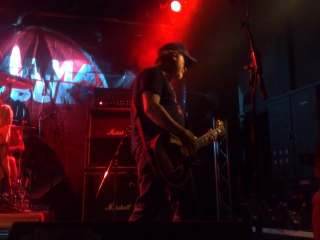 The encore is intense, an hour after they started playing they leave the stage and everyone is screaming their lungs out to make them come the fuck back. They comply, Will coming up with a 1664 in the hand and complaining that he didn't even have the time to finish his beer ! Here we go again for 20 more minutes of even more intense and heavy rock…
Once the show is over, it feels like it's been too short, we still want more. Some lucky people had the chance to meet the members of the band at the venue's bar as we were already leaving for our long driving back to home. I had that chance last year in Poitiers and was really glad being able to shake their hands and talk a lil bit, they are the sweetest guys ever !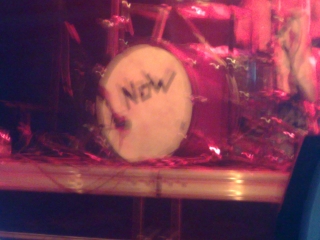 Great great show tonight… And if like me you like stoner, I got one fucking advice for you guys : go to one of their show, they're 1000 representative of the spirit of that music !!!
—> IF YOU DON'T KNOW WHAT KARMA TO BURN IS <—
Three years after the oh-so-cool "Witchcult Today",
ELECTRIC WIZARD

is back to rock the basements with "Black Masses". Might as well say that I have high hopes to listen to a darker than dark and louder than loud record here…

The album opens with the easiest riff in the world on eponymous track Black Masses. This swinging track (!) recalls Sabbath's beginnings in some way (when doom took its first steps), thanks to a stunning and highly groovy combo, so to speak. After 6 minutes of "Black Mass, black mass…", I remain satisfied yet surprised by so much enthusiasm ! Let's keep it up with Venus In Furs which maintains that hellish and insistent rhythm, and be sure that guitar solos are way more involved here than on the previous EPs ! The excessive psych side really starts to drag me into its electric spiral, goddammit ! The track is a hell of a whirl of 70's energy, a vitamin course within an arcane world… The Nightchild (which has provoked some really positive feedbacks from the fans) is a good track, not so different on its form from the two others, but at least it feels like the British get truly enthralled on their instruments.

Patterns Of Evil still tears along strongly and drags us as it goes past with its irresistible groove, to end into a mesmerizing and slow orgy of strings screeches and larsens… The first half of the record is over : now that we have rolled down winding paths scattered with hallucinations and psychotropic smokes, we're now ready to step into a dark cave where heaviness and slowness are a given. There goes the mammoth doom of a "Dopethrone" or "Let It Prey" with Satyr IX. A 10-minutes long moment of stoned torpor, spangled with highly neurotoxic overdrive guitar parts, but how good. Lower, even lower, Turn Off Your Mind and its reversed vocals tends to flirt once again with these psych rhythms and Scorpio Curse literally hammers on the brain, with once again a sick out-of-this-world solo.

Black Masses ends on a highly mystical atmosphere with Crypt Of Drugula, no riffs, no singing, just thunder and the distant echo of a bewitched guitar. Just for the style.

One more time, I'm far from being disappointed by ELECTRIC WIZARD, actually I'm really taken with their even more psych trip and that dirty sound that creates a more old school vibe, bringing back to life the 70's guitar heroes overloaded with all kinds of substances, spreading out the bad word thanks to an orgasmic groove and maximum fuzz. Something that drives you insane but lucid at the same time. ELECTRIC WIZARD knows how to revive a spirit and make its initiators proud…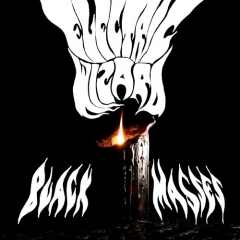 ARTIST : ELECTRIC WIZARD
ALBUM : "Black Masses"
RELEASE DATE : November 2010
LABEL : Rise Above Records
GENRE : Doom metal / psychedelic
NOTATION : ✭✭✭✭
Working with talented bands (for HOLLOW NATIONS compilation "Road Riot Radio : Stoned Ryders Session", out soon) brings many advantages, such as discovering awesome records. I don't usually listen to a lot of French rock, that's why I'm quite pleased to hit on such quality !
JUMPING JACK aka a heavy stoner sound blended with strong old school influences, sprinkled with fucking charisma. Yeah, when you look at the album cover which takes up Jack Daniel's famous label and you listen to the Britton band for the first time, there's no doubt about the product, smells like whiskey and illicit stuff emanations…
Heavy, powerful, carried by a strong and harsh voice, JUMPING JACK fucks up your brain et makes you fly somewhere between the elaborate structures of the finest 80's heavy songs and asphalt-burning riffs of stoner kings like KYUSS. Brimming with authenticity, far from being another clone record in the system,"Cows and Whisky" is raw, burning hot and psychotropic, complex and really asserted. A dark record with an exhilarating groove, a story to be continued…
Available on www.jumpingjackgroup.com, track "Blow" on the compilation "ROAD RIOT RADIO : Stoned Ryders Session" (out 12/07/10 on all digital stores) – MySpace
One simple word to describe
DECEIT

's first EP : refreshing.

For their first try, the Italians dudes banked on energy and quality : 5 short tracks (sadly so short…) without any pace loss, from the beginning to the end we're carried away by the Mentos wave of freshness of their rock breaker, halfway between "power rock" and "pop punk" music. Obviously inspired by such heavyweights like Foo Fighters, "Deceit" overwhelms us with its positive energy, its light but oh so catchy riffs. The singer's hoarse voice somehow reminds BULLET FOR MY VALENTINE leader's timbre and ability to combine clear singing and screaming (I'm not talking 'bout "screamo" here, alright?).

Musicians are on top, production is hot, tracks are catchy and highly invigorating, anyway DECEIT it's : talent, a lot of determination and, I hope, many delightful tracks to spare for the future !

Album "Deceit" available on iTunes, track "Riff @ 1" on "ROAD RIOT RADIO : Stoned Ryders Session" compilation (out 12/07/10 on digital platforms) – MySpace



It's been ages since I wanted to pay some written tribute to the band, so when a friend of mine asked me if I could write something about DOWN, I jumped at this chance. I know and I hope it'll also touch some other peeps around here, oh you guys know who you are. Cuz yeah, DOWN lovers know who they are, they're what we call

LIFERS

.
Good music is something you can breathe deeply and fill your lungs with, you can smell it and your heart just beats in unison with it. Good music tends to make you close your eyes, it allows you to let everything out, good and bad, all kinds of energies. And that is how DOWN makes us feel. This article is clearly a eulogy of DOWN. Good drug fo' yo' kidz.
I don't even remember when was the first time I listened to DOWN, but hell I remember the first time I saw them LIVE. Experience it and you'll never ever forget it, it'll stay engraved on your memory and once in a while you'll remember it as one of the best live times you've had in your life. This happened to me only once, in Barcelona's Sonisphere Festival in July of 2009, and till now no gig has felt more meaningful to me than this one. Well, I wasn't that much into the band at that time, people around me knew much more about the band than I did, starting with their names. But even if I didn't know their names and history, when I got that pick from Pepper Keenan, I knew it was something that'd become important to me sooner or later.
This experience changed my vision of Live Shows with a capital L. No matter how big and important you are, no matter how many effects you put on stage, no matter how powerful and speed you music is, if you don't have THE FEELING, then you can go back from where you came. These guys clearly have the feeling. Phil Anselmo means every fucking word he's singing, deep down from his heart and guts, and I'm not talking as a fan here, I'm talking as a true music lover. This guy, sincerely, could be considered as a SOUL singer for metal. DOWN is soul music, vibrant and inviting, thrilling and genuine. I'm not even Christian but I'd say "Hallelujah !" to these motherfuckers !
What I like with this band, aside from music itself, is the combination of personalities. When you see the five dudes hanging around with each other and with whom you could easily hang around with, there's no fucking rockstar in here, but only five average guys from the South acting like average long-time brothers. Drinking, smoking, barbecues, good jammin', haha yeah a lotta people do that, you'd say, but do you know a lot of rockstars (take it more like "famous musicians of the rock world" than "spoiled old kids with zillion of dollars in their bank account") who don't give much shit about the business around while their only concern is fam', music, and having a good time ? That's why you will see them jamming with tons of side bands, and you won't see a LP coming for years (which seems pretty normal actually, but you have no idea how long it really is for a DOWN fan), and touring…Well, touring worldwide seems secondary when they can play at home in their fave venues. They don't fucking care but they play good music and it's all that matters. LIFERS. Oh and for the record, DOWN was basically supposed to be a "side project" too !…
From blues to metal, DOWN's music will reach every aspect of the more melodic and heartfelt color of these genres. Transporting you right into their world, in New Orleans, where sunshine and darkness meet in quite the same places. Bower brings his damn incredible swing into the mixture, Keenan puts his stunning blues-metal vibe, Windstein adds his roughness to the riffs, Brown goes with the flow and deepen every second of each song with his sleight, and finally Anselmo is the wave of magic wand that makes it all happen and become palpable. And everything tastes like the best-tasting Bourbon on rocks ever cause it's rough, rich, and sweet at the same time. Feeling your throat burning never felt that good. Cheers…
"The power of the riff compels us". We don't worship blindly, we just feel the vibe deep in our hearts.
KINGDOM OF SORROW is a metal supergroup who features two of the biggest icons in the metal field : first you got the bald man Jamey Jasta from hardcore band HATEBREED, then you got the bearded man Kirk Windstein from sludge band CROWBAR. Take explosives and muck, mix them all together, you'll obtain apocalyptic fireworks. We call it sludgecore in other words. Here's the rundown, now just read this review of "Behind The Blackest Tears" and you'll get the point…
After their conclusive eponymous record "Kingdom Of Sorrow" released in 2008, the band is back with "Behind The Blackest Tears", their long-awaited second record (supergroups aren't known for being very prolific, yet KOS recorded two albums in barely three years).
Still combining Kirk's hollow voice and Jamey's furious singing, the album also perfectly combines heavy and thick killer riffs with angry and electric speed riffs. Tracks like Enlightened to Extinction, Along The Path to Ruin or Envision the Divide are perfect examples of such hybridity. Nevertheless, there's also a strong similarity between Behind The Blackest Tears and HATEBREED's Destroy Everything : I usually criticize this kind of attempt but here, the result's so good that I would definitely forgive them.
While these five tracks just hit us like a violent storm, KOS takes once again the challenge to produce a power ballad. On the first album there was the majestic and heart-rending Screaming Into The Sky, a breathe of fresh air in the middle of that metal tornado, however the song From Heroes to Dust chanced it but kind of fails because of a lack of poignancy. The record ends on beyond hardcore track Salvation Denied. Actually I think all hope of being spared by the swirl was absolutely excluded.
"Behind The Blackest Tears" is up for an outright listening, like a hurricane that throws gooey sludge to the scepticals' faces. The whole thing is tightly built, yes M'am : you're dealing with professionals !
So, here's a record which truly and heavily proves himself as a proud member of the sludgecore family, and, despite of its homogeneity and monotonous atmosphere (pain, sorrow, anger = hellooooo look at the band's name), manages to run over everything like a huge bulldozer armed with jigsaws. Like it or not but you can't say it's consensual, especially when we know that the fellows had a great fun collaborating again for this project. I can't wait for the live experience, but as I already saw the HATEBREED crew at work, there won't be any doubt about it…
ARTIST : KINGDOM OF SORROW
ALBUM : "Behind The Blackest Tears"
RELEASE DATE : June 2010
LABEL : Relapse Records
GENRE : Sludge / hardcore
NOTE : ✭✭✭✭
It's been almost 2 weeks that SLIPKNOT's bass player Paul Gray died from a supposed overdose. The metal world is mourning and will mourn him for a long time, I think. SLIPKNOT is one of the leading bands of the new generation, the band lineup has remained the same since 1999 and Paul Gray was one of its founding members.
He was loved for his temper, undaunted seriousness and positive energy. The band feels shattered after the death of its brother. Here is the link of the press conference they made, unmasked, to pay their respects and show their love to their friend : overwhelming…
I sincerely think the band won't go back to work immediately, if they ever would, and probably won't think of recruiting someone to replace him. The future of the band is 200% compromised for my hugest despite.
REST IN PEACE…