When I heard that metal prog legends BARONESS have planned to release a new album for the end of 2011, I told myself "damn I must write a review of their two albums, so the world could know". Yes, the world have to know that BARONESS is an out-of-the-range band that carries a fantastic universe through their music. They're good, proof is : two records, two masterpieces.
Why would I write two reviews in one ? To me "Blue Record" and "Red Album" are two sides of the same coin, or two chapters if your prefer. That last example is a better illustration of what kind of fantastic stories BARONESS can deliver : real epic tales in which skies meet the sea. Both blue and red artworks are so strangely representatives of these tales… Actually I've never seen artwork that so closely represents the music inside, pretty normal since singer/guitarist John Dyer Baizley drew these works of art. Now let's talk about music with the band's first record "Red Album".
Artist : BARONESS (page)
Album : "Red Album"
Release date : September 2007
Label : Relapse Records
Genre : sludge/prog metal 
Notation : ☆☆☆☆☆
The band introduces us to its world with Rays On Pinion : a new age atmosphere emphasized by a wonderful set of clean ethereal guitar harmonies, quickly followed by a strong prog sludge assault. A 7-minutes moment of oneiric intensity that gives goosebumps and sets the bar high for the rest… The Birthing follows on naturally from Rays On Pinion, a BARONESS' typical kind of "chaptered" song that lets a small but sufficient space for Baizley and Blickle's vocals and which structure is totally unsuitable for boredom.
The word "fascinating" is fully realized with Wailing Wintry Wind : we touch the abyss while carried by whales' songs (literally). The higher the song gets, the deeper we go into the ocean depths. Then it increases in power like the sudden rise of a storm, but no one should feel afraid here because Baizley accompanies us along with his strange incantations "See inside/Till you find me blindly/Slice the rind/Till you see me bleeding/Thousand blades/Of an unbeliever/Sift the sand/Hear the wail of winter winds". This prog masterpiece was obviously inspired by Metallica's "Call Of Chtulu" for its aquatic atmosphere but it keeps its own character thanks to the band's "Savannah touch".
Back on terra firma after an eventful saga aboard Nautilus, BARONESS takes now an acoustic pause playing the melancholic redneck Cockroach En Fleur. Still and always the band banks on melody and emotion, even though they often like to combine them with raw power.
If Isak reminded me neighbours Kylesa, no doubt Wanderlust reminds me yellers bearded cousins Mastodon. Anyway you'll devour a song, then another, then another… Each one of them slides down the throat easily thanks to this combination of strenght and mellowness, of epic melodies and raw post-punk riffs springled sparingly with some vocals here and there, just enough not to be bored with sludge prog's typical rebarbative screaming. Like we almost forgot there are humans behind all this universe, like we're plunged into the story without any interferences.
Time for another small pause with stoner prog Teeth Of A Cogwhell and let's get back to (tough) business with O'Appalachia, a track that makes you feel like your feet are tied to a rope, dragged by a crazy mustang throughout green blossomed valleys, here's the feeling. Thank you goodbye, the Red Album ends on what a neophyt like me would call a Sonate or a Symphony in D Major, anyway I have no f-ing idea of what it is but it's as beautiful as a symphonic orchestra that would have decided to play on Bad Cat amps.
You got it, BARONESS took all the influences, thought, tested, then produced a 10 powerful and heavily emotional "music tales". I will go further saying there is something untypically jazzy and sometimes classical in their writing. Respect that. Time to shush me and take flight with the Red Album…
THE ODYSSEY RUNS ITS COURSE, NEXT EPISODE : "BLUE RECORD"…
A sludge supergroup. Just saying those words makes my heart skip a beat. T-Roy Medlin (Sourvein), Dixie Collins (Weedeater, Buzz*Oven), Vince Burke (Beaten Back to Pure), Erik Larson (Alabama Thunderpussy). Announced as the misanthropic, sludge terror of the year (which is easy to believe), "Disperse The Curse" is the band's second LP and it adorns many more assets than it appears to have…
With their first release, HAIL! HORNET criminal conspiracy overwhelmed us with their sludge, a complete representative of Dirty South's neurotic darkness. Their second record "Disperse The Curse" reaches a level of sonic violence that could blow up the sound barrier. 
Without any warning (except for that highly mystical intro) the band pulls out the big guns with dipped-in-acid bullets with Shoot The Pigs, a 100% grindcore killer start with a "take no prisoner" attitude. T-Roy's insane rasping screams has a lot to do with the feeling of rabid rebellion. "Faster and louder !" as yer old 80's thrashers would say  !
The guys show off their comfort with playing chainsaw riffs and merciless blast beats, like sludge supervillains who have a sudden need to go crust. And it has to be said : "Disperse The Curse"'s crust tracks such as Gifted Horse, Suicide Belt or Scars (with Dixie Collins' super trip on bass) are fucking war machines ! Sludgecore track Beast Of Bourbon clearly makes the record reach its peak of intensity : Burke has refrained from playing solos until now because, he was actually baiting us, holding back his secret weapon. Epic one.
But hey, don't think HAIL! HORNET stopped representing their dear sludginess just because they served us hardcore/grind stuff : just listen to Unholy Foe's intro riff, muggy bass and hateful break to understand that none of these guys would let you mess with their heavy side.
Bloodshed ends on the killer's sadist jubilation : Blacked Out In Broad Daylight, or how he finally collapsed dead, exhausted after such a slaughter (considering he only had a chainsaw as a weapon, damn you have no idea how heavy a chainsaw can be !). Beautiful ending with that track, the band sends you six feet under with a shovel as your only company. I'm sure you're still hearing his evil laughter in the distance, like a deafening feedback…
"Disperse The Curse" is the result of the association of four wild, high-level musicians who are in symbiosis with that criminal act of theirs : they hate the world (you included) and their hatred salvos will fire at everybody. Run miscreants !
Artist : HAIL! HORNET (MySpace)
Album : "Disperse The Curse"
Release Date : Juillet 2011
Label : Relapse Records
Genre : sludge/doom/crust
Note : ☆☆☆☆
2 years ago, SLOW SOUTHERN STEEL was announced for release, then it has been postponed again and again. All southern metal fans are eagerly waiting for what could be considered as the first comprehensive filmed documentation about the doomiest, sludgiest, heaviest metal scene of all : THE SOUTH. You liked "Such Hawks, Such Hounds" ? This one will finish you off and it'll be released this fall on DVD.
Sludge, doom, southern metal, hardcore… All those genres converge on southern states (under the virtual Mason-Dixon line) like Louisiana, Carolina, Texas, Georgia, Virginia, which are all renowned among the metal world for this good reason.
Here's what the documentary's director, CT (from the band RWAKE), told us about the release : "The film is about underground heavy bands south of the Mason Dixon. It will have intense live performances from some of the crustiest, doomiest, and most progressive of heavy bands from the south. As will include interviews from the dirtiest and smelliest musicians, promoters, and fans from this genre about living and growing up in the bible belt, and other beautiful shit hole christian ran towns, as well as drugged out road stories, and other uncouth happenings."
Here's an appetizer :
It features Hank III, Kylesa, Eyehategod, Torche, Dark Castle, Sourvein, Zoroaster, A Hanging, Haarp, Hawg Jaw, Black Skies, Ketea, Parasytic, Beaten Back to Pure, ASG, The Roller, Dixie Witch, Weedeater, Royal Thunder and many many more.
And for those who still don't understand what I'm talking about, you should read this comprehensive press article about NOLA's underground metal scene, which I call "The Cradle of Sludge".
Supposed release this fall 2011 on DVD, follow the Facebook page for more updates.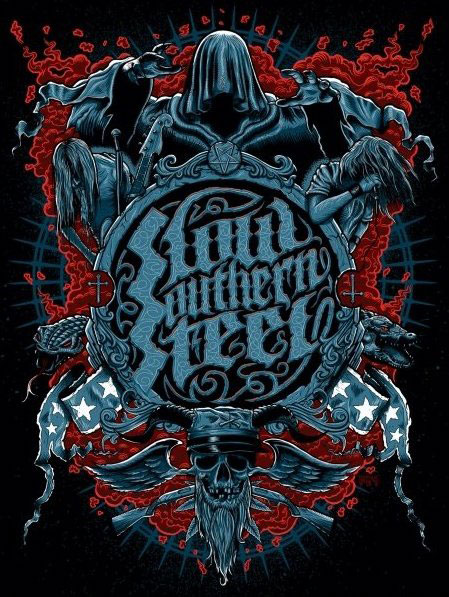 I have to admit it : I first got into ARMS OF THE SUN when I heard Rex Brown was part of the band. Then I checked the 3 first tracks they uploaded on their website and I cried out in excitement, overwhelmed by this 90's rock ressurection and the quality production. So now : does the whole record live up to our hopes ?
You have to know something before listening to "Arms Of The Sun" : don't even expect fast tempos and crazy riffs storms because ARMS OF THE SUN is a rock band with a serious fondness for classic rock and grunge, period ! I had to listen again and again to this record to finally accept the fact AOTS was NOT a metal band.
The record starts on March Of The Dolls, a skillful mix of heady grunge riffs and infectious melodies that give a glipse of the band's commercial potential. If there's one thing I must highlight right now, it's Lance Harvill's sensual voice that warms even the most average songs and brings them a very emotional color.
The band embraces and imposes its incredibly melancholic style and we inevitably end up hooked on Harvill's well-arranged choruses and Ben Bunker's unplacable solos. Alice In Chains' and Soundgarden's spirits surround some brilliant powerful rock tracks like Dead Inside, Wasted and Falling Into Pieces, although beyond all this the band has a knack for producing dark but universal ballads such as Empty, Coming Up Roses or Give Me Time…
"Arms Of The Sun" seems to be a record that has benefited a high-precision tuning work on all levels : writing, singing and tracklisting. To me this work could allow ARMS OF THE SUN to reach the pop rock circle easily. Incidentally some "odd" tracks fit perfectly to that mention about pop music I made previously : Behind The Sun, High, I Am The Walrus… It looks like Paul McCartney crashed into Harvill's brain aboard his huge yellow submarine, some kind of odd guest in the middle of a rainy rock universe… Why not ? The whole joint still stands out with quality, even though I feel like this artist statement may be one of the causes that made Brown leave the project.
Actually, I think "Arms Of The Sun" doesn't have 100% pretentions to grunge as it seemed to show with the first samples, BUT it has more a strong classic rock (not to say pop) character that can win many audiences. Now what remains to be seen is the ability of the band's dear 90's touch to reach our 2.0 kid's Beats by Dre…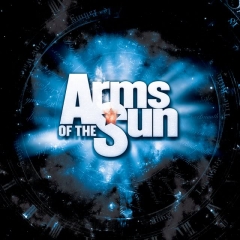 Artist : ARMS OF THE SUN (official webzite)
Album : "Arms Of The Sun"
Release date : July 2011
Label : Blue Dawn Music Group 
Genre : rock/grunge/alternative
Note : ☆☆☆☆
To continue the "X good reasons to worship…" series on a Southern vein, I choose to pay tribute to the coolest bearded man of all New-Orleans : KIRK WINDSTEIN.
My encounter with Kirk at Kristonfest (Bilbao) actually made me go with this article, even though I already loved this dude before we met. But his extreme kindness deserved a tip of the hat from the fan I am.
On behalf of the riff, the beard, and the "Saints" spirit, AMEN !
1. Kirk Windstein is simply one of the most devoted and humble dudes in the whole metal scene. He works hard among three legendary bands, all leaders of their own genre: the coolest band on Earth DOWN, Nola sludge's founding fathers CROWBAR, and sludgecore supergroup KINGDOM OF SORROW. He plays daily with guys like Phil Anselmo, Jamey Jasta or Pepper Keenan while still keeping it real, being truly sincere and vested with his music.
2. He's one of those men we call "Lord Of Riffage" or "Riff Lord". And that is a well-deserved nickname given that his riffs are as strong and solid as Kirk himself, you just need to listen to any of the songs he wrote for Down or Crowbar to realize it's true. Anyway it's not all about strenght, the man Kirk is also very sleight-of-hand: Windstein's style is ALSO made of heavy and blues-laden solos.
3. Kirk Windstein's official nickname is "The Beard Of Doom". Since he got up one morning and decided to stop trimming his beard, Kirk has been embodying everything Tolkien has ever wanted for his heroic fantasy manly characters: the Perfect Silky & Shiny Beard. The Beard Of Doom has even become a fantasy for many fans, who only think about one thing: being able to stroke the sacred hair with their own hands, just once.
4. As well as being a prime example of Mordor's denizens among our world, Kirk is first and foremost American. So sometimes he likes to see life through green-tinted spectacles…
5. You gotta love his singing voice AND his speaking voice. First one is rageous, sepulchral, crying despair.  Seconde one is too funny because it oscillates weirdly between a smooth voice and a deep-low rough tone coming from the very depths of the caves (see previous reference to Tolkien). Those on-stage moments when we can hear his unique backing vocals for Phil Anselmo are beyond awesome.
Moment of grace : KINGDOM OF SORROW – Screaming Into The Sky
6. Every night on stage with Down, Kirk lets his buddy Phil Anselmo tease him in many ways: he's now used to get his Beard Of Doom pulled, his bald head rubbed (with love), and he's also used to get water/beer/whatever spat all over his amused face. And all that makes him smile because Phil's a long-time brother.
7. Last but not least, actually the most important point : Kirk is the sweetest dude on Earth. He's actually being the contrary of this tough bearded man we see on stage. He's as big-hearted as a Carebear. He's so kind, anyone here would call him "Uncle Kirk" and would invite him to GrandMa's Sunday brunch (as well as tomorrow's BBQ, of course).
KIRK IS AWESOME, ALL HAIL THE BEARD OF DOOM !!!
Okay okay, I know I should have posted this before, but hey better late than never (and last minute train/flight tickets are always cheaper). This article is more than an excuse to post great flyers on my blog, it's also the time for you to be aware of 3 rocking heavy summer festivals you shouldn't miss for any reason.
STONED FROM THE UNDERGROUND : if you crave for stoner, sludge and doom, if you missed ROADBURN (like me) then you shall catch the train with this one. It will take place in Alperstedter See, Erfurt (Germany) on July 6th and 7th!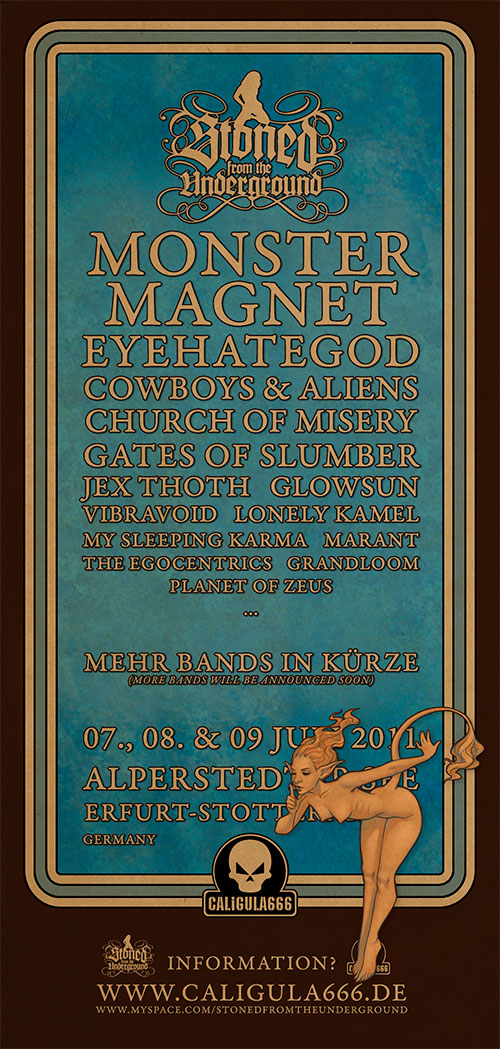 LÉZ'ARTS SCENIQUES festival in Sélestat on from July 14th to July 16th, with a hell of a lineup for each day brings you heaviness in a thematic way, with METAL, ROCK and RAP headliners. Check this out :
Last but not least, MOTOCULTOR FESTIVAL in Brittany on August, 19th to 21th. It'll be metal, it'll be brutal, it'll be fucking heavy !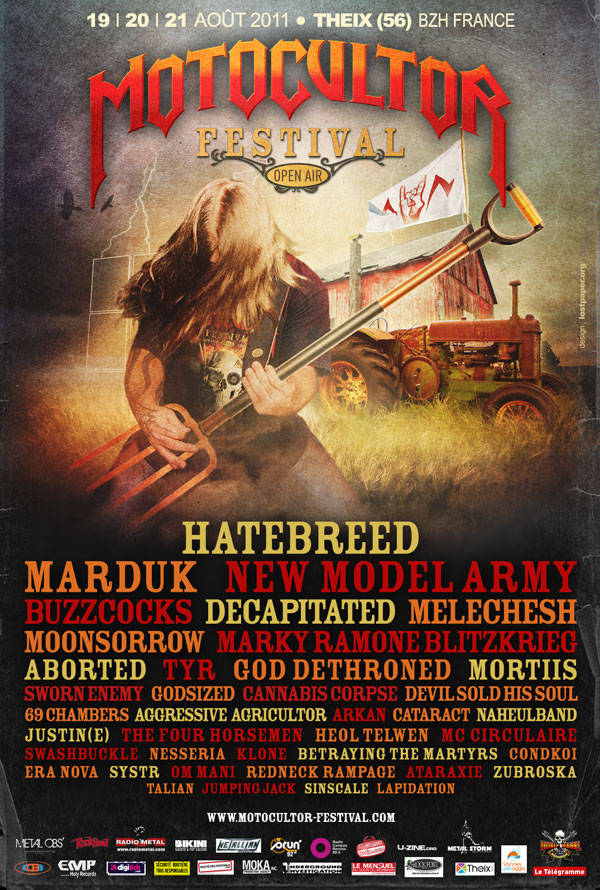 You thought you would get fucking bored this summer ? Now you know everything about the places to be !
"V" is the latest offspring of instrumental stoner kings KARMA TO BURN, released merely one year after "Appalachian Incantation". The latter announced Karma To Burn's fusion with Year Long Disaster, introducing Daniel Davies on vocals. "V" is another not-only-instrumental record, with no less than 40% of vocals in it. So what's the vvvvverdict ?
With both albums being released pretty close together, does that make "V" a spitting image of "Appalachian Incantation" ? Let's say it's more like a second part . As for its predecessor, the riffs on "V" are way less addictive than they were on "Almost Heathen" or "Wild, Wonderful…Purgatory" : your ears will have a blast (fucking hello, it's Karma To burn !), but in the end, not as many tracks will remain etched into your memory.
Something that never changes is the band's straight up habit of setting the tone from the very first seconds of the record, with a V8 instrumental that combines Oswald's fire, Mullins' earthquakin bass and Mecum's recognizable, heavy but rustic guitar. 47 IS that V8 song. 50 is quite a good track right in the same vein as "Almost Heathen" and yet it's no great shake ; 48 is more interesting in its noise rock sound and its mysterious and exciting, western atmosphere ; as for 49 and 51 they sound like regular K2B good songs. In spite of the great display of heavy riffs and cool bridges, the fact remains that those five instrumentals are below the level of creativity we could expect from the band.
Basically, a KARMA TO BURN record CAN'T suck, that's a fact. On "V", the magic happens right when the band shows its skills as a 4-piece : Daniel Davies gets on the mic and the whole band seems touched by God's grace. They actually get so fired up that you could burn yourself listening to these tracks (and you'd like it). I never thought I'd say this in my entire life : the 3 only non-instrumental tracks Jimmy Dean, The Cynics and Never Say Die are the best tracks of the album by far.
In the end, "V" isn't a disappointment, except that it seems to be written as a continuation of the previous record "Appalachian Incantation", as if they didn't rack their brains much and just decided to jam on. However, we're talking about an excellent bunch of musicians who know how to bring out quality, even from the most regular song. That is called TALENT and that is why they're called "instrumental kings".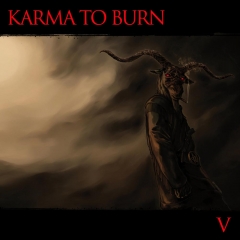 Artist : KARMA TO BURN (official website)
Album : "V"
Release date : May 2011
Label : Napalm Records
Genre : stoner/rock/instrumental
Note : ☆☆☆
While some redhead is feeling good having a part in stupid ads for a fast food company in Atlanta, the rest of the world is yearning about MASTODON four ATLiens' next record "The Hunter"…
Time flies and it was back in 2009 when the band released its incredible yet controversed effort  Crack The Skye", followed by intense touring, one of them being the terrific BLACKDIAMONDSKYE tour that led them on stage alongside reference bands Alice In Chains and Deftones. Then Bill Kelliher had health issues… But now Stache Boy is all good and we're happy about it !
The band has been teasing us from the studio for a few weeks now, giving us clues with a dropper : the record will be entitled "The Hunter" and will feature tracks such as Blasteroids, The Octopus Has No Friends (I like this one), Stargasm, Curl Of The Burl, All The Heavy Lifting and Dry Bone Valley. Recording is almost done : pretty good news, right ?
MASTODON is a bunch of smart dudes (well, at least they have a smart marketing team) and they gave us a lil something to keep us busy, some insane muppet show video based upon unreleased song Deathbound.
After a sludge weekend in Bilbao, what's better than a stoner friday with stoner legends KYUSS ? Given that tonight is one of their only indoor dates here in France, fans of sandy rock heavy like a monster truck can consider themselves as really spoilt…
I'm doubly spoilt because it's my first time in the photographer's pit for a big concert (press pass for ROOM72). So here I am with all leisure to shoot AND enjoy the show, awesome. I make my way between the laid-back and smiley people to check Dutch band TROY TORINO's performance.
TROY TORINO is : four super motivated musicians and one not-so-young frontman whose presence is undeniable, and they rock ! Their music is half-way between stadium heavy metal and typical stoner riffs, and honestly I'm surprised : when I close my eyes my imagination doesn't lead me in the middle of desert – looking forward to hear Kyuss for that -, but more in a huge canadian forest where it smells good resin and wild beasts – grizzli like. Stony and solid rock. In addition, they have such a presence and such a contagious enthusiasm – their stoner cover of "Grease" theme is terrific ! -, their performance wins over everyone !
Such a cool opening with a content band that made me want to know more about them and even buy their record, which unfortunately isn't available at merch store.
It's time, time for Stoner with a capital S. Time for THE band who created desert rock to prove us they still got it 20 years after they first jammed in Palm Desert. I can tell you their coming is really expected : after they went to Hellfest a few days ago, now it's time for Bordeaux' crowd to chant "Ky-uss !!! Ky-uss!!!". And here they are. Brant Bjork, the fantastic drummer, a lot of hair and a hippy bandana on his head. Nick Oliveri, the bass player from Hell, bald head and long goatee. Bruno Fevery, the mysterious guitarist, and last but not least : John Garcia, prodigy singer, inspiration, incidentally mexican mob's godfather – for the record I'm just talking about his cold gangster look and attitude -…
Within 2 seconds, we all disappear from Krakatoa to pop up in South California, in the middle of desert, at night. Stoned atmosphere is set, Oliveri's subtle bass notes, Bjork's swaying playing and Fevery's feline phases drag us into a world full of dust and stars, loaded with joints around the firecamp… "And The Circus…" et "Sky Valley" hits are rocking, I remain gaping by Garcia's voice which is the same as on the records : his very particular tone, his rage, his feelings are well and truly present despite the fact he is neither a smiley nor a commmunicative dude. The power is here, the man rocks – and he jiggles quite weirdly -. Pics taken, I go back in the pit and I don't need more than 10 minutes to feel, like everone around me, in a transe. Close your eyes and fly away, sway from left to right, stamp your feet on the ground like it would crack, wipe a thick tear on "50 Million Year Trip"'s solo, that's how you feel with KYUSS LIVES…
Just when I thought it would be a short one-hour gig, the band keeps on playing louder with a brilliant encore and two classics from "Blues For The Red Sun". That is when the last drum beat sounds that John Garcia finally talks to us and say "Thank you now, seriously" like "hey it's over now, O-VER".
This gig was an awesome gig : despite the band's lack of communication with the audience, the sound was excellent and KYUSS LIVES ! delivered a perfect performance, definitely worthy to the legend they are.
SETLIST :
Spaceship Landing
Gardenia
Hurricane
One Inch Man
Thumb
Conan Troutman
Freedom Run
Asteroid
Supa Scoopa and Mighty Scoop
50 Million Year Trip (Downside Up)
Odyssey
Whitewater
El Rodeo
100°
Encore:
Molten Universe
Green Machine
KRISTONFEST

in Bilbao. Needless to say that every single fan of the NOLA sludge scene has been eagerly awaiting this festival. How could I describe the vibe in a few words? Hmmm… The aim of this first edition of Kristonfest was to put together on stage three legendary – and closely related – US southern bands:

DOWN, Corrosion Of Conformity and Eyehategod

. As a bonus, a fourth band was invited to the party: renowned psych-doom Japanese combo 

Church Of Misery

. Just perfect.

Bilbao, 18th of June 2011. Used to never-ending queues at venues, I'm very surprised to see only dozens of people waiting outside, knowing that there's one hour left before the doors open. Spanish metalheads (or Basque metalheads at least) are never in a hurry. No need to hurry, then.

Gates open at 7:30 PM, we rush into the venue to get the best spot at the front row. SANTANA27 is a venue with two separate clubs and one bar on each side of the main hall. On my way to the merch stand, I meet EYEHATEGOD's frontman Mike Williams, with whom I chatter about their performance at Hellfest the day before, Bilbao's shitty weather and of course, his greatness. I ask him nicely to take the pose with me for a souvenir, which he accepts with his characteristic laid-back attitude. On my way back to the pit, I come across Kirk Windstein from DOWN who is casually hanging around with his dinner in hand. I come and shake his hand, then sounds out his mood with a few questions, just before taking a pic with the man best known as "The Beard Of Doom". Sweetest dude ever.

Those exciting encounters would have barely been possible at an outdoor festival, and it's mostly because we're in a medium venue, that fans can see their idols hanging at the bar or elsewhere. Very cool.
CHURCH OF MISERY
The show starts furiously with Japanese band CHURCH OF MISERY. Let me tell you how things are going on right now : four long-haired dudes with bell-bottomed jeans taking over the stage, and delivering a monstrous doom filled with 70's psychedelic madness. What with the fuzzy bass that flies into insane solos, their possessed and uncontrollable frontman, and the guitar-drums combo from Hell : being as close to Sabbath' s spirit, CHURCH OF MISERY is definitely a top-shelf stoner band.
Even those who are not into this kind of old school psyche music are won over by CHURCH OF MISERY's contagious craziness. The crowd is truly enthusiastic and an ovation greets the four berserkers' performance. AWESOME.
EYEHATEGOD
A happy Jimmy Bower gets on stage to install his gear, closely followed by some pretty loaded Mike Williams. «We're Eyehategod, we're from New-Orleans» : the band delivers pure, dirty, booze-fueled sludge. Sweat is pouring and the crowd gets out of control.
On the left side of the stage, I see Phil Anselmo enjoying the gig with passion and cheerfully raising fists… When Sisterfucker's main riff echoes through the place, Phil stands up and borrows Brian Patton's guitar to deliver a pumped-up back-up performance, while the four other members are getting ecstatic. The whole audience goes hysterical and this excellent tune (one of my favorites) reveals its hottest flavor.
After going through the band members introduction, they play one last song and leave the stage. A southern bulldozer has just crushed everybody and it's only the second band…
CORROSION OF CONFORMITY
Dozens of minutes later, we see Mike Dean showing up, quickly followed by Woody Weatherman and a smiling Reed Mullin. The show begins with "Animosity", then goes on at full speed with a thrash/punk song, then another and another… To clarify things : I'm a huge fan of CORROSION OF CONFORMITY and a even bigger fan of the Pepper Keenan era. Not that I don't dig Mike's voice, bass player by trade, but his performance as a singer sounds slightly repetitive, and besides a few words in Spanish, he's not really the most infectious dude on Earth. That said, fellow musician Pat Bruders (Down's new bass player) is still enjoying the show from the side of the stage, quickly joined by his bandmates and particularly Pepper Keenan, who watches his former bandmates benevolently.
I feel something is going on backstage, Pepper and Phil are getting into a lively conversation backstage. Pepper vanishes to run up on stage and gratify us with his warm voice and saving screamings on "Holier". But hey, what's going on there ? Phil just took over Woodroe's mic ! These guys are uncontrollable !
A sacred fire takes hold of both the musicians and the crowd, what is happening right now is awesome : Pepper and C.O.C jamming together, good ol' days style ! He runs off the stage then pops up again with his own guitar, the crowd screams like mad, then the band delivers a superb and highly energetic "Senor Limpio", followed by the awesome "Vote With A Bullet". The past stopped by, back to the days when Pepper, Woody, and Mike used to kick asses with "Deliverance" and "Wiseblood" setlists… A great, southern, heavy moment that feels like a breath of fresh air in this way-too-thrashy setlist. "C.O.C !!! C.O.C !!!"
DOWN
The time is coming and the crowd is getting crushed down on the barrier, while DOWN's bearded roadies are preparing the stage. I see Pepper and Woodroe chatting backstage, after what he shows up at the barrier to take a few pics with the fans. Security comes in, it's getting serious… Finally, DOWN gets on stage with Jimmy Bower at its head. Ovation. «Lysergik Funeral Procession» starts. The venue is fucking warm all of a sudden, because there's no crescendo with Down : the five bros give everything they got, from the first second to the very last.
Our minds are blown by such a powerful, sweaty (a lot of sweat) and most of all enthusiastic performance. The complicity between the guys is an integral part of the show : you should see them fooling around, smiling mischievously to each other, Phil hazing Kirk, the guys laughing at Phil's unique speeches… He even sings happy birthday to a fan, replacing her name with an erstaz of an unintelligible spanish word, which makes everyone burst laughing. They pace up and down the stage, spending most of their time playing on its edges. Rex Brown's successor Pat Bruders is a real beast, even if he stays in the background, he's nothing but great and more than stunning when he plays in front of us, FOR us. By the way, Phil introduces him as "available to the ladies" so that Pat would offer us a striptease on the occasion !
Despite the scheduled 10 initial tracks, DOWN (especially Phil) can't help hanging on as long as possible, entertaining us with hilarious speeches, checking every items the fans are throwing on the stage, always likely to babble on anything. A Pantera shirt ? Bam ! A jam with the crowd on "Walk" ! The crowd singing "oléolé" ? Bam, a 3 minutes jam with Pepper & Kirk on these few notes. Pepper catches a t-shirt representing Kirk's "Barba Del Doom" and there they go again, having fun. So yeah : DOWN is comprised of 5 long-time brothers, 200 % in adequacy, enjoying their time like hell, sharing each very second with their fans. Tonight we're about a thousand of people at Santana 27 but we feel like home, as if we were Down's guests. That's the honor they do us.
Time for an encore, time for the powerful "Bury Me In Smoke". Halfway through the song, C.O.C and Eyehategod members hit the stage and play in the shoes of DOWN. Fun, hugs, beer, headbang, warmth !!! This 2 hours gig ends on an intense giveaway of picks and items. When Jimmy realizes there's nothing more to give, he starts to check out every corner of the stage to find some precious items to throw to the wolves we are. The members take the time to shake everyone's hands down front, which is really heart-warming.
SETLIST
Lysergik Funeral Procession
The Path
Losing All
Lifer
N.O.D.
New Orleans is a Dying Whore
Ghosts Along the Mississippi
Eyes of the South
Hail the Leaf
Encore:
Walk
(Pantera cover)
Bury Me in Smoke
(with members of Eyehategod and C.O.C.)
Well it's the end of a huge indoor festival night, another proof that you don't need to invite dozens of trendy bands to rock a crowd ! Put together four super talented bands that are leaders of their genre, and most of all long-time friends… and you'll get an unforgettable show that will make you smile widely and enthrall for hours. I was lucky to meet Kirk Windstein again at the bar, he recognized me and gave me a warm hug and a big kiss on the cheek, whereas I was just about to congratulate him for the show. Then I had a very friendly chat (and another unexpected hug) with Pat Bruders who, I have to say, has truly earned his place among the band.
Thanks to Gorka and all Noise On Tour for the photo pass and for this incredible moment of music. Kristonfest forever in our minds…