(Disclaimer: the band and ourselves disclaim all responsibility for any speeding while listening to this album in a car). Savannah's trio BLACK TUSK

– whom we love here at THC —

are releasing their sixth album titled T.C.B.T. ("Take Care of Black Tusk") on their new home Season Of Mist this summer.
After the band stormed into the scene with The Fallen Kingdom (2007), I can't help but bringing up the tragedy that struck the band, with bassist Jonathan Athon's passing in 2014. Recorded before Athon left us, Pillars of Ash (2016) wasn't only the best tribute to their friend, but it was above all a total firestorm. Barely two years later, they release its follow-up T.C.B.T. with Corey Barhorst on bass. One could wonder if too many releases could be redondant, and if BLACK TUSK should maybe take things down a notch (just like their buddies Kylesa and Baroness). People have no idea – for Black Tusk are anything but a band easy to label… or stop.
Now let's talk about music. Imagine a sonic orgy where Dead Kennedys' punk side meets Motörhead's heaviness and Slayer's light-speed riffage in a NYHC pit. There you are. So now, the new album. T.C.B.T. is BLACK TUSK's best one (and my fave!) hands down – something I tend to say about each one of them. While the songwriting has kept evolving over the years, Andrew's riffs are inexhaustible and tusk-sharp as ever – not to mention Corey's grooves, James's deathly pounding, and what makes Black Tusk more volcanic than a bunch of Lemmy groupies: vocals! The three fellas share all of it and give their all, in the purest hardcore style. This dynamic is what makes BLACK TUSK stand out of the crowd. 'You can't go full on and stay the distance' some will say. With their fine songwriting skills, the trio injects a few breathers into the mixture, making you enjoy yourself even more, like this zen intro on "Scalped" that contrasts with the evil stampede that follows.
T.C.B.T. is a one-shot deflagration that provides a pure adrenaline shot. Taking Care of BLACK TUSK has never been that cool, making this album another banger in your stereo!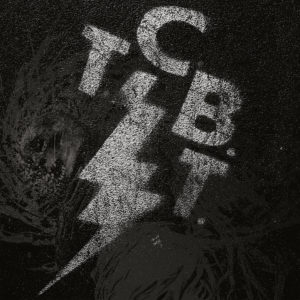 ARTIST: BLACK TUSK
ALBUM: "T.C.B.T."
RELEASED: 17th August 2018
LABEL: Season Of Mist
GENRE: Swamp sludge
MORE: Facebook / Bandcamp
Cackling right back at us again through the haze, like some kind of crazed witch astride a hot-rod fueled with liquid depravity, DOPETHRONE return with their fifth full length. Put simply, the cheekily-titled Transcanadian Anger (a possible Darkthrone reference perchance?!) sums up this much-loved Montreal trio's drug-guzzling sound perhaps more perfectly than ever before, with a record that slots right into any well-bolstered sludge collection like a beer and a blunt on a hot, sticky summer's afternoon.
After building up a consistently solid rep for banging heads and blues-grooved filth mongering on their red-raw debut Demonsmoke and the sublime Dark Foil, it was never in doubt that DOPETHRONE would have what it takes to become a worldwide leader in underground sludge metal. But yet it was the gloriously anthemic rifforama of III that cemented these French-Canadian bruisers in our hearts here at THC. The stopgap EP 1312 followed a fourth full length effort in Hochelaga, which was an altogether darker, slower burn all being said. But with no more a wink and a smirk, frontman Vincent Houde and bassist Vyk Riffbanger have knuckled down together with new drummer Shawn and fired the mighty 'Throne back to their triumphant best this fifth time around.
Opener 'Planet Meth' wastes no time in cracking skulls and cranking out yet another hook-laden scuzz fucker of a tune, slipping and sliding between dirty groove after dirty groove beneath Vince's demonic scowl. It's a pounding start to a deliciously riffy affair and as this driving surge of an opener eventually collapses upon its own grimacing, tiranical darkness, a train quietly rumbles down the track, headlong into 'Wrong Sabbath'. This one's more of a mid-tempo swagger through fields of gently torched marijuana and that Bongzilla-via-Blue Cheer vibe that Vince's guitar seems to ooze out so effortlessly. The chorus itself is more a snaking riff than a vocal hook, but either way, you could still barbecue all the gazelle carcasses you want on the back of this brooding, smouldering rager.
Wanna hear a song about a killer bulldozer? Well, who the fuck says no to that! With a full bong and a tank fulla gas, 'Killdozer' flies into life, easily one of the fastest, dirtiest instant classics DOPETHRONE have committed to tape yet. If that hasn't wet your chops enough as you swig that cheap bourbon ever more hungrily, the one-two jaw-breaking combo of 'Scuzzgasm' and 'Tweak Jabber sure as shit will. With the former a delightful ode to "an orgasm you wished you never had" slowly meandering across open plains of succulent fuzzy sludge and Vince's trademark rabid but sincere blues, the latter slams back into you like an overdriven tidal wave of beer spewing from the glands of an angry, ship-eating sludge whale. Heads will bang, including yours.
'Snort Dagger' is so slow and heavy it's virtually comedic as to just how knuckle be-draggen it's possible to get and the sneakily-titled 'Kingbilly Kush' is actually ZZ Top's 'Tush' given the full spliff-n-riff treatment to genius effect. But it's DOPETHRONE closing up the coal shed with the grimly rolling drums and gut-tugging basslines of 'Miserablist' that reminds you of just why you came here: to get your brain warped with volume on one side and fried in acid on the other. A truly scorching finale.
DOPETHRONE don't over extend themselves. They don't grow up. They don't do a quiet night in. They don't fuck with the formula they've refined as their own and they don't turn their sludge-quaking, drug-addled amps down for no-fucking-one. That's why they're up there with the best in today's fuzz business whilst as ever appearing to be having a shitload of fun doing it with us all live on stage. Based on this drunk, stoned, blazed-up rampage, it's fair to say that DOPETHRONE certainly remain full of Transcanadian Anger, but yet it also still feels as if they're only just getting started.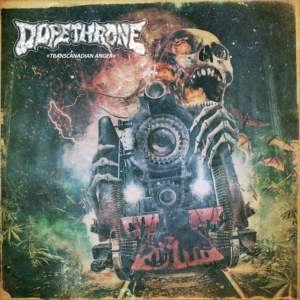 ARTIST: DOPETHRONE
ALBUM: "Transcanadian Anger"
RELEASE DATE: 25th May 2018
LABEL: Totem Cat Records
GENRE: Slutch metal
MORE: Facebook / Bandcamp
On the second day of Genesis, our preacher Lord Ben decided that they had enough of a foretaste and it was about time to put his believers' ears to the test. The Saturday at
HELLFEST 2018

opened the path to hip-hop on the Valley stage and nu metal revival on the Mainstages. So, did cobblestone get smashed to pieces? Story will tell… (PHOTOS: Gaël Mathieu)

Now that I've properly got into the groove of Hellfest, today gets off to a flying start with BLACK RAINBOWS. Well renowned among the European stoner rock community, the Italian trio are opening the Valley stage for 30 minutes of invigorating riffage. No fuss given, Gabriele Fiori's gang go pedal to the metal and, as the tent gets filled, we realize that their songs not only are cut out for the stage, but they are perfect on bigger stages like today at Hellfest. Now for a good start!

Here's a band whom we mentioned bazillions times here on THC, and who are making their second Hellfest appearance: Sweden's very own MONOLORD. Their show in Nantes this winter reached the top of my "gigs of the year" list, so you bet I was looking forward to seeing them. Can you imagine that the trio only needed three songs to win the crowd over, when others do that within a 2-hour set? After barely one song to warm us all, the drony sounds of their "Rust"steamroller echo across the tent, crushing us all before a 15-minute final on "Empress Rising" follows through the Valley's absolute destruction. We want more!

No encore for the Swedish, so I head off to watch GET THE SHOT on the Warzone. 'Yet another US hardcore outfit to start the day…', you say? You have no idea. We're talking about Tabernacocore ©, guys. Closer to thrash crossover than traditional hardcore, Get The Shot discharge their infectious fury while crowd surfers relentlessly fall from the sky… until their frontman comes and joins the fun! A big slap in the face, the Warzone way!

Now is the time for Greece's stoner rock torchbearers 1000MODS to take over the Valley. I'll spare you an unbearable suspense: this was the best Valley show of the whole weekend. Then what? This band is purely and simply the Mediterranean version of Fu Manchu, releasing even more warmth through each note of their groovy, sexy rock, helped by catchy melodies and infectious riffs. This is one stunning performance, getting us increasingly addicted throughout the set. Closing on "Vidage" and the endless "Super Van Vacation", the Greek delivered the most enjoyable performance I've seen in years. I already loved their albums, and I just fell in love with this band, already waiting for them to return to France!

Prepare for a different kind of vibe on the other side of the site, with hardcore breakthrough kids TURNSTILE! Blending Snapcase's energy and vocals with Fugazi's melodic songcraft, Turnstile make Get The Shot sound like a doom band. With over twenty tracks in just about 35 minutes, the Baltimore punks get out of stage ten minutes before the end of the show, leaving us more washed out than after a 2000 rpm laundry. If hardcore fans were looking for a new torchbearer, they just found it.

We just spent the morning going through a sonic whirlwind, and each band literally outdid themselves, so I feel like it can hardly get any better this afternoon. This is the time the promoters chose to check if the most eclectic metal festival also has the most eclectic crowd. New Jersey's electro hip-hop punk duo (in no particular order) H09909 get down to it straight away. Definitely not the usual Valley vibe, yet the tent is packed and everyone's going apeshit! I may not spin their tunes at home, I must admit that they set the Valley on fire! Hats off!

I stay to watch a band who has caught my interest lately: DÄLEK. This alternative hip hop project blends so many influences that listing them would be longer than the queue at the merch. Far from an inaudible hubbub, we're being treated to 3-star gastronomy here. I like the dark vibe and Godflesh-like sound… unlike most people who're starting to leave the tent. What a shame, this was a stellar concert.

No time for Terror (who are Hellfest regulars), I head over Mainstage 2 for the long-awaited return of Ice Mothafuckin' T and BODY COUNT, who pretty much beat a record for attendance at the Warzone in 2015. The show kicks off on a cover of "Reign In Blood", creating a sudden wave of crowd surfers for starters. The setlist gives prominence to the last two records, with the likes of "There Goes the Neighborhood" and "Cop Killer" cranking at full blast throughout the site. I know the experience was radically different from the back of the crowd, but I guarantee you this was one hell of a show overall, making everyone ask for more.

As mush as I'd like to mingle with the crowd to reach the Valley, DEFTONES just started on Mainstage 1 and I'm definitely not in a hurry, getting all nostalgic now. Chino Moreno may have drastically aged, yet the sound and vocals haven't changed in twenty years, and we're thrilled to hear "My Own Summer" or "Around the Fur" like in the good old days.

Enough nostalgia, it's time for a young and completely unknown act on the Valley: the new misdeed from Faith No More frontman Mike Patton and former Slayer David Lombardo. Sir Patton released so many nutty (and sometimes inaudible) side projects that you can be apprehensive of DEAD CROSS' performance. It may be hardcore-laden, it may actually do the job on a festival stage, Patton still shifts from clear singing to primal screams in a blink of an eye, Dead Cross doesn't unleash passions. Most people will say "they were alright", because, you know, it's Patton. It wasn't a heart-stopper though. They didn't even play the last quarter of an hour… Must work harder, as teachers would say.

At the other side of Hellfest, CRO-MAGS defo have nothing to prove. NYC hardcore pioneers return to Clisson for the first time since 2009, and they haven't lost a bit of their legendary fire. They cause a Force 7 circle pit that could have swept everything away in its path and make the cobblestone fly. A successful return for Jon Joseph's gang!

This second day is coming to an end, yet post-hardcore/sludge forerunners NEUROSIS are yet to commence hostilities on the Valley stage. This is quite an event as they never come to France. The crowd is scarce at that time of the night, and well, them who are missing don't get the vote. I'm hardly getting into"Given To The Rising", but the rest of the set happens to be a trip in the depths of my soul, with a mind-blowing and massive finish on "Through Silver In Blood". After such a sonic journey, I can think of anything and head off to bed, my mind and ears filled with Neurosis' devastating anthems.

The Hellfest promoters play the sonic oddities card this year, and today proved that non-metal music – whether they're far from the punters' jurisdiction or not – can definitely be part of a metal festival's lineup while being largely acclaimed by the crowd. Tomorrow will prove it again, to be continued.

This was the lucky 13th edition for Europe's most colorful metal festival HELLFEST – as for me the ninth, and my first as a reviewer. I was honored to cover this loud weekend on behalf of The Heavy Chronicles, with a Friday stamped by the dusty Valley seal and a lineup just as muddy as the weather in 2007! (PHOTOS: Gaël Mathieu)

But before we get to what matters most, let's talk about the site's innovations. The promoters have managed to add facilities such as impressive water arches to hydrate festival-goers and a huge bar in front of the Main Stages, decorated with a gigantic erupting planet that provided a great show at night. The pavement in front of the three outdoor stages may have caused debate, but in the end, no one missed the dust.

The Valley stage and its heavier than thou lineup are in the spotlight today, with Brittany's sludgers FANGE kicking off the hostilities. They don't seem any impressed by the size of the stage and hammer the poor crowd – who's for the most part hangover from Thursday's revelries – with their highly aggressive, greasy, massive and filthy onslaught. The sound is still being run in at this stage of the day, yet Fange don't care and keep on poundering with an unprecedented fury, winning over the Valley crowd.

After such a muddy beginning, I exceptionally stop by Main Stage 1 to see MOS GENERATOR. The Seattle rock veterans were called last minute to fill in for Electric Mary, which is a golden opportunity to reach a wider audience. Thirty minutes is rather short, yet Tony Reed delivers a show worthy of a headlining act, helped by a top-notch sound. The trio is making the fans happy, incidentally, the people who happened to be glued to the barrier shake their butts. Now for a healthy rock'n'roll start, and a good sign of what this weekend is going to be.

A team meeting prevents me from attending SONS OF OTIS' set at the Valley. Their Sabbathian riffs can be heard across the site and to the press tent, compelling me to run and witness their mighty heaviness. We take off, get suddenly crushed by a wall of riffs, then carried away by the Canadian who just made a huge impression among the attendees.

Another Canadian outfit takes the Valley stage: kings of sleaze DOPETHRONE. This is a band I've kept missing on stage, so I was really looking forward to this performance, but the band invested Paris streets last night for Stoned Gatherings' very own Fête de la Musique (France's Music Day) and I was worried that they wouldn't be in shape for this show. Breaking news: Vince fried his guitar amp yesterday and is forced to play on someone's else gear, and let's say it… it sounds terrible. Because of it, the drummer is having a hard time playing together with his frontman/guitarist. Unable to recognize any song, I'm gutted. The show isn't completely fucked, but I feel absolutely frustrated of this first experience with the band and really hope I'll be able to catch them soon for round II.

I'm stepping outside of my comfort zone at the Temple, with Switzerland's SCHAMMASCH. I can hardly get into it despite their sludgy, morbid vibe – I mean, broad daylight is not the better setting for a starter. However, it doesn't seem to be a problem for the rest of the crowd! On the Valley stage, France's CELESTE make the most of an unexpected 40-minute mid-afternoon slot to strike us with their depressive post-blackened-sludge-hardcore. They may be a proper oddity, but they totally deserve to be here, treating us to an addictive maelstrom of hopelessness. Time for a Warzone foray to witness the one-off and long-awaited reunion of SEVEN HATE, a French melodic hardcore punk (or 'punk on wheels') of the '90s. The sound is neat, and the band have the time of their life and sounds like they never went on hiatus fifteen years from now. Their catchy melodies and choruses haven't aged, Seven Hate treat us to one hell of a "back to the future" set.

Bongzilla on the Valley stage or CONVERGE on Mainstage 2? I'm curious to see the Boston crew on a bigger stage in front of a lazy crowd waiting for headliners, with their asses stuck on camper seats. I actually wish that those seats were shattered up in the air and people would run away, terrified in front of the untamable US gang led by Jacob Bannon's shrieks and Kurt Ballou's epileptic riffs. Such a brutal performance would have torn the Warzone apart, but this main stage set of the 30-year outfit actually does the trick just fine.

A little bit more Mainstage for me (I'm breaking a record!) with JOAN JETT & THE BLACKHEARTS. It's not everyday you see such a music icon and member of the Rock & Roll Hall of Fame, and reducing Joan Jett to her all-time classic "I love rock'n roll" would be unfair – she founded a girl punk group when she was 15! This is why she picked her songs carefully, going from punk to 80s FM rock, with an obvious cheerfulness. Delightful!

Back in the Bayou now, with NOLA's sludge godfathers CROWBAR taking over a packed Valley for their fourth Hellfest appearance. Kirk Windstein and the gang give the filthy, hard-hitting goods, bogging us down into their swampy grooves, and damn we like it. We would follow his screams until the limbo, as he imposes the foursome's hits like a lords upon his lands.

What can possibly happen after a ride into NOLA's muddy waters? Stand and wait. Wait for what? The mighty coming of Japan's veterans CHURCH OF MISERY! This happens to be a wise move, as the Valley is now overcrowded. Despite the constant lineup shifts, one thing that never changes with COM is the power of their sonic onslaughts. Tonight's show isn't just an onslaught, it's simply the best show of the day, hands down. From sludge to doom, Tatsu Mikami and his band get deeper and deeper into sleaziness and insanity, ripping our guts to pieces. A Sabbath-worthy slaughter.

There are few chances that we'd see a better performance today, so we could easily go to bed if needed. No way. Hollywood Vampires are next on the bill! Just kidding, I'll let Alice Cooper's cover band to nostalgics, for us heavy fiends are awaiting for the absolute masters of the genre: EYEHATEGOD. Hellfest has been treating us to a proper, crescendo-going sludge lineup today. More dirt, more heaviness, more shrieks, more moshers and crowd surfers: NOLA's bosses are here and delivering. The air is filled with electricity and the crowd couldn't go more apeshit. Football supporters would chant: "here, here, it's NOLA!!!". I'm too knocked out to yell, and stay put while digging the vibe.

Even if this filth-laden lineup has got me knackered, I wouldn't miss CORROSION OF CONFORMITY for anything in the world, for two reasons: I didn't really like the new album (!), and, well… Pepper Keenan. I have to be here. More than just putting on a killer show, COC kicks all living asses around at 1 in the morn', through a masterful and flawless array. At last, the last two songs on the setlist make me want to listen to the new album more carefully. What a perfect way to end this first day on the Valley!

Last but not least, A PERFECT CIRCLE are closing the Mainstage 2. I havent seen them since their London show in 2000, and well, the new album hasn't won me over that much, so I don't have much expectations. The setting is stunning, band members standing on luminous platforms at different levels on the stage. We can barely see MJ Keenan's face, as per usual. The beginning of the set give Mer De Noms star billing, but when the new ones kick off, I can't help but switching off. Time to let myself go in Morpheus' arms now, see you tomorrow!
ASG.

Three letters for "All Systems Go", a shorthand known to any skateboarder who used to rewind those vids showing extra-skilled tricksters slaying the curb. ASG embodied the Volcom state of mind. Their music was meant to break rules and frontiers between genres, like a soundtrack for those living on a board. Through taking part to several "Vans Warped Tour", the band established their reputation among the kids and beyond. The band now returns after a 5-year hiatus with Survive Sunrise – which eponymous track have been tickling our ears since April. Second excerpt "Execution Thirst" rubbed it in, auguring a proper summer record that would fit in between your suncream, dusty holed Vans and warm beer…

It all started well. The album unveiled two catchy, sun-drenched singles that don't break any ground, just as the artwork once again designed by the Malleus collective.

Then there's the rub. ASG always claimed that the blend of influences was the essence of their sound. As it happens, they display pretty much all of them in this new album. This is too much. We don't know whether they're taking their cue, or merely copying-pasting. Survive Sunrise is not a bad album per se, and will arguably delight bloggers lacking inspiration: from formulaic track-by-tracks where one will be proud to spot that Baroness riff, Torche-sounding track, or that guitars are very *addsludgebandnamehere* to conclude that it rocks… and that's it. This is worthy of a TV sports commentary. Well-executed but dull.

Beyond the tactical and technical matters, the whole album is trite, depth-free and provides a feeling of déjà-vu. Mutual inspiring within the same music scene can lead to going round and round in circles, and even running out of fuel.

Did we have too much expectations for a band who used to be fresh to death and audacious? As one former football player once said: "Quality without any result is useless. Results deprived of quality are boring." This sums up how we feel about this new ASG album.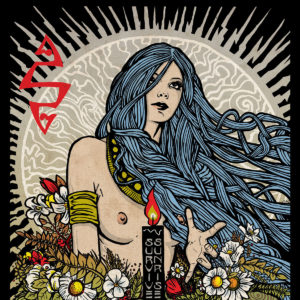 ARTIST: ASG
ALBUM: "Survive Sunrise"
RELEASE DATE: 15th June 2018
LABEL: Relapse Records
GENRE: Stoner rock
MORE: Facebook / Bandcamp
How not to be completely elated when kicking off the third day at DESERTFEST LONDON, with a resounding performance of one of the hypest doom bands of the decade at the spectacular Roundhouse, MONOLORD. Given the legendary headliners that will play the Chalk Farm Road venue, and the absolutely tantalizing lineups of the Underworld and Black Heart, it's gonna be a long day going back and forth between venues, but hey, Given the what is a good festival if not peppered with a bit of challenge (okay, dilemna)? Let's roll now! (PHOTOS: JOHN WHITE)
The mood is sorrowful and low, quiet even perhaps, as CHRCH kick into session upstairs at the Black Heart. Shrouded and crawling about the stage like some sort of ghostly wanderer, Eva Rose is thoroughly engrossing and enchanting as vocalist of the Sacramento funeral doomers as they slither into their Unanswered Hymns. The riffs themselves here are incredible, but the under-towing melodies highlight a beauty in modern doom that's so difficult to perfect. As 'Infinite Return' quivers and quakes into life, nobody talks, nobody claps and bodies gently sway as this huge writhing unit of human pain doesn't so much crush the Black Heart as seep slowly over it like a morning mist in a graveyard with a haunting sense of longing. This is frankly a towering performance and I personally cannot wait to see what this band does next.
Our boys from Boston ELDER already feel like so much of a part of the fabric of Desertfest that we scarcely notice they're on the bill this year, we just take having the kaleidoscope visuals-backed being present as the norm these days! But this is a very good thing to assume and a short hop on the tube down to the Roundhouse and we're just in time to watch DiSalvo, Couto and Donovan kick out the jams from 'Reflections on a Floating World' before you can say "Heavy Psyche O'Clock". The now-fourpiece mob from Massachusetts are as ever backed by an insane lights and visuals show which adds almost as much to their progressive landscapes as the band do themselves. Always a firm favourite with the Desertfest faithful, the swollen crowd behold thee Elders as one of our very own as they smash through the likes of 'Sanctuary' and the titanic 'Compendium'. A rather muddy sound mix threatens to mar their overall impact, but Elder still catapult the Roundhouse into the outer galactic.
Oh Fuzz Yeah! This is what we've been waiting for! LA trio and stoner rock royalty NEBULA are back after far too-long an absence to kick us into the hazy afternoon with some seriously stiff riffage. Opening up with the likes of 'To the Center', 'Perfect Rapture', 'Clearlight' and the timelessly simple lyrics of 'Smokin Woman', it's clear that the stoner anthems Nebula wrote many sand dunes ago have stood time's many tests. Eddie Glass looks like the coolest rock star in the world has just woken up and crawled back off a beach somewhere with his bedraggled hair, tye-dyed shirt, cheap sunglasses and a beat-up Strat hanging off one shoulder. Although it's fair to say that Mike Amster (drums) and Tom Davies (bass) aren't yet at their tightest as a unit, these Californian heroes sure still have the jams to blast us into the cosmos. Glass' riffs and licks slay us with round after round of pure dirty volume as the Roundhouse dances and boogies our asses into the early evening to 'Sonic Titan' and 'Fall of Icarus'. With Glass snapping an E-string towards the close of the set, the trio somewhat limp through 'All The Way' with slightly less superfuzz in the tank and the initial buzz from the start of their set dissipates, but this has still been a blast from the past that we'll lap up once again in the present.
Okay, it's now time for THC's most anticipated and absolute heart-stopper of a show of that whole Desertfest weekend. Vancouver's sludge powerhouse BISON's latest album "You Are Not The Ocean You Are The Patient" has effortlessly risen to the top of our 2017 releases, being their most accomplished to date. 'Are we done with superlatives yet?' you say. Not quite. The Underworld crowd has been clearly witnessing some Doom of the highest order today, but BISON were the most primal instinct-stirring performance of the day. Like a storm cutting a swathe through that poor old Camden, the tree fellers fling sludgy, post-hardcore-drenched log after log in front of a mesmerized crowd. Brilliant is an understatement.
Now we just need a big fat headliner to see us all on our merry way and MONSTER MAGNET's Desertfest London debut is just the tonic. Dave Wyndorf and co are on top form as the ultimate entertainer on the stoner scene sprints around the stage fit, healthy and super-sexily, just like back in the good old days. Opening up with 'Dopes to Infinity', the mighty Magnet plough on through a greatest hits set punctuated with newer cuts like the humongous newbies 'Mindfucker' and 'Rocket Freak'. The New Jersey five-piece sound huge and bang on form here tonight inside the amazing theatre of the Roundhouse, even if it's not quite packed out partly due to a few hundred of us being down the road at the Underworld watching Weedeater's second set of the weekend. As Dave points to the rafters and squeals away into the night, there's a strong sense that this is yet another defining moment in Desertfest history, with Wyndorf's cocksure frontman swagger backed up by Garrett Sweeny and Phil Caivano's banging riffs and Bob Pantella's titanic presence behind the kit. With Dave whipping the crowd into a fist-pumping frenzy, Magnet gun this gig like it's the last day on earth, which even if it was, would still be a great day in our eyes. I'll certainly not leave behind my memory of nearly three thousand Desertfesters screaming along every word to 'Negasonic Teenage Warhead' and of course the anthemic 'Space Lord' any time soon, and hopefully neither will the five gents in black too.
So that's it, it's all over, party finito… Or is it? Dutch awesome foursome DEATH ALLEY have other ideas with a special after show set at the Underworld and oh yes it's absolutely 'Black Magic Boogieland' time! Douwe Truijens' snake-hips and white cowboy boots shake rattle and roll the night away throttled forward by Oeds Beydals dazzling fret work on the six strings as they work in newer numbers like 'Headlights in the Dark' and 'Murder Your Dreams' from new album 'Superbia' alongside the older material. This is one hell of a way to end the party as a crowdsurfer or two take to the skies as Death Alley ram the crowd with blast after blast of retro psyche action – it's simply an absolutely deadly performance from perhaps the ultimate party rock band in the world right now, tailor made for a festival after party. Truijens actually sets fire to a cowbell during 'Stalk Eyed' before Death Alley close down Desertfest in style with a great Iggy Pop 'Search and Destroy' cover and of course a fucking massive dose of 'Supernatural Predator' to see us all off sweaty and raving into the night.
When all's said and done, that was one beast of a weekend. Hats off to all involved from organisers Jake Farey and Reece Tee, right through to the people looking after us, selling us merch and pouring us pints. It's an honour to see this scene and festival flourish in the warm Camden sun. As for the formula I mentioned, well, it just keeps on delivering the results. So same again next year? Shit yeah! And we've no doubt that 2019 will kick even more rump than ever before, so rest up, put your feet and your liver on ice and stay heavy Camden.
On 23th September of 2016, the undertakers decided to close down and write the epitaph on their own tombstone. Divergences of opinion among the band got the better of
GRAVEYARD

's creative force. Yet on the fringe of Hell, the gravediggers weren't quite done with their history. Not only the corpse had to be resuscitated, but reviving and injecting the creative fury of Hisingen Blues had become vital.

Also, welcoming new drummer Oskar Bergenheim on board was a sine qua none condition to carry out the necromancy. Just listen to the frantic rush of the aptly titled "It Ain't Over Yet" and you'll get the drill. As if they intended to ward off the blues wanderings of their previous album, GRAVEYARD sound as strong and powerful as ever, invoking the Heavy Metal Thunder of the 70s' most legendary hard rock outfits.

A rejuvenated and leading rhythm section is indeed what makes that Peace falls right in with the band's celebrated predecessors. Groove-laden and energetic tracks à la Grand Funk Railroad will spark the interest of those enticed by the return's hype. Well-balanced, the album carries on the mortuary atmospheres instituted on songs like "Longing" on Hisingen Blues, while putting minds of the golden era's fans at rest. "See The Day" reeks of chrysanthemum on All Saints day, while "Del Manic" buries us six feet under. Meanwhile, more classic-sounding pieces such as "Walk On" or "The Fox" deliver the right dose of vintage GRAVEYARD you've been craving.

When the ecstatic drum-pummeling doesn't electrify you, you get carried away by some hoarse vocals crying out the heart's wounds, like the band's final testimony. More alive than ever, Joakim Nilsson and Truls Mörck put every inch of their heart and soul into each and every word they sing. Whether it's a mournful crooner on "Cold Love" (stunning!), a lycanthrope screamer on "Please Don't" or an evil soul singer on "Low", Peace is the perfect range showcase for both vocalists.

So, can we hope that GRAVEYARD's revival will last? The band seems invigorated by their own death and rebirth. Peace may not be as enticing as Hisingen Blues was, yet the fire runs through it and the overall performance outshines any other album released before the hiatus. Because their mature, groovy and powerful blend of blues, pop and rock is a stadium-filler, the missing link between Mountain and Grand Funk Railroad. Through death, ad vitam æternam. Amen.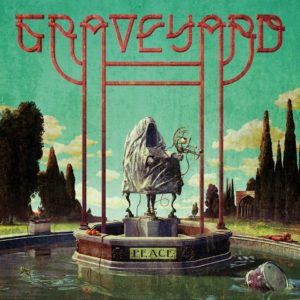 ARTIST: GRAVEYARD
ALBUM: "Peace"
RELEASED: 25th May 2018
LABEL: Nuclear Blast Records
GENRE: Classic rock
MORE: Facebook
Ouch. Well that was one epic first day and my feet and head certainly seem to know as much! But, this is
DESERTFEST LONDON

and there's no time for wimping around and so a sloppily cooked breakie is downed and it's on with the show! (PHOTOS: JOHN WHITE)

A bit of cock rock to kick us off? Oh go on then! And with the ADMIRAL SIR CLOUDESLEY SHOVELL at the helm this ship is good to sail. Johnny Gorilla's sweet, tasty licks are chock fulla rock and as thick as his mutton chops as they cackle over the Ballroom PA and rock this hazy crowd immediately into second gear. The hilarious Hastings mob's Motörhead by way of Status Quo motorcycle riffing swagger is a winner each and every time and the perfect tonic for this afternoon's gin n' grin.

CHURCH OF FUCKING MISERY! Do you need any more of a review than that? Oh OK, Claire says we do so I better get to it… The Japanese masters of boogie doom simply take the Electric Ballroom in the palms of their hands and crush it into a tiny pile of cake crumbs. Line-up changes? Line-up schmanges. Being surrounded by three new Churchgoers is no distraction at all for Tatsu Mikami and co who blast through 'Il Padrino', 'Make Them Die (Slowly)', 'Candy Man' and a frankly monstrous 'Born to Raise Hell' before you've even had chance to catch your breath. Are Church the best doom band ever? Probably not quite, but this is sure as shit the best fun we'll have all weekend.

"Mankind is not kind, maaaaaan!" It can only be 'God Luck and Good Speed' and with Dixie and Shep at the helm, the Ballroom's stench of weed grows ever stronger. North Carolina veterans WEEDEATER still pack a mighty large punch as pints fly and heads bang along to the stoner caravan of boogie doom through the likes of 'Wizard Fight' and '$20 Peanut'. A wild-eyed Dixie is on the form of his life and after coming offstage he wastes no time at all in getting to know each and every punter at the Black Heart. What a ledge.

Italian trio BLACK RAINBOWS are an utter revelation over at The Underworld. The high octane three-piece blast through an hour of chugging heavy rock with those heady vocals from Gabriele Fiori ensuring wall-to-wall stoner boners in the pants of every one of us in what has to be said is a very healthy crowd considering that Weedeater are playing across the street. Alberto Croce's huge drums clatter through proceedings like a truck through an applecart and Giuseppe Guglielmino creates huge sonic bass surfboards for the rhythms to glide away on. This ain't no ground that's never been broken before by the likes of Nebula and Fu Manchu, but it's some of the best fun, good-time rockin' of the entire weekend.

'Sons of Thunder'?! They're opening with 'Sons of Thunder'?!! Well I'll be! HIGH ON FIRE are here and as soon as Matt Pike cracks out a black-toothed grin and lets the riffs begin to build slowly, by the time they hit the breakneck 'The Black Pot' and 'Carcosa' it's pretty apparent that this is almost certainly the most intense headliner Desertfest has ever had on show. What happens next is an al-guns blazing greatest hit set from the one of undisputed kings of modern day metal: 'Waste of Tiamat', 'Rumours of War', 'Blessed Black Wings', 'Bastard Samurai', the riffage just never ceases. Des Kensal is a machine behind the drums, assaulting the audience and throttling Matt Pike and bassist Jeff Matz forward into stoner-thrash oblivion. The guy's barely human and an hour or so later, I'm outside the Ballroom begging for someone to help me grow a new ribcage.

High On Fire barely need to use the PA at all tonight as their sheer tour de force pulverises the Electric Ballroom. If you were there, then you laid witness to one of the heaviest bands of all time absolutely killing it at the festival they arguably helped to ignite many moons ago. Ending on the unholy trinity of the smouldering 'Bastard Samurai', the armoured car assault of 'Fury Whip' and the astonishing 'Snakes for the Devine', HoF leave little in their wake except broken pint pots, t-shirts, dreams and eardrums as they complete their rout. A true phenomenon that continues to bludgeon all in their path.

Phew! What a day! Now it's just a case of making the quick hop over to the Black Heart to sink more beers and talk a load of rubbish with complete strangers outside in the street, but hey that's what Desertfest is really all about now isn't it! See y'all tomorrow!
Stoner rock's absolute icons

SLEEP caught everyone off-guard on 4/20 by releasing their first album in 20 years, The Sciences, without any promo or exclusive stream, nor any forerunner media hype.
Something we've been wondering, is whether their legend status is a transposition of our own idealization: a nonchalant trio that pushes forward their weed-driven lifestyle by crafting the epitome of stoner doom. Let's be honest: how many of us have had the chance to see SLEEP on a stage since they put out Dopesmoker? I was lucky enough to get overpowered by their Hellfest performance back in 2013, yet a lot of people have only been experiencing their music through the first records. So, is SLEEP's influence on modern heavy music a myth or a reality? Are four songs – let's put the eponymous track and the newly and superbly arranged version of their "Sonic Titan" classic aside – enough to revive their own story? I will spare you the wait: it's a yes. Why? Simply for the said four tracks set such a high standard that only the trio can deliver, (re)establishing themselves as the absolute godfathers of shaman-like heavy. The three dudes haven't (only) spent the past two decades smoking dope, as their participation in OM, High On Fire, Neurosis has been constantly determining the way they write music together: refined and more coherent, heavier, trippier… in a word, better.
I mean, first track "Marijuanaut's Theme" is pure ecstasy! This heady, repetitive and stunning pattern has chances to become a stoner reference for the years to come. It doesn't intend to outdo every other release of the past two decades or show whose is bigger. It simply embodies SLEEP's influences, imagery, main themes and – last but not least – their sound. "Marijuanaut's Theme" is a torchbearer for the entire underground culture and a timeless anthem to be.
Once foundations are laid (i.e. "we are the doom lords so stop ripping us off, this is useless") and after the epic and ambitious "Antarticans Thawed" that binds nature and shamanism, it is time for the magical trio to get back to business with an obvious tribute to the king of 'rifftual' maker ("Giza Butler") where SLEEP bows to one of the greatest geniuses of the Rock'n'Roll history. Final instrumental "The Botanist" is almost too quiet for a wrap, but if you let yourself carried away by Matt Pike's riffs, then it'll feel definitely too short… Needless to be into the magic herb to enjoy SLEEP and The Sciences, you just need to let yourself go to their sound and the mighty rhymes invoked by Al Cisneros to get into a spiritual trance.
Like a comet visiting the Iommosphere, SLEEP came up into our universe before being off to another planet, leaving the tangible proof of its existence through an album that reminds us all who are Sabbath's only worthy heirs. Praise Iommi!
ARTIST: SLEEP
ALBUM: "The Sciences"
RELEASED: 20th April 2018
LABEL: Third Man Records
GENRE: Stoner doom
MORE: Facebook / Website
DESERTFEST LONDON

, much like the music it showcases, is a formula. Every year you pack the same bag, hop on the same train or flight, see all those friendly and familiar faces outside the Black Heart and massively overspend on merch and beers. Now into its seventh year and going from strength to strength, the UK's premier stoner, sludge, doom and psyche fest is back once again and packing in even more stages, riffs, pints, beards, battle jackets and excited punters than ever before. But it's a fantastic formula; a formula that each and every time works, every time. So the sun's out, the beers are chilled, the bands for t-shirt bingo have all been painstakingly selected. It's time to do a Desertfest! (PHOTOS: JOHN WHITE)

Those ever-loveable and dry-witted Suffolkwits OLD MAN LIZARD kick things into gear at the ever timely hour of 2pm downstairs in The Underworld's dank darkness. Jack Newnham's powerful but jerky and dynamic riffs couple with Gav Senior and Dan Beales' robust rhythmic grooves as the British trio swagger through a solid set of chunky but intelligent heavy rock. A strong opening act for this weekend of volume, OML seem to ooze with more and more confidence with every gig that passes their way. With the chunky yet funky likes of 'Trees Fall Down', 'Snakes', 'Return to Earth' and 'King Kong' on display, the 'Liz deliver a Taint-esque muscular performance that yet somehow defies most of the regular genre pigeonholes. I think we can consider this packed out crowd suitably warmed up!

THE BLACK WIZARDS may have an overly simple name, but these Portuguese rockers play their country-folk-layered heavy psyche with both huge passion and outright finesse. Guitarist/vocalist Joana Brito is the undisputed focal point, her wild hair thrashing through the aircon-cool Underworld atmosphere atop her sickly sweet guitar solos and soaring vocal lines. A few early guitar issues for Joana aside, who requires a full guitar head replacement after just one song, The Black Wizards peddle through 45 minutes of heady, acid-torched Californian-desert jams in the vein of Blues Pills, Radio Moscow and Earthless. Solid, but perhaps not quite the most spectacular band we'll see all weekend, these noble Wizards groove us away into the middle of the afternoon Camden glow.

Greek powerhouses PLANET OF ZEUS are slamming the first crowds at the maze of nooks, crannies and balconies that is KOKO with wall after wall of heavy riffing euphoria. Their head-banging metallic jams and feel-good choruses feel big enough to grace any stage from club to stadium today as a healthy number of voices from the audience join Babis Papanikolaou's energy-laden performance behind the mic. Ever the Gods of the groove, PoZ look like they're having the time of their lives up there as t-shirts fly from behind the merch stand and into a throng of waiting tote bags and cargo short pockets.

It's almost too packed to squeeze into a now rather sweaty Underworld for a flutter of the BLACK MOTH's wings, but we manage it. Harriet Hyde leads the Leeds-formed rockers through dose after dose of in-the-pocket riffage and elevated vocal plains. With new(ish!) guitarist Federica Gialanze adding a seemingly heavier weight to the likes of 'Moonchild' alongside the quirkier bounce of the older numbers on show, Black Moth are greeted to their ever warm hero's welcome in blackened belly of the capital.

"Turbocharged bangers" is pretty much the only way to sum up the onslaught that is ZEKE. With Dayne Porras's ridiculously rapid-fire drumming near-deafening all within a 5-mile radius, Blind Marky Felchtone's barked snarl is as iconic as ever as the revitalised foursome rampage through an hour of punk-as-fuck noise at the KOKO. Yes it's a simple formula and yes it's so breakneck you can barely comprehend the breaks between songs let alone head-bang along to the groove, but Zeke's monster truck approach, plus Marky and new whippersnapper guitarist Kyle Whitefoot's near-constant ligament-defying guitar solos are every bit as exhausting to watch as they appear to be to play.

Another mad dash up Camden High Street brings us back down once again to The Underworld where stoner rock heroes FREEDOM HAWK are kicking out their sweet brand of rhythmic desert rock. This is music for putting your Camaro top down to and chugging a few cold ones on your way to the diner as T.R. Morton's sickly Ozzy-like vocals penetrate the groove of the Hawk's trippy, hazy fuzz riffs. It's not rocket science in formation, but few bands this weekend will be able to match Freedom Hawk for their genuinely wholesome stoner vibes. The crunchy romp that is 'Blood Red Sky' is a particular highlight as well as the more freshly cut chug of 'Solid Gold'.

KOKO is packed to the rafters for one of the few true lords of doom: Wino and his latest incarnation of THE OBSESSED. As ever the force of the riff is strong with the trio who now also feature Reid Raley formerly of Rwake on four-string rumbles and Brian Constantino on drums. Blending new material like 'Sodden Jackal' and 'Be The Night' from the sublime new album 'Sacred' with older smash hits like 'Hiding Mask, 'Way She Fly' and 'Streetside' makes for a formidable setlist as Wino's pinched snarl dominates over the weighty bass crunch. The sound isn't as clear here now as it has been for some of the other bands on the same stage today but that doesn't stop us all going fucking mental to the epic that is 'Skybone' and the closing shot of 'Mourning'

The night is wearing on and many beers have clearly been quaffed by the Camden faithful who all go accordingly ape for our boys from New Orleans, EYEHATEGOD. You know the fucking score with the kings of sludge: '30$ Bag', 'Blank', 'Shoplifter', 'Agitation! Propaganda!, 'Medicine Noose', ' Revelation/Revolution', 'Sisterfucker' and of course the mesmerising 'Take As Needed For Pain', it's all here and it's all just as good and filthy as it always is. A revitalised (although apparently still high!) and more closely-cropped Mike IX Williams is on top pit-whipping form as he snarls over the din of Gary Mader and Jimmy Bower's riffage. They might be a man down tonight without Brian Patton present on rhythm guitar but that doesn't stop EHG being just as potent as ever.

The upstairs at the KOKO has finally been opened, meaning the usual caverns of places to sit down and sneakily watch the bands can be appreciated by all of us with street-weary feet. Headliners GRAVEYARD are here and are as ever their ever energetic, bouncing retro selves. Marvellous tasches and elaborately patterned shirts are out in abundance, as are the Swedish foursome's penchant for catchy licks, psychedelic grooves and Joakim Nilsson's glorious, earnest vocal hooks. This might perhaps not be the hugest-sounding set of today after the enigmatic Eyehategod but the sincerity of choice cuts like 'The Fox', 'Ain't Fit to Live Here' and 'Uncomfortably Numb' remind us all of just why we fell in love with these Scandinavian masters of the vintage sound revival.

WHITE HILLS might have had a little bit of a switcheroo with Ego Sensation now behind the kit as one half of a stripped-back, bassless duo tonight but that doesn't stop her and guitarist Dave W being just as crazy weird and psychedelic as ever at the Black Heart. I wished I'd seen more of this but I was approaching a personal record for most bands seen in one Desertfest day and couldn't stop just yet!

NAPALM DEATH never change do they? The grindcore legends shut down proceedings at the Electric Ballroom in style, ploughing a packed crowd with buzzsaw riffage, devilishly rapid short sharp shocks of furious punk carnage and a socio-political rant or two as ever from Barney. With Planet Earth now successfully scorched, it's off to stand outside the Black Heart to get thoroughly sozzled and count how many Sleep tees we can see. The answer? Billions and billions.