For once, here's a fucking great release coming from a band reunion — far from the usual boring collection of songs that inevitably leads to a reunion tour, with no other purpose than performing some old tunes without any drive or fire.

LA MUERTE

are just the opposite.
Firstly, there guys were pioneers of industrial metal, long before the likes of Ministry and followers such as Manson and Rammstein would blithely copy without even giving credit to the Belgian outfit. Secondly, LA MUERTE never made any compromise and always followed their heart, even if it meant scuttling their career in place of touting for major labels to get famous.
After a 24-year hiatus, they return like zombies resurrecting in the wake of years of sick-minded incantations, with a brutal-as-fuck new album that would give the chills to the best horror writers.
LA MUERTE reveals itself like the nastiness deep down each one of us — imagine a club where all the cheap music, fun and pick-up attempts got replaced by man hunt, warnings of mankind extinction, each head being a potential trophy to the glory of Death.
While you are roaming in post-apocalyptical lands, you come across a camp lit up by a blazing fire, hearing mad screams — those sounds are the visceral soundtrack to the story, it's 'La Muerte'. Remains of the ancient world and uncooperative denizens are burning in this inferno lit by said entranced zombies. It's not the shelter you thought, and you now must yield to their way fo life, overwhelmed and literally consumed by truckloads of hallucinogenic drugs. Like another clone of uncle Al, you give way to LA MUERTE's tribal sounds to your absolute… delight.
Risen from the dead, the Belgian deliver a year-end banger, without causing any feeling of nostalgia or overdose. Let's now hope there will be some touring to kick our butts even stronger.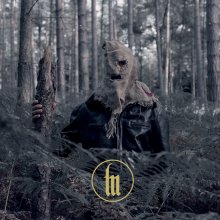 ARTIST: LA MUERTE
ALBUM: "La Muerte"
RELEASED: 7th December 2018
LABEL: Mottow Soundz
GENRE: Rock / noise
MORE : Label website
CLUTCH

's new album Book of Bad Decisions has good chances to end in 2018's album picks, yet we are presently assessing its ability to be a stage sure shot. We got a bit of answer this weekend in Paris, while the band took the stage in a sold-out and amped up Élysée Montmartre. (PHOTOS: Sylvain Golvet)
I arrive a bit late and missed most of BALLS OUT's set. Just like their name suggests, they don't fall under the soft bands category, with the bassist/singer's hoarse vocals reminding me of a good old Five Horse Johnson. Until next time!
Unfortunately, The Inspector Cluzo are missing on tonight's bill, which is a bummer as the Landais power duo always deliver. However, another bass-free power duo promises to deliver the goods anyway: THE PICTUREBOOKS. I first saw them at Desertfest Belgium back in 2014, where the German put on a highly driven and memorable show. Four years later, the recipe remains the same: their heartfelt binary blues gets propelled by their minimal gear — two voices, an electro-acoustic guitar and a drumkit with only two hanging toms, a snare drum and no cymbals. That's it. Yet the band delivers sheer and catchy songs, caught between primitive blues and Native chants, with electrifying melodies that quickly make the crowd tap their feet along. Oldies and new tracks blend perfectly, delighting the Élysée Montmartre's compact crowd. Can't wait to see them headlining la Boule Noire in May 2019.
Now off to the main course, with CLUTCH's 4-star rock'n'roll feast. The band keeps playing larger and larger venues in front of a growing audience, and France has become a prerequisite in every European tour they do. One could say it happens to be a belated success for these hard-working gentlemen who have been around for more than 30 years. Proud of their new baby, the US foursome are more than determined to present it on stage, and for good reason: the likes of "In Walks Barbarella", "How to Shake Hands" and "Hot Bottom Feeder" prove to be proper live bangers, just like the fuel-driven likes of "Weird Times" and "Ghoul Wrangler".
Yet despite the showcased energy and good vibes, Neil Fallon seems to be sort of running on fumes and doesn't fill the stage as he usually does. A slight unfitness that fails to hide his comrades' lack of charisma on stage. On top of that, the PA isn't the most adequate for the band, with a lack of medium that reveals a rather restrained and sharp guitar sound that won't satisfy the finest ears. To end all this, if Live Nation's stuck-up promoters intended to ruin the vibe by forbidding crowdsurfing, well, be sure they failed 100%. Life followed its course and kids weren't for most of them ready to be told what to do.

Don't mind me pointing at those dark points: we're having a great time, all the more when the old tunes "Spacegrass" and "Big News (I & II)" echo in the venue, bringing back to mind CLUTCH's funky, jam-inducing influences and freeing the band from the previous songs' restrained feel. Now let's hope the boys will give their all next June on the Hellfest's main stage!
After a rather intense introductory day for my first DESERTFEST BELGIUM ever, we're off to a denser second day with a considering slab of doom bands, while some others got us soaring straight out into the stratosphere. (PHOTOS: Sandrine Correia)
CROWBAR is on when I enter the Trix venue — a band I tend to see quite a few times a year, and which is an all-round favorite and the guarantee of a proper kick in the butt, just like Orange Goblin last night. While the last song echoes on the Desert Stage, I head over the Vulture to see SONIC WOLVES, an Italian band who caught my attention thanks to a stunning, psychedelic and shimmering tour artwork by Diogo Soares. In the end, this heavy, sludgy performance happens to be less thrilling and experimental than expected, mostly because of the messy pummeling over the bassist's quite irritating vocals. See, tour artworks can be misleading, displaying visuals that are sometimes far from the music and band's vibe.
While I skim through the festival's leaflet, something catches my eye. Once upstairs, my appetite for fresh stuff gets instantly satisfied by today's absolute highlight: THE OSCILLATION. I got into garage rock only recently (how benighted of me!), but I can tell this garage psych outfit tinged with krautrock and drone could be described as a cross between New Candys and 10000 Russos, with the world-weary vocals and drill drumming remind me of The Soft Moon. This all contrasts with a sense-awakening and colorful lightshow made of geometric patterns and flash lights. What a soft trance we get into! I feel starry-eyed, like under-influence… Needless to say that the comedown is about to be tough.
ENSLAVED are such an unexpected act for Desertfest, it feels surreal. They're like the Amon Amart of prog black metal. Happily, I find another fresh and lively garage-psych-whatever act — and another great discovery of this festival: SWEDISH DEATH CANDY. The name speaks for itself and the fidgeting musicians are just as cool (and drunk), instantly spreading good vibes throughout the stage. What a party! They are a perfect fit for the Vulture Stage. With their high octane performance and 60s-tinged riffage, the Brits get our asses moving, while also soothing us through some hypnotic melodies…
The next show brings a rough change of mood, with WIEGEDOOD pouring darkness and hatred through blinding and deafening performance. With Church Of Ra members at the helm, you couldn't expect less than a hulking sound and despaired vibe highlighted by static red lights.
The overlapping stage times force me to leave half-set in order not to miss a bit of YOB on the main stage. I've waited for two years to see them on a stage again — and five months to hear the new album live. "Ablaze" opens proceedings and the crowd is in no time blown away by YOB's heaviness. Both stirring and mesmerizing, this first song gets us in the mood… "The Screen" then crashes like a monolith in a lake. It didn't move me on record, but it suddenly makes sense to me. Crushing, bleak, staggering. Then come the classics, such as the spine-shivering "Ball Of Molten Lead". I miss the intimacy of a club, the main stage feels too vast and crowded to fully enjoy the set. Yet I let my mind wander, hypnotized by the reverb-laden riffs. Mike greets the audience with the modesty and class that characterize him, right before kicking off the final song — and one of the biggest music climaxes of all time — "Our Raw Heart".
I look at my watch, knowing that MESSA have started. I'll see Yob in my hometown soon, so I decide to cut through and slowly make my way to the Vulture, while wiping a tear along with an irrepressible smile. As expected, the Italian wizards are on in front of a packed crowd. They've been widely acclaimed lately, and might play main stages sooner than we think. Dripped in a velvet-smooth bass, the performance is lulled by one of the most beautiful voices I've ever heard — not to mention the shy but charming singer's eerie aura. The rest of the band remains withdrawn, or maybe it's just those red lights. In the end, it just took the finest of all rituals to crush our ears in a room filled with incense.
It is now time to reach the skies with a long-wandering outfit, and one of my top bands of the day: YURI GAGARIN. Colored oils on the Canyon Stage's screens are taking a whole new meaning with the Swedes' psychedelic cosmic stoner rock. So obviously, it's all about the big ol' space here. Believe it or not, they have nothing to do with Russia though. Unknown planets and uncharted solar systems are passing front of my eyes, and when I get closer and close my eyes, landscapes filled with fractals start colliding inside my mind, while relentlessly engulfing themselves in wormholes. Endless solos tell stories in an extraterrestrial language that is almost impossible to decipher. I feel light-hearted and let myself go with the flow of their lyrics from another world…
Return to mother Earth is pretty tough, which is why I skip HIGH ON FIRE and take the time to land back again. I don't need brutality. Not now. I then realized the chaos that surrounds me in that empty room, with countless plastic cups filling a beer-drenched ground. Have you people never heard about bins? Human beings will always surprise me, especially when it comes to being so dark and self-destructive.
Speaking of which, DOPETHRONE are next on the Canyon Stage! The Montreal trio put out a mixed performance at Hellfest last June — blame it on a massive hangover, but we won't hold it against them for being up to their reputation — so it feels great to have them on top form tonight! They have their close friend Julie as special guest on this tour, whose blackened vocals can be heard on the last album 'Transcanadian Anger', the heaviest record they ever put out and one of the coolest releases of the year. However, I'm not sure of her actual added value, as the hulking sound and Vince's vocals almost cover hers. Setlist-wise, the band delivers as expected, sprinkling the set with the usual beer-spitting and spaztic grins. Then comes the classics from 'Dark Foil', when Vince suddenly calls out for Mike… Wait? Mike Scheidt? On "Scum Fuck Blues"? I'm about to lose my mind. Yet Mike never shows up, probably lost somewhere in the venue's immensity. Bummer. "Killdozer" wraps up one of the filthiest performances of the weekend, a great way to propel us into Morhpeus' arms, before the final and third day of the festival.
EARTHLESS

once again blown us away with their latest album Black Heaven, a tour de force that shakes up our certitudes by taking their relentless jamming down a notch and emphasizing their songwriting and studio work. We had a few interrogations pending about the band's new approach. In anticipation of their upcoming spring European tour and while spinning their new "Live From The West" outing, we recently caught up with the legendary trio's riffmaster Isaiah Mitchell. (PHOTO: Atiba Jefferson)
After the release of 'Rhythms From a Cosmic Sky' in 2007, Mario Rubalcaba (drums) declared that the songwriting was limited by the twenty-minute length of a LP side. Two records later, your songs clock in at around nine minutes each, for forty minutes total. Were you in a rush when recording the new album?
Isaiah Mitchell (guitar, vocals): We weren't in a rush really, but we were writing more vigorously. It turned out that strongest songs that we had for the studio were mostly songs with vocals. Still after all these years, we're still limited by the 20-minute length of an LP!
Your new album 'Black Heave' is the most straightforward record EARTHLESS has ever put out — as if you allocated less time for atmosphere build-ups and went straight ahead. Also, the record seems to be filled with more riff and melodic ideas. How did the songwriting and recording go?
Isaiah: For 'Black Heaven', a lot of the writing was done individually because I no longer live in San Diego. Mike (Eginton, bass) and Mario (Rubalcaba, drums) would write the bulk of a song, I brought in a few others and we wrote a few together that were written during the rehearsals for the recording of the album. For the first time with Earthless, I made demos at home before I showed the guys the songs, so I was able to experiment with overdubs and try out what worked musically and thus have the "big picture" more fully realized for the guys to hear. This saved a lot of time experimenting in the studio. We recorded to Pro Tools so we had infinite tracks to work with too. That gave us the luxury to try anything that popped in our heads at Rancho de la Luna. Dave (Catching) had input here and there, so that was a welcome element in recording Black Heaven.
"We loved that we've been primarily an instrumental band (…) but we wanted to do something totally different for 'Black Heaven' and throw everyone and ourselves for a loop, so we did!"
Your voice is more predominant on this new album, which reminds me of your other band Golden Void, especially on the laid-back and moody « Sudden End ». Has this side-project given you more confidence when it comes vocals and pushed you to bring them to the front?
Isaiah: Mike and Mario have always known I can sing, so confidence in my ability hasn't been the thing holding us back from adding vocals. We loved that we've been primarily an instrumental band but we've been teasing songs with vocals on our albums for over 10 years now. We wanted to do something totally different for 'Black Heaven' and throw everyone and ourselves for a loop, so we did!
Recording at Rancho de la Luna with Dave Catching must have been quite an experience. I imagine that the place must be pretty inspiring… and jam-inducing.
Isaiah: Yeah, Rancho and Dave are amazing! Such a creative space to work in, and Dave is the nicest guy to be around so it was very relaxing and enjoyable to make a record there. And you're in Joshua Tree, so that's an amazing trifecta of goodness pushing you along.
"Volt Rush" is a fine piece of rock'n'roll that reminds me of The Atomic Bitchwax' relentless riffing. Do you know them and do you enjoy their music?
Isaiah: Thanks, glad you dig it. I love those guys. Great humans. We toured once together and had a great time. Just saw them again on our last European tour and was great catching up, Chris and Bob are one of my favorite rhythm sections. And I love Finn's guitar playing. Bummed he's not playing with them anymore, but Garrett will keep them amazing.
I read an interview where you mentioned some of your favorite vocalists — Townes Van Zandt, Sam Cooke, Phil Linnott. Do you intend to experiment more acoustic or soulful things in the near future?
Isaiah: I'm not sure what will do for our next record. We're all way into the idea of doing weird acoustic things if they feel natural. We don't want to lose our personality as a band. It's fun to do different things but right now I can't see us doing a R&B-type super mellow the whole way through. Maybe it'll be amazing if we do that?! We'll see…
"On 'Black Heaven' it sounds like we're in the studio, whereas our previous records sound more live to me. It was fun to do something different this time."
Your label Nuclear Blast Records is known for being a leader in rock and metal, and we sometimes noticed a slight change in the sound of newly signed bands – I'm thinking of Witchcraft, Graveyard, Blues Pills – or a more market-based approach. Did the label have their say regarding the making of the album? 'Black Heaven' sounds more refined and less raw than before, yet it also certainly doesn't sound any awkward or over-produced.
Isaiah: Monte (Conner, the head of A&R at Nuclear Blast) let us make the record we wanted to make, so they really didn't have any say in what we wanted the album to say. Promotion-wise, I'd say they had a big hand of course, but creatively he let us be ourselves. I don't think we'd be able to work with anyone who tried to steer our ship. I agree it does sound different than our other records. I think it's because we recorded to Pro Tools this time, and we had an infinite amounts of tracks we could add to each song. We usually record to tape and have 8, 16 or 24 tracks to work with so we took advantage of the endless possibilities that Pro Tools provided. I'm very happy with the end result, but I do look forward to working within analog constraints again. On 'Black Heaven' it sounds like we're in the studio whereas our previous records sound more live. But it was fun to do something different this time.
I assume that the sound shift on 'Black Heaven' is less predominant on stage. Do you keep pushing forward the jammy side of your music to bring the crowd's mind elsewhere?
Isaiah: Yeah, our live show hasn't changed in approach. We just throw in a couple of vocal songs in the set, but it's still primarily instrumental and there's lots of room for improv. People need not to worry, if they are indeed worried!
A lot of young people are attending your shows, as well as listening to those bands into the late-60's early-70's vibe. How do you think they connect with a music that was created 50 years ago by baby boomers?
Isaiah: I think that due to the power of it, they connect immensely without a stutter. A good live rock show with the lights and a loud band is captivating. For me it's hard not to get sucked in. If I listen to a record from a band and don't really dig it, then I go see them live and if they absolutely blow me away, I'll end up loving the record. The power of live music is life changing. It's changed my life many times and still does. I think other people feel the same. People are smart. They can smell bullshit a mile away. I'm grateful that we have fresh, genuine, powerful, kick ass rock 'n roll still to this day.
"Guitar sales might be slowing down a little but that doesn't mean people
aren't picking up guitars for the first time."
To end this interview: about a year ago, the Washington Post published an article about the near end of electric guitar, on the sole basis of Fender or Gibson's decreasing sales. They also stated that this generation is lacking guitar heroes. What are your thoughts?
Isaiah: If you're going off of the shitty popular music they shove down our throats then yeah, there's not many guitar players out their to inspire the kids. Hell there's not many guitar players! But if you dig deeper and look across genres you'll find Dave Rawlings, Neil Young, Matt Pike, Brent Hinds, Dave Gilmour, Scott Law, Barry Sless, Neil Casal, Jim Thomas, Mike Campbell… Tons of guitar players out there. Guitar sales might be slowing down a little but that doesn't mean people aren't picking up guitars for the first time. It will never go out of fashion, to look cool in your bedroom playing air guitar or real guitar in front of the mirror. The world will always have that going on. Everything comes and goes in waves. Just look at history. I wouldn't pay attention to articles like that. Just go see a live show and see for yourself.
Find more about Earthless on Facebook and Bandcamp
New album "Black Heaven" and "Live From the West" available on Nuclear Blast Records
Catch them on their European tour this spring:
27 April: Moscow RU – Aglomerat
29 April: Epinal FR – La Souris verte
30 April: Pratteln CH – Konzertfabrik Z7 – Pratteln
1 May: Munich DE – Feierwerk
2 May: Wiesbaden DE – Schlachthof Wiesbaden
3 May: Berlin DE – DesertFest Berlin
4 May: Nijmegen NL – Sonic Whip 2019
5 May: London UK – Desertfest London
7 May: Paris FR – La Maroquinerie*
8 May: Bordeaux FR – La Salle Des Fêtes Bordeaux Grand-Parc
9 May: Bilbao ES – Kafe Antzokia
10 May: Madrid ES – Kristonfest
11 May: Athens GR – AN club 'official'
Germany's most underrated sludgers
EARTH SHIP

recently released their fifth album within a decade. 'Resonant Sun' was released on Pelagic Records – the powerhouse for the most talented (yet at times misunderstood) outfits.

Let me cut off all clichés about those bands from the other side of the Rhine, whose names and albums tend to smell patchouli… If you expected some electro-lounge psych, then you're about to get a proper beat-up. And if you ever lost sight of the band after their Napalm release and assumed they hadn't moved on since then, you're wrong. EARTH SHIP's ingenuous mastermind Jan Oberg is not the one to craft two identical records, and after their aptly-titled 'Exit Eden' in 2011, the band officially owned the 'death'n'roll heavyweight' status previously dropped by Entombed.

EARTH SHIP are nothing like other bands in the scene, as they avoid reenacting the same codified recipe that fans are downing like a crappy fast food sandwich. Every time, the band delivers something fresh — bringing new goldsmith-crafted melodies and rhythms on the table, far from those redundant patterns played again and again by riff pieceworkers.

The 'Hollowed' album on Napalm Records brought up a smoother songwriting and a more varied vocal range, slower rhythms and dreamier grooves. Eleven years later, 'Resonant Sun' takes up the grunge and 90s indie rock vibe again and offers a brilliant collection of songs, delivering a fine blend of all the music the band loves, without it ever sounding like a tribute or retread. 'A Handful Of Flies' drips with an Obsessed-like opening riff, while other influences get sprinkled throughout the record: from Pentagram to Dopethrone, from Alice In Chains to Paradise Lost… with the exquisite Earth Ship touch. It may be blindsiding for those who expected brutal, shriek-laden sludge, but it's a pure delight for rock fiends who enjoy diversity, and whom will have no other choice than pressing play again after its eight tracks.

EARTH SHIP don't fit in any box, they're not your average heavy act. So hop on board, go for this new sonic trip, and enjoy the band's most diverse outing to date!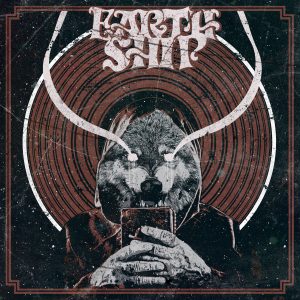 ARTIST: EARTH SHIP
ALBUM: "Resonant Sun"
RELEASED: 5th October 2018
LABEL: Pelagic Records
GENRE: Stoner metal
MORE: Facebook / Bandcamp
Throughout twelve years of career, Jon Davies and

CONAN

rarely let the audience breathe, relentlessly releasing full-lengths, EPs, live and split records. It's been only two years now since delivered their last album, and here they are with "Existential Void Guardian". So does the follow-up to "Revengeance" on Napalm Records bring anything new to the table?
Jaded heavy fans would probably say "nothing". But it would be reductive and unfair, this is why diving deep into the album is the best way to avoid comparisons of any sort. The lineup may be changing on a regular basis, yet Jon Davies — the mastermind and founder of the Liverpool hydra — has grown new heads where the previous had come off, surrounding himself with the finest, battle-hardened musicians to bring his beast's new sonic curse to life.
It's pretty simple: "Existential Void Guardian" is the epitome of Conan's sound. Previous album "Revengeance" was their punkest and fastest record to date, drifting away from the band's habits and getting some fans confused. "Existential Void Guardian" gets back to the roots of a slower and heavier doom, as well as a top-notch production that properly highlights vocals and also makes the drums sound more sharpened.
Lyrics-wise, Jon refers to medieval and warrior imagery like a roundabout way to deal with deeper and more serious topics such as depression and the daily struggle to survive… Obviously, Conan's music can be enjoyed both as an in-your-face treat, as in a more thoughtful state of mind. To be honest, it all ends too quickly — proof that "Existential Void Guardian" is a brilliant record that has definitely reached its goals. With an unfailing dedication and a constant will to evolve, Conan have established their trademark sound and become a cornerstone act of the doom scene that doesn't leave any room for contender, if any. I'm sure we will see them soon on club and festival stages!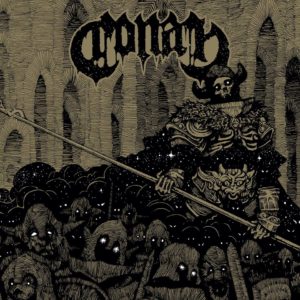 ARTIST: CONAN
ALBUM: "Existential Void Guardian"
RELEASED: 14th September 2018
LABEL: Napalm Records
GENRE: Troglodyte doom
MORE: Facebook / Bandcamp
One thing that you surely won't feel at this year's

DESERTFEST BELGIUM

is boredom! This was a first for me, and not the least, as I'm a huge fan of most of the bands on the bill – with some Belgian post-hardcore stars, heavy US doom, psych rock and even some lute are on the menu! (PHOTOS: Sandrine Correia)
After we struggled to make it to Antwerp's lovely centre the day before, we hardly find our way to the Trix venue, which is located on the city's outskirts and quite poorly served depending on your location. There are three stages under the same roof and shows are starting slightly later today. LUCIFER are the first to grace the Desert Stage in front of a consistent crowd, delivering their vintage, sexy and groovy Sabbath-worshipping tunes. Is the singer's ankh necklace a nod to Iommi? However, the audience remains a bit shy, blame it on early proceedings… or a rather static and bland performance, monotonous vocals despite a few hypnotic hair/fringe-laden jolts. The hard rock unit is far from outstanding, but their studio work definitely are worth a listen.
While we are getting our bearings inside the venue, I realize how small the Vulture Stage is, and the fact it's located on the far right of a bar with with one small door on each side as an entrance. FRAYLE are on but the packed audience prevents me from seeing jack-shit, so I'm heading to the Canyon Stage upstairs where British rock'n'rollers ADMIRAL SIR CLOUDESLEY SHOVELL are putting out one hell of a show. They make me think of a nuttier Kadavar or a wilder, British Vitus. Very nice. Honestly, I'm making the most of this moment to discover the place, watch those oil visuals, while listening to the band from the bar where a foamy, expensive Duvel is served alongside three other kinds of tasteless lager. What a disappointment in the motherland of beer!
I don't stay longer, because — and this is one of the few festival's black points in my opinion — all shows are overlapping. My top priority tonight is not to miss DEAD MEADOW, whom I last saw in 2016 in Bordeaux. Their music has had such an impact on me, it's always reminiscent of the American wilderness, a warm summer coming to an end, the first autumn leaves falling and animals taking shelter underground for the winter… First (instrumental) track "Greensky Greenlake" perfectly depicts that feeling, and it's also my favorite song ever. This instantly brings me shivers and tears of joy. Other tracks off their first album are being sprinkled throughout the show, like "Sleepy Silver Door" or "Beyond the Fields We Know". But I also remember that a smaller venue was more suitable to their intimate brand of rock. However, the crowd is on the same page tonight, getting all carried by their smooth fuzzy sound…
There's such a thin line between love and hate… I'm going back to the Vulture Stage to watch LETHVM, a Belgian crew specialized in ear-crushing proceedings in the vein of Amenra. It seems that they are quite popular here, given the packed crowded and boiling room. I'm making my way to the bar to hear the set, but there's something wrong here: people can't help chatting. And the more they drink, the louder they get. I start feeling just as furious as the band on stage, so I quickly head back to the Canyon to enjoy SASQUATCH's thick and warm stoner tunes, party and stay positive. What a great discovery, and a huge slap in the face! Their fat riffs remind me of 1000mods with a gruffier side à la Red Fang. Loving it.
Time for a break before the very first headliner of the weekend and today's absolute must-see on the Desert Stage: ORANGE fucking GOBLIN, baby! It's getting obvious that these guys are taking Motörhead's helm when it comes to sonic power and blowing roofs off, also Ben Ward is one of the friendliest and most impressive frontmen on this planet. I thought it would be hard to top their crushing performance at Hellfest last June, and that an indoor show would be all cosy and what not. Fail. They're bringing ruckus on the Desert Stage, and I can hardly resist: the pit is calling and I'm happily shoving my drunken peers while the Brits are delivering their anthems. They even treat us to the newer stuff, but this is nothing in comparison to a "Quincy The Pig Boy" and "Red Tide Rising" combo as an encore. Damn, I hate them for doing this to me. My sore neck.
WO FAT's wall of amps will terminate ears and necks of tonight's survivors. Strangely, they are the only band which show can be watched in its entirety. The sound is hefty as hell, tunes are being delivered like hot pancakes, and them trippy and off-beats moments are still driving me crazy! Unfortunately, tiredness starts to get the better of me, but what a perfect way to wrap up the night. We're sparing ourselves for the busiest day of the festival. Anyway, that was one hell of a start, my old bones are telling ya!
DOPETHRONE

nous avait laissé un peu circonspects lors de son dernier passage au Hellfest. Il est vrai que la prestation qui s'annonçait comme un grand moment du week-end avait la mauvaise idée de se dérouler à la mi-journée mais surtout le lendemain de ce concert d'anthologie en pleine rue à Paris pour une Fête de la Musique avec Eyehategod et Bongzilla. Une fête qui avait laissé quelques traces sur la dextérité des musiciens à leur arrivée à Clisson.

Peu importe, on est ce soir en présence d'un groupe rodé qui joue le dernier set de sa tournée. Et ça se traduit par un professionnalisme et une décontraction mêlés, faisant de ce set une parfaite chauffe en ce soir d'octobre dans la capitale (qui est une fête, je le rappelle). Et quelle fête ! Leur best-of de sludge sale et entraînant se fait ce soir avec des invités, et non des moindres, en témoigne ce "Scum Fuck Blues" avec un Mike Scheidt investi. Mais c'est surtout leur amie Julie qui a l'honneur de se joindre au chant pour cette tournée, et d'honorer la quasi totalité des morceaux de sa présence qui ne fait que renforcer le caractère raw punk de leur "slutch" autoproclamé. On aurait aimé un public plus dynamique mais c'est la dure loi du premier groupe, qui se retrouve à devoir chauffer une salle à peine sortie du bureau. Peu importe, les sourires sont là.

Pas pour longtemps peut-être. La musique de WIEGEDOOD a la même caractéristique que celle d'Amenra, l'autre groupe de Levy Seynaeve : elle fait l'impasse sur la concession et sur la nuance. On se prend donc de plein fouet ce mur de son black à deux guitares, trémolos à fond les ballons et batterie qui fuse, entrecoupé sans transition par des phases aussi planantes qu'inquiétantes. L'omniprésente lumière rouge blafarde accentue le caractère infernal de cette boule de rage, hurlée à pleine gorge le temps de quelques morceaux issus de la trilogie de LP du trio. Contrairement à Dopethrone, toute notion de fun est ici abolie, et c'est tout juste si on prend le temps de respirer.

YOB se retrouve donc avec la tâche ardue de ré-illuminer le cœur de la foule massée à Petit Bain, sous peine de suicide collectif. Ça tombe bien, son metal mystique est fait pour ça. Héritant d'une carrière bien fournie et d'une expérience de maintenant 20 ans, Yob a toutes les cartes en main pour développer son style unique. "Ablaze" et "The Screen" montrent d'entrée l'étendue de registre du groupe, tout comme l'album dont sont issus ces morceaux nous le prouvait plus tôt cette année. Le premier titre joue son rôle de locomotive metal dont le rythme ressemble à un roulis incessant, agrémenté de parties chantées et d'harmonies à fleur de peau qui nous emmènent au loin. Le second est une plongée heurtée dans les profondeurs d'un doom metal ralenti se fracassant régulièrement sur son propre rythme. As above, so below. Ce mantra hermétique, c'est le terrain de jeu du trio qui nous attrape en début de morceau pour ne plus nous lâcher.

La suite va nous plonger dans le passé du groupes, avec les excellents "Ball of Molten Lead" et "The Lie that Is Sin", repoussant encore les limites de la profondeur avec Levy de Wiegedood en renfort au chant. Mais la lumière n'est jamais loin et alors qu'on pensait notre trip arrivé au bout, "Our Raw Heart" va nous propulser encore plus haut. Cette balade folk électrisée au psychédélisme nous emmène d'une première partie mélancolique à une deuxième plus lumineuse, se concluant sur un solo stratosphérique et une fin dont la mélodie se déroule par pallier successifs… On est désormais bien loin de nos pieds. Mais Yob ne compte pas nous laisser flotter longtemps et "Breathing From The Shallows" vient nous ramener à terre et nous scotcher au sol. Le concert (rituel ?) terminé, le shaman Mike Scheidt et ses acolytes viennent discuter avec leur public dans un élan de communion aussi simple que touchant. Yob is love indeed.
In 2011, the underground scene got carried away when one of the best 70s Sabbath-infused heavy records saw the light. With "Blood Lust", Kevin Starrs aka
UNCLE ACID

delivered a mind-boggling album chock full of mournful yet explosive riffage, creepy highly-pitched vocals, and a vibe worthy of horror B-flicks.

Once the hype had faded, the darkest four-piece has striven to plunge us into a surreal world filled with daggers, witches, black masses and torture sessions ("Blood Lust"), messianic neurotics ("Mind Control") or bloody hellish maniac murderers ("The Night Creeper").

As if time had no effect on them, those B-movie nerds remain disciples of the occult Sabbathian riff, however the songwriting is now wrapped in a poppier package. When each one of their previous records is better enjoyed as a monolithic whole or concept-record, "Wasteland" is nothing but a collection of underground anthems, while never infringing on that new universe Uncle Acid has crafted for us. Less firepower but more catchiness! Songs like "I See Through You" and "Shockwave City" resound like sinister dirges, Kevin Starrs indulging himself with some pop gimmicks and hoodoos brass.

Once the melodic coating is cracked, you'll embrace "Wasteland" as a powerful and edifying story coming out of its maker's fertile imaginary. It depicts a society withdrawn into itself, barely surviving in urban prisons and open-air sewers. It's enslaved by flickering propaganda screens and lobotomizing news. Constantly stuck with daily disinformation, those tech living dead under surveillance are sacrificing their remaining brainwidth to a wisely orchestrated fear of one another.

This is why this album is so powerful. "Wasteland" is simply a straightforward metaphor of our decaying western societies. Daily news seems filled with those stories the horror masters have crafted. And vice versa. This dystopian tale is the mirror of our world's brutality, making Wasteland's macabre fantasy even more relevant and disturbing. Like Romero did before them with his dear living dead. What goes around comes around.

True to what made them stand out and fiercely vintage, UNCLE ACID & THE DEADBEATS has gotten bolder and more unsettling than ever, but also catchier. Uncle Acid's piping vocals drone the usual sordid lyrics and weaves not-so-fictional stories, bearing a judiciously disturbing message. UA&DB are not about a rehash of retro doomsday-laden aesthetics anymore, making "Wasteland" a highly immersive and resonant piece of music. Welcome to the real world.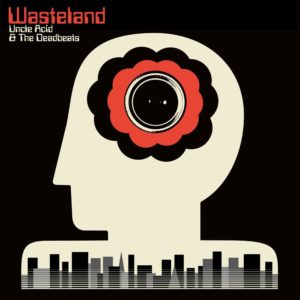 ARTIST: UNCLE ACID & THE DEADBEATS
ALBUM: "Wasteland"
RELEASE DATE: 12th October 2018
LABEL: Rise Above Records
GENRE: Heavy rock occulte
MORE: Facebook / Bandcamp / Website
I tend to say that
YOB

are to Doom what Amenra are to Post-hardcore, as very few bands manage to be as stirring and cathartic as the latter. However, pigeonholing two bands who've crafted such unique realm and discography would be pointless. The Oregon trio don't need no introduction. They've established as masters of the stage, through skull-crushing performances, heart-rending music, metaphysical lyrics and charismatic and skilled frontman. The man has gone through difficult times, and almost made it to the cemetery. So we expected some change, with darker themes hidden under a mysterious title…

This new chapter opens on "Ablaze", in my opinion the strongest track on this record. From the first notes, dark but hopeful sounds convey as much sorrow as it leads to acceptance faced with a tragic event – as I'm writing this, souls have left this world and even though I barely or didn't even know them, it's always moving to see how deeply it affect us. This is how time flows and souls go, when they leave this big canvas that is Humanity. Sound-wise, we can't help but notice "cleaner" and lighter instruments. Less thick and oppressive… Mike Scheidt's voice gets highlighted with very few effects. His voice is purer, realer, slightly hoarse, yet he hasn't lost his power when comes his legendary growls.

When those sweet melodies fade away, a cobblestone breaks the silence. "The Screen" was a song I would hardly get into at first, probably due to a monotonous guitar and quiet vocals, but you really immerse yourself into it, it happens to be quite bewitching. With a riff stretched over the span of 9 minutes and melodic build-ups that vanish into darkness… It feels like struggling to get out of a bog. Like fighting to survive a nightmare, only guided by a dark mantra. A Doom meditation laden with dissonant, bone-crushing notes.

Then comes the void, silence. Then comes fury again. "In Riverie" is the awakening from the abyssal depths. This Yob-esque heavy and gloomy wall of riffs (reminding of "The Great Cessation") perfectly merge into "Lungs Reach", keeping us into a dense, harrowing atmosphère. Resurfacing, healing… Some people compare "The Beauty in Falling Leaves" to "Marrow", to me it isn't. Despite it's bittersweet melancholy, this is far from the masterpiece we all know. Yet it makes an absolutely perfect emotional springboard with "Original Face", to reach the album's grand finale and eponymous track "Our Raw Heart".

One could say this album is too "polished", the sound being more accessible, with smoother riffs… but this is impossible, for YOB has that one thing very few bands manage to convey: sincerity, and an unrivaled talent for striking a chord. More contemplative than introspective. More light-driven than heart-rending. You can't be unmoved by "Our Raw Heart", just like the rest of their albums. Everything ends on a synesthesia of exquisite melodies and obscure vibrations. You feel soothed, jittery and fulfilled. Yob is Love.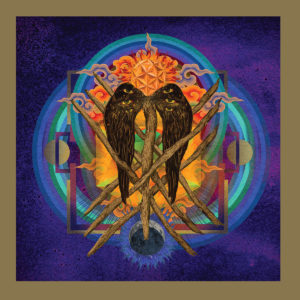 ARTIST: YOB
ALBUM: "Our Raw Heart"
RELEASE DATE: 8th June 2018
LABEL: Relapse Records
GENRE: Doom metal
MORE: Facebook / Bandcamp / Website
L'édition 2018 de ce MOTOCULTOR FESTIVAL était assez particulière, car marquée par son premier sold out depuis sa création, alors que son avenir était encore compromis il y a quelques années… Certains ont expliqué ce soudain succès par une affiche de qualité – car de plus en plus éclectique, et n'hésitant pas à s'affranchir des codes du Metal classique et bourrin au profit d'artistes électro, coldwave et expérimentaux. L'augmentation constante du prix du pass Hellfest est aussi une hypothèse qui m'est apparue : les gens se sont rabattu sur son petit frère, qui fait de plus en plus ses preuves que ce soit niveau programmation, prix et ambiance. (PHOTOS : Gaël Hervé)
Quid des changements constatés ? Des files d'attente mieux gérées et plus de food trucks aux prix moins indécents que sur certaines éditions. Quant au nombre de festivaliers, il semblerait qu'il n'ait pas plus bougé que ça. On y retrouve un melting-pot de ce qui se fait de plus étonnant et divertissant en matière de faune chevelue, aux goûts variés et à l'humour toujours aiguisé. Place maintenant à la musique. Et, non, nous ne parlerons pas de celle proposée chaque soir sur le camping par le MACUMBA OPEN AIR, qui semble avoir muté en véritable festival dans le festival. Il faudrait un report complet pour décrire la magie et la stupidité de cet endroit où le taux de concentration de paillettes dépasse de très loin celui de n'importe quelle boîte de nuit classique.
VENDREDI 17 AOÛT
Ce début de journée commence par une blagounette typique du festival : deux groupes aux noms similaires qui se suivent, à commencer par THE LUMBERJACK FEEDBACK, formation lilloise à deux batteries qui écrase avec un show instrumental superbe, à mi-chemin entre la lumière de Year Of No Light et l'obscurité d'Amenra (ou l'inverse). Un sludge/doom mélodieux et hypnotisant, lourd et parfaitement maîtrisé… on ne pouvait pas rêver mieux en guise de petit déjeuner ! L'enchaînement avec LUMBERJACKS est un peu indigeste du fait d'un changement de style radical. Le chant en particulier me crispe et me semble mal géré. On est sur ce qu'un ami qualifie de « stoner barbecue » un peu classique, plus rock qu'autre chose, et qui manque de sincérité.
Je file voir ENDE sous le soleil de la Supositor Stage. Je m'attendais à du funeral doom pour une raison inconnue, mais il s'agit plus d'un black metal primaire aux sonorités nordiques, dans la lignée des premiers Mayhem en plus bourrin et brouillon, ce qui me laisse un peu de marbre. S'en suivent NESSERIA : signés chez Throatruiner, on pouvait s'attendre à une bonne découverte. Le premier titre sonne très black metal – je dirais même que ça fricote avec le DSBM — avec des plages atmosphériques prenantes, longues et superbes. Puis le chant arrive, typé hardcore, criard et désespéré. A mi-chemin entre la haine de Cowards et les mélodies des premiers Alcest, le mélange est réussi. C'est perturbant, mais terriblement efficace.
Place au premier groupe « hors-sujet » de la soirée avec la coldwave de RENDEZ-VOUS. Comment décrire ça aux néophytes ? Prenez des riffs simples et répétitifs, un chant désabusé façon Joy Division, une basse froide, des effets électroniques envoûtants et schizophréniques, et mélangez le tout dans une sorte de fête de la tristesse et du rien à foutre. Malgré un public un peu timide au début, la fosse commence à bien danser et se laisser prendre au jeu, surtout à partir de leur titre (devenu hymne national) "The Distance" sur l'EP du même nom. Je suis surpris de constater qu'il y a un vrai batteur, aussi carré et mécanique qu'une boîte à rythme. Assurément un des meilleurs concerts de la journée.
Après ce concert aux antipodes du Metal, retour aux sources avec un groupe tout droit venu de l'Enfer californien. J'avais été un peu déçu par la prestation de DEVILDRIVER ici-même en 2013 (leur « Bonsoir Hellfest ! » n'ayant rien arrangé), mais la bande de Dez Fafara est plus survoltée que jamais et nous envoie un "End of The Line" en pleine tronche pour chauffer une tente qui commence à bien se remplir. Le son s'améliore rapidement, et ce n'est plus qu'une machine à riffs qui nous roule sur la tête, en nous dévoilant beaucoup de nouveaux titres, donc beaucoup de découvertes pour ma part. Une sacrée dose de nostalgie.
Je décide de partir en quête de douceur devant TRISOMIE 21, une autre grande formation de coldwave made in France, reformée depuis peu. Et punaise que j'ai bien fait ! Douceur électro, chant lancinant noyé dans des compositions calmes, suaves, et une tristesse ambiante qui revigore les tympans avant de faire une nouvelle pause au camp pour se préparer à une rasade de brutalité. Direction la douche en écoutant de loin ULTRA VOMIT qui déblatère encore et toujours ses conneries. Cette blague a un peu trop duré à mon sens, et je ne comprends pas l'engouement que les gens peuvent encore avoir pour la formation nantaise après toutes ces années. On ne pourra pas leur retirer le fait qu'ils jouent quand même sacrément bien. Je me surprends même à siffloter des mélodies agaçantes de leur répertoire comme si le gamin de 14 ans en moi n'était pas tout à fait mort.
Et en parlant de musique du passé… MINISTRY est un des groupes que j'adule le plus sur terre. Tombé dedans à 11 ans (avant même d'écouter mes premiers albums de Rammstein), je n'ai jamais pu en sortir. Ce groupe agit comme un vrai stupéfiant : plus on en prend, plus on en veut. J'avais pu assister à leur nouveau show le mois dernier au Rocher de Palmer à Cenon, c'est donc avec le sourire que je retrouve ces énormes poulets gonflables à l'effigie de Trump tagués d'un sigle anti-nazi. Le pachydermique "Twilight Zone" et son harmonica de l'espace ouvrent le bal. Les titres du nouvel album s'enchaînent dans une escalade de violence qui nous mène peu à peu à "Lies Lies Lies" (seul titre de "Rio Grande" ce soir) et le trio final qui me fait devenir instantanément fou : "Just One Fix", "NWO" et l'incroyable "Thieves". Une tuerie dont on ne se lassera jamais. La bande d'Oncle Al nous a encore écrasé la tête et donné des envies de meurtre avec ses innombrables vidéos politiquement incorrectes diffusées en fond. Difficile de calmer mes nerfs après ça.
Heureusement qu'il y a THE YOUNG GODS, un trio suisse de rock électronique que j'ai connu grâce à Dälek – vous savez, ce chanteur de hip hop expérimental et psychédélique qui a donné une des meilleure prestations du Hellfest 2018, et que presque tout le monde a snobé ? Bande d'ignares ! En épluchant la discographie de ce dernier, j'ai donc découvert par hasard un live datant des Eurockéennes 2007, où les deux artistes ont partagé la scène durant un show complètement mystique et incroyable. Ce soir, c'est un rituel d'une même trempe. La suite logique de Ministry, en plus aérien et compact à la fois… Comme si nous étions bloqués dans un univers similaire à celui de Matrix, dévasté par des Machines jouant non-stop leur musique inquiétante sous des lumières blanches aveuglantes. Comme si notre capacité à nous mouvoir et à penser avait été annihilée. Je reste assis et bluffé sans comprendre ce qui m'arrive, profitant de chaque note de basse, de chaque mot récité dans une langue ésotérique par les dieux helvètes… On ne pouvait pas rêver mieux comme fin de soirée. Repos bien mérité.
SAMEDI 18 AOÛT
Nous commençons ce deuxième jour assez tranquillement comparé à la veille, la soirée s'annonçant des plus brutales… Il faut donc ménager ses forces ! J'arrive sur le site pour le début de EREB ALTOR, qu'il me semble avoir déjà vu au feu Ragnard Rock Festival (rends les runes Ragnard !). Du pagan black metal assez classique, mais plutôt sympa et qui me donne déjà des envies d'hypocras, soif que je vais étancher au bar VIP (seul endroit où l'on sert ce breuvage) avant de m'en aller retrouver un groupe parisien bien connu de tous… C'est très étrange de commencer une journée ensoleillée avec une musique aussi introspective que celle de HANGMAN'S CHAIR. Le groupe a gagné en popularité pour la simple raison qu'ils sont très bons, c'est un fait. Pour ceux qui n'arrivent pas à identifier leur musique, je ne saurais vous aider d'avantage… Au départ sludge aux thématiques glauques prenant place dans notre belle capitale, leur son a évolué vers quelque chose de bien plus hypnotisant et suave, à commencer par un chant en or, l'utilisation de reverb et delay assez abusive (je n'avais jamais remarqué avant aujourd'hui mais il y en a même sur la caisse claire de la batterie), tout en gardant une lourdeur des plus plaisantes. Le nouvel album est évidemment mis en avant, et comme je ne l'ai écouté que deux fois depuis sa sortie, je suis un peu perdu, voir anesthésié par ce nouveau répertoire. Mais bon, le public se prend une mandale, et c'est tout ce qui compte !
Remplaçant LES DISCRETS au pied levé, ESBEN & THE WITCH vient nous apporter leur douce et belle musique, bercée par la voix d'une chanteuse bassiste fascinante… Mais je vous avoue que je suis pris d'un coup de barre monstrueux du fait des excès de la veille et ne pourrai pas développer plus le sujet. Je m'en vais écouter ça plus loin jusqu'à l'arrivée d'une perle américaine tout aussi onirique… Beaucoup trop rares sur notre continent, PELICAN réussissent à me réveiller avec leur post-rock/metal instrumental merveilleusement exécuté. Même s'ils ne réinventent pas le genre et se contentent de suivre les traces de groupes tels que Isis ou Russian Circles, ça fait quand même sacrément du bien et c'est un plaisir d'enfin pouvoir les accueillir sur notre territoire !
Après tout ce raffinement, place à la stupidité et la violence (spécialités de ce festival depuis des temps immémoriaux). Subir CANNIBAL CORPSE en concert c'est comme passer sous un véritable marteau de death metal, à la fois mentalement déficient, dansant, et très lourd. Des circle pits se créent un peu partout, et particulièrement en dehors du circle pit principal. Mais le détail le plus délectable est bien évidemment cette façon de chanter clair entre chaque morceau pour attiser la foule avec des « I can't hear you » digne d'une chanteuse d'opéra. Bon j'exagère, mais ça a le don de rendre le concert encore plus sympa. Je vais voir le bordel d'un peu plus près, drapé de mon peignoir de coton d'une douceur exquise, et je me fais aplatir la tête plusieurs fois à la minute par des titres aux noms grossiers, et dont je ne connais au final que « Hammer Smashed Face ». Fin de la stupidité, place au raffinement, mais toujours dans la brutalité et la noirceur.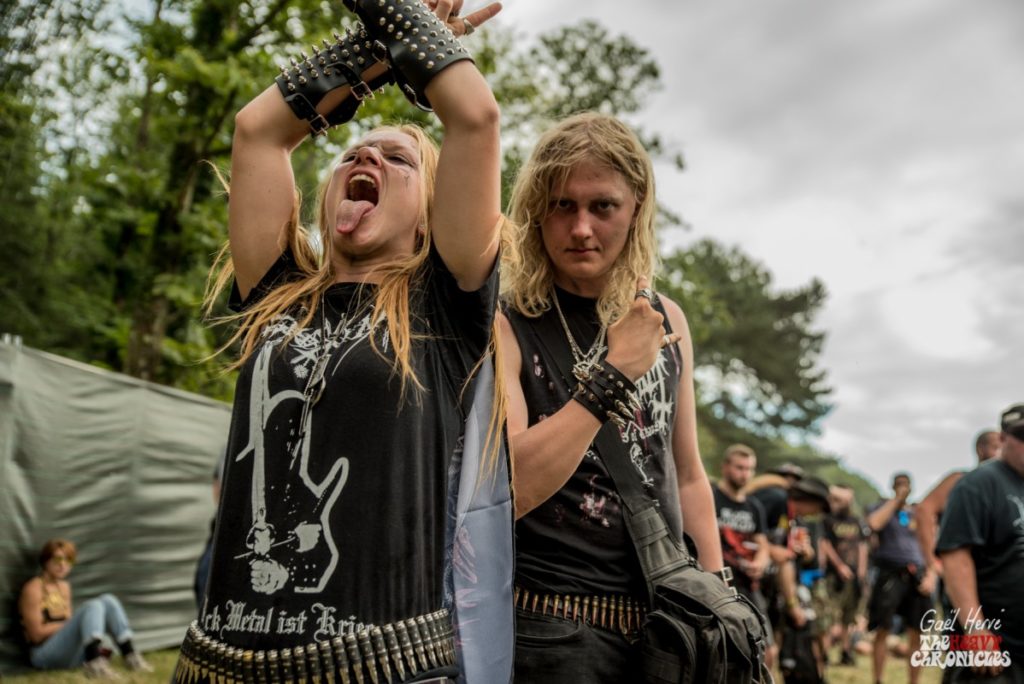 CELESTE porte définitivement bien son nom. L'année 2018 me semble assez particulière, car après quatre ans d'attente avant de les revoir, j'ai été par deux fois surpris ces précédents mois. En salle, il y a désormais trop de lumières, eux qui jouaient autrefois dans le noir le plus total, lampes frontales rouges sur la tête… D'ailleurs j'ai pensé à la mienne pour essayer de faire du morse avec eux. (S'ils me lisent, je tiens à leur dire que je n'ai aucune notion de cette langue et que j'ai sûrement raconté n'importe quoi entre les morceaux.) Bref. Nous avons assisté à un show incroyablement bien géré, tant sur le plan musical que lumineux. Oui, je parle des lumières depuis déjà trois lignes mais c'est important. Ce soir, Celeste est parfois dans le noir, mais aussi noyé sous des marées de stroboscopes, lumières rouges et blanches beaucoup moins aveuglantes que sur leur tournée de mai. Le répertoire est une tuerie comme toujours, et se termine sur la chaotique et brutale « Ces belles de rêve… ». Un show parfait, d'une noirceur mille fois supérieure à celle de ces pitres du SHINING suédois jouant au même moment (et probablement saouls comme à leur habitude). Et ceux qui ont loupé ce moment doivent s'en mordre les doigts. C'est un ordre.
Place à la suite ! Assis, nous distinguons quelques lance flammes depuis la scène où joue BEHEMOTH. Même si « Conquer All » agit sur nous comme une madeleine de Proust, le show reste quand même très moyen et surtout identique à ceux que nous voyons depuis maintenant 6 ans. Toujours les mêmes titres, la même prestance, les mêmes discours. Les polonais ont l'air contents de prendre leur revanche sur 2014, lorsque les bagages de leur tournée étaient restées bloquées en Allemagne, les forçant à jouer sans leurs déguisements sataniques et leurs instruments, prêtés par d'autres groupes à ce moment. Dire que j'ai loupé ça.
Alors que la moitié du festival va voir des clowns maquillés de rouge et bleu, l'autre moitié part voir nos toulousains de punk maquillés de couleurs fluorescentes, qui clôturent la petite scène perdue au milieu de la forêt. Bon sang, j'étais pas préparé à un show d'une telle violence de la part de PUNISH YOURSELF ! Nouvelle disposition scénique, nouveaux membres (dont un percussionniste), des orchidées fluo sur les pieds de micros, une danseuse ensorcelante… Ça commence à toute vitesse, avec une boite à rythme cocaïnomane, tandis que zombies irradiés et monstres disco font la fête dans des gerbes d'étincelles et de lasers sous acide. Quelques nouveaux titres sont présentés, mais le chaos ne prend son sens qu'au moment de « Gimme Cocaine » et un « Suck My TV » qui vient nous achever en beauté. Malgré l'absence de « Gay Boys In Bondage » c'est assurément le meilleur concert de la soirée… derrière celui d'ABBATH !
Non je déconne. On adore Abbath hein, le voir faire le pitre avec son maquillage de panda norvégien, se ramener complètement bourré sur scène pour cracher du feu et commencer à jouer… heu… du… Qu'est-ce que c'est que ce son ? On a mis presque trois titres à reconnaître qu'il s'agissait des morceaux de l'époque de I tant c'est médiocre… C'est donc avec le cœur lourd que nous allons nous coucher, en nous remémorant le spectacle cyber punk fabuleux que nous avons vu juste avant.
DIMANCHE 19 AOÛT
Troisième et dernier jour de Motocultor. Le temps d'émerger pour JINJER, que je vais voir uniquement par curiosité. Verdict : je crois que le groupe est atteint du syndrome « Arch Enemy post-Angela Gossow », à en juger le public venu pour se rincer l'œil plus qu'autre chose. Le son est pas trop mal et la chanteuse a une bonne maîtrise de sa voix… jusqu'à l'arrivée du chant clair, qui me fait fuir instantanément. J'ai besoin d'un verre pour commencer cette journée. Et je ne suis pas le seul : direction CULT OF OCCULT – seul véritable groupe de doom à l'affiche cette année, et dont les membres débarquent au compte goutte sur scène, canettes de clochards dans une main, doigt en l'air de l'autre, capuches sur la tête, l'air médisant sur fond de larsen dégueulasse. Leur piteux breuvage fini et les canettes balancées sur les premiers rangs, arrivent les premiers riffs, très lents, qui grésillent beaucoup. Les amplis crachent des vibrations intellectuellement négatives. D'ailleurs en regardant mes notes, voici le seul mot que j'ai écrit à leur sujet et souligné par trois fois : « DOOM ». C'est vraiment pas mauvais, ça décrasse les tympans, c'est très froid, et les musiciens s'en vont de la même façon qu'ils sont arrivés, en méprisant toujours autant les gens. Voilà.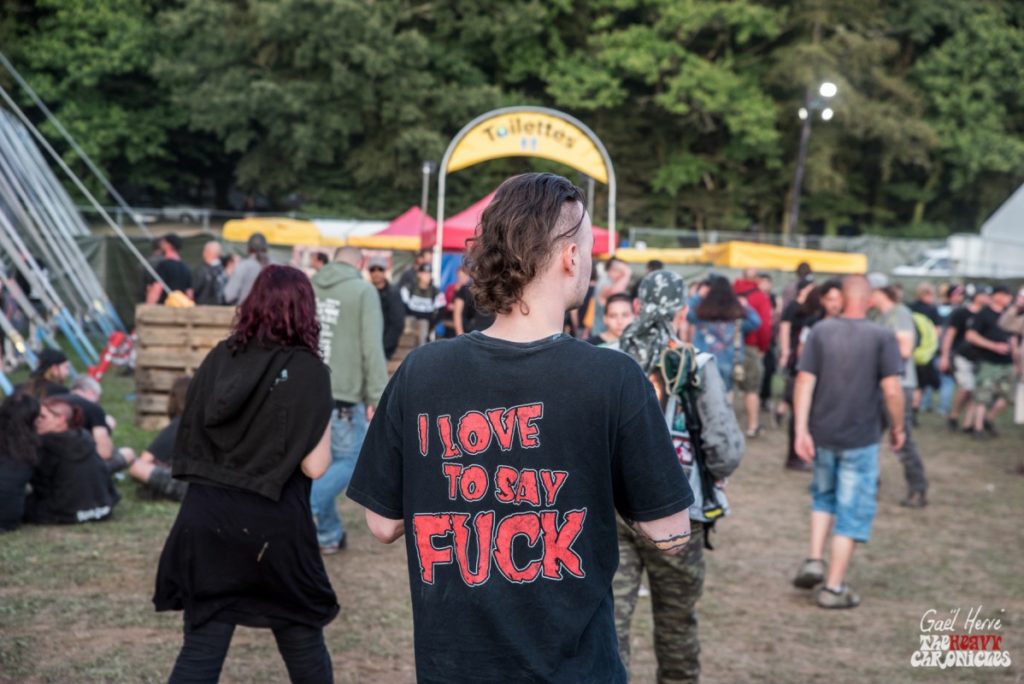 Après ça, je me balade en écoutant de loin le thrash un peu classique mais efficace de WARBRINGER, avant d'aller voir un autre nom étrange qui piquait mon attention, ainsi que sa description de « rockabilly metal » qui ne laissait pas présager que du bon… Une fois devant DEADBONES BUNNY, la seule réaction que j'ai, c'est : « Mais qu'est-ce que c'est que ça ? ». La contrebasse représente bien le rockabilly, mais pour le reste c'est un poil exagéré, en particulier pour la présence d'une sorte d'hybride entre Alice aux Pays des Merveille et le Lapin Blanc (avec une énorme tête squelettique en guise de déguisement) qui se pavane sur la scène d'un air un peu malaisant.
Je pars me poser devant la scène voisine pour un groupe désormais bien connu de tous… Peut-être même trop. Ça me fait un peu mal au cœur d'écrire ça, mais il faut bien faire des constats dans sa vie parfois. Les ukrainiens de STONED JESUS ont longtemps bercé mes voyages vers divers festivals, et "Seven Thunders Roar" est un album superbe que je réécoute parfois. Mais aujourd'hui le groupe m'ennuie, à cause de ses derniers albums plats et ses prestations un peu bateau, sans parler de la hype autour d'eux. Tant mieux si ça marche, le trio reste communicatif, cool, et respire la joie lorsqu'ils arrivent sur scène. Le son aussi est très bon, là n'est pas le problème. Mais dans la fosse les gens sont soit beaucoup trop à fond, soit pas du tout, alors que des nouveaux titres s'enchaînent à la pelle, me laissant dubitatif. Je sais d'avance que le public n'attend que « I'm the Mountain » (syndrome Europe), lequel va être étiré au possible. D'ailleurs, ils pourraient faire un concert d'une heure entière avec ce titre que les gens ne s'en lasseraient pas. Pour le reste, je finis par bailler au bout de 15 minutes. Tant pis, ils repasseront en salle cet automne, et pour les avoir vu deux fois dans ces conditions, je sais que ça vaudra largement plus le coup.
Je me cale sur la fin de POPA CHUBBY, que tout le monde m'a vanté comme étant un génie de la guitare, qui fait des reprises mieux que les originaux. Désolé mais non. Je veux pas passer pour un nazi de Black Sabbath, mais la reprise de « War Pigs » était pathétique, et le reste m'a complètement laissé de marbre. Déjà que j'ai du mal avec les cover bands, si en plus ils ne font pas dans l'originalité…
C'est le retour des NASHVILLE PUSSY en terres motocultiennes ! Et c'est la même fessée qu'en 2016, avec des gros murs de Marshall qui crachent du hard rock de redneck débordant d'énergie. Le chanteur pourrait faire passer sa bouteille de Jack au lieu de s'en foutre partout sur la tronche, ça m'aiderait à rentrer dans le vif du sujet. Heureusement, le groupe suivant nous tire de la torpeur du dimanche. DYING FETUS, c'est pas bien compliqué : ça colle des baffes à la seconde, t'as à peine le temps de comprendre ce qui se passe qu'un autre titre s'ensuit. Tout est exécuté avec une rapidité et une technicité bluffante. Mention spéciale au panneau « Weed for Dying Fetus » qui circulait sur la scène puis dans le public. L'humour est toujours au rendez-vous au Motocultor, vous dis-je. Nous voici fin prêts pour les hostilités de ce dernier soir.
On se pose pour le boss final du séjour qui n'est autre que PERTURBATOR. Certes, encore de la récup' du Hellfest. Certes c'est de l'électro. Certes, j'ai déjà souvent écrit à son sujet. Mais c'est sans hésitation le meilleur artiste de la journée. Lorsqu'on arrive devant la scène, on est subjugués par les nouveautés : une batterie avec un look hors catégorie très agressif, et aussi et surtout une ENORME structure métallique en fond pour accueillir de nouvelles lights. Du coup, on a peur. On se demande ce que l'équipe du jeune James va encore nous réserver. C'est sans surprise un show impressionnant qui nous écrase la tête, laissant beaucoup de place au dernier album « New Model » qui est à mon sens le meilleur de sa discographie, de par son ambiance très glauque, ses sonorités lourdes, parfois douces, mais qui s'affranchissent de plus en plus du courant synthwave (et il est temps !). Un concert qui passe comme une furie dans un festival de lumières psychédéliques, et qui se termine trop vite, laissant un public frustré bien que comblé.
Total, nous voici de retour au camp pour le tout dernier concert du festival, avec la plus belle setlist de tous les temps : le MACUMBA OPEN AIR. De quoi bien finir, dans la joie, la stupidité et la nostalgie, entre deux slams sur Céline Dion et autres wall of death sur Queen. Les dernières épaves de festivaliers se regroupent jusqu'aux aurores pour se bousculer sous une tonnelle trois fois trop petite, dans l'espoir d'être bénies par de sublimes paillettes colorées, ou tout simplement pour faire un câlin géant. L'essence même du Motocultor résumée en quelques lignes. A l'année prochaine !
Retrouvez plus de photos du Motocultor 2018 sur la page officielle de Gaël Hervé.
Aucun corpse paint ni chaussures compensées n'est visible devant la salle. Pas même une petite croix renversée autour du coup. Serait-on bien à ce concert de black metal prévu ce soir à la Maroquinerie ? Bien sûr que oui. Car loin des codes habituels du black metal,

DEAFHEAVEN

comme

INTER ARMA

ont tous deux transformés le genre, dans un cocktail shoegaze pour les premiers, doom-post metal pour les seconds. Pourtant on n'aurait pas imaginé une seconde leur faire partager la même scène tant leur énergie parait différente. Mais voilà, quand on a sous la main deux représentants de la vitalité de la scène metal, on ne boude pas notre plaisir. (PHOTOS : Sylvain Golvet)
En provenance de Richmond, Virginie, INTER ARMA n'a qu'une vocation : l'ambiance. Parfois mélancolique, parfois épique, souvent apocalyptique, le quintet (ce soir à six avec un joueur de thérémine, hé oui !) n'hésite pas à commencer son set par une longue progression instrumentale partant du folk acoustique pour exploser dans une rage électrique black metal ("The Long Road Home"). La suite se déclinera en trois autres longs morceaux issus du formidable "Paradise Gallows", soit autant d'atmosphères différentes. Le tout a cet arrière-goût de bayou, southern gothic à fond les ballons, joué avec la maîtrise, la décontraction et la rage qui caractérise les groupes sudistes de NOLA, Eyehategod ou Down en tête.
Le jeu à deux guitaristes, lui, plein de feedback et de dialogues, rappelle Neurosis mais qui aurait pioché aussi bien chez Sleep que dans le grindcore. On n'oubliera pas de sitôt ce "Primordial Wound", un formidable et terrifiant prêche apocalyptique qui joue à merveille le silence, nous fait se sentir nu et vulnérable face au jugement divin. La performance et le charisme du chanteur y est pour beaucoup. Le public semble comme nous figé et groggy.
Le deuxième quintet de ce soir est en charge de réveiller tout ça. Rien de très compliqué pour DEAFHEAVEN. Auteurs d'une musique intense et galvanisante, c'est bien du black metal qu'on entend chez eux mais qui serait joué comme du collège rock, comme si Weezer se mettait au blast beat. Cette mélancolie transformée en moteur positif semble entièrement résumé sur "Honeycomb", joué en premier ce soir : un post-black plutôt lent et sombre qui se transforme dans un solo complètement collège rock 90's, limite sautillant.
C'est simple, DEAFHEAVEN a importé le mal-être adolescent scandinave chez les lycéens américains, dans un pays qui n'est pas en reste de ce côté. La formule, jouée par d'excellents musiciens (quel batteur !), a pris au passage un petit goût d'hipster, mais comment ne pas voir la filiation dans cette rage mélancolique chantée par George Clarke avec des poses étranges qui trahissent une gestuelle à la limite du mal de vivre et de l'autisme, en tout cas d'une certaine marginalité. En dépit du succès, le groupe semble toujours heureux de tout donner dans une petite salle, sans retenue ni signe de grosse tête. Et malgré les problèmes techniques (la guitare de Shiv Mehra déclare forfait à quasiment mi-parcours, à tel point que ce dernier finit en slam sur le dernier morceau), le groupe emmène son public vers des sommet de joie visible aux nombreux sourires qui continuent dans la fosse, prolongeant longtemps le rêve de l'iconique "Dream House".
Future President Matt Pike hasn't kicked off campaigning yet, but he's already standing on all fronts. New Sleep album was released just six months ago – accompanied by a few live shows with his various bands – and here is again with
HIGH ON FIRE

's new fully-loaded full-length "Electric Messiah". And no one is gonna complain.

Especially when the trio is back on such olympic form. Matt Pike himself heaps praise on what he regards as their best work to date. When pushing 'play' leads to high expectations. However, there is no upheaval here, with Kurt Ballou's heavy-as-hell production and Des Kensel's whirlwind of bass drum and floor tom. On Pike's end, thick riffs keep being delivered one after another. One needs to know that the man is a versatile guitarist, way different from what he does in Sleep – like another musician playing on a different rig and wider ranges, as proven by his trademark stampede solos. Above all, High On Fire is Pike's brainchild, and he is well and truly in command here.

With his deep gravelly vocals, Pike proves once again that he's not only Lemmy's disciple, but a fully-fledged artist with his own craft and obsessions. The title-track certainly is a great, respectful tribute to the late Motörhead, however the rest of the record keeps plunging us into a fantasy and mythology-laden world, as if the Bible and Lovecraft unexpectedly merged. Expect "a rock opera about the Sumerian civilization and its origins" ("Steps of the Ziggurat/House of Enl") or stories about witches and men-dog ("The Witch and the Christ"). Some crazy theories about conspiration that Pike probably barely believes, which provide a fabulous breeding-ground for the sci-fi and fantasy fiend he is.

This new album shines through its multiple genres, pretty much unlike the previous record. Frantic cavalcades are legion, yet the tempo gets spared through a few breathers, as if they intended to probe mankind's abyssal depths (the 10+ minute "Sanctioned Annihilation"). The mood even gets bluesy and moody on closing track "Drowning Dog" – a song Mastodon wouldn't disown, and which drumming finally give some space to a quite dense record.

Anyway, the Church of the Holy Heavy-Punishing-Sludge isn't short of apostles – just listen to Mantar or Black Tusk. With this new album, Matt Pike gives all newcomers a reminder that he is the electric messiah, and he'll still be there for a long time to deliver the Riff god's message.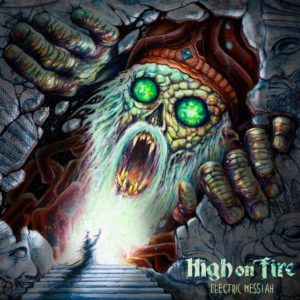 ARTIST: HIGH ON FIRE
ALBUM: "Electric Messiah"
RELEASED: 5th October 2018
LABEL: Entertainment One Music
GENRE: Heavy thrash metal
MORE: Facebook / Bandcamp
The recent reissue of HANGMAN'S CHAIR's latest album through Spinefarm Records was a good excuse to get back to this fifth full-length from the Paris foursome.
I've been so used to radical shifts from a record to the other – going from brutal, straightforward songs to more sluggish and ethereal sounds – that I was a bit disappointed when I first listened to "Banlieue Triste". Maybe the release set to late winter wasn't suitable for me, all the more so as you don't really listen to HANGMAN'S CHAIR in your car or at a party.
They succeed their gothic depressive peers and revive long-lost cold wave vibes. HANGMAN'S CHAIR deliver the very essence of their music through this disc, filled with a bitter cold and hopeless feel. The sad view and lyrics are irrevocable, we live in darkness. "Banlieue Triste" lays words and sounds onto buried emotions, allowing our subservient minds to get free and contemplate Hope – a better world where we wouldn't be canon fodder, but human bombs ready to explode to overthrow the ancient order and get a hold of our future, to live and be fulfilled at last. Through a cathartic process, Hangman's Chair guide us towards a new virgin world. But before, fight will be had and blood will be shed.
With "Banlieue Triste", the Paris foursome establish themselves as a cornerstone band of the decade and prove with talent that you can be dark and renowned at the same time. Finely matured, this new album is undoubtedly their most accomplished to date… to go down in history.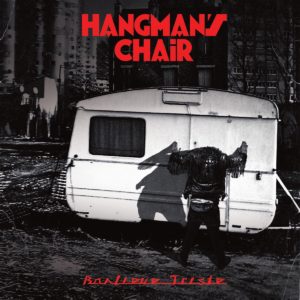 ARTIST: HANGMAN'S CHAIR
ALBUM: "Banlieue Triste"
RELEASED: 9th March 2018
LABEL: MusicFearSatan / Spinefarm Records
GENRE: Melodic doom
MORE: Facebook / Bandcamp
The Heavy Chronicles is on tour tonight and rather far from home it must be said. San Diego, California is of course a hotbed of psyche, boogie and rock of the highest order and tonight's
RADIO MOSCOW

show is simply not an opportunity we can afford to pass up – let's just say we were in the area!

The Casbah club is a classic, mid-sized, sweaty divebar not far from both Downtown and the luxury yacht-filled marina, and it's musty stench of both D10 and spilt beer mixes perfectly with the poster paste that's slowly peeling itself away from the walls as we arrive to catch a little of PETYR. The four piece seem fairly nonchalant on stage tonight but Nick McDonnell's cruising beats bring forth a Sabbath laden vibe that's also reminiscent of both Horizont and Saviours together in the prime. Building chugging rhythms and hazy vocal-led mantras the quartet, led by the delicate stylings of guitarist Riley Hawk (yep, son of Tony!!), saunter and then romp towards a conclusion that has heads firmly nodding in approval. A solid framework to build an evening off as we mosey on back to grab a second pint of Stone IPA. Other hipster crafts are available.

The double-organ-wielding (that's what she said!) FEATHERSTONE are here to insert a little boogie into proceedings for each and every one of us and their 70s retro vibrations have grins across faces around the room from the off. Led by the large bouncing mane of their bassist, the fivesome romp through fields of Spiritual Beggars-esque power action rock with nods back in the direction of Focus and Can as the room begins to loosen and hips begin to sway to their cosmic ramblings. Catching everyone up in their Crosstown Traffic, with Radio Moscow's Paul Marrone on keys tonight, Featherstone prove that despite a crowd that's visibly thinned out, the synthesized groove is alive and kicking as much rump as John Lord once did.

The truth however is that tonight almost solely belongs to RADIO MOSCOW. Treated like the hometown heroes they are as soon as they hit the stage before a note has been played, the felt-waistcoated Parker Griggs leads the charge as the all-powerful power trio kick off on a rock rampage of epic proportions on 'New Beginning'. Paul Marrone's drumsticks fly about the kit as Anthony Meier's all conquering bass grooves us away into the night. The room is packed as the Californians rush us through their authentically Hendrix via Blue Cheer bombast time after time with a guenuinity and sense of prestige that few acts today can match, with Griggs' fingertips skimming across the frets like a dragonfly on a warm riverbed. A 250+ audience (including those "other" local legends Earthless' drummer Mario Rubalcaba whom we spy at the bar) looks on in awe as riffs are tossed around like newspapers on a breeze and Parker's earnest yet innocent vocal tone graces the room time after time. Closing out with a triumphant 'Dreams', there is little doubt that tonight was Radio Moscow's night, but then I imagine that almost all of them are.

Based on this brief foray into the San Diego rock world, we can safely report that the scene here is as strong and vibrant as those sublime headliners were tonight. You just stay classy now, San Diego.
CLUTCH

's new album Book of Bad Decisions has good chances to end in 2018's album picks, yet we are presently assessing its ability to be a stage sure shot. We got a bit of answer this weekend in Paris, while the band took the stage in a sold-out and amped up Élysée Montmartre. (PHOTOS: Sylvain Golvet)
I arrive a bit late and missed most of BALLS OUT's set. Just like their name suggests, they don't fall under the soft bands category, with the bassist/singer's hoarse vocals reminding me of a good old Five Horse Johnson. Until next time!
Unfortunately, The Inspector Cluzo are missing on tonight's bill, which is a bummer as the Landais power duo always deliver. However, another bass-free power duo promises to deliver the goods anyway: THE PICTUREBOOKS. I first saw them at Desertfest Belgium back in 2014, where the German put on a highly driven and memorable show. Four years later, the recipe remains the same: their heartfelt binary blues gets propelled by their minimal gear — two voices, an electro-acoustic guitar and a drumkit with only two hanging toms, a snare drum and no cymbals. That's it. Yet the band delivers sheer and catchy songs, caught between primitive blues and Native chants, with electrifying melodies that quickly make the crowd tap their feet along. Oldies and new tracks blend perfectly, delighting the Élysée Montmartre's compact crowd. Can't wait to see them headlining la Boule Noire in May 2019.
Now off to the main course, with CLUTCH's 4-star rock'n'roll feast. The band keeps playing larger and larger venues in front of a growing audience, and France has become a prerequisite in every European tour they do. One could say it happens to be a belated success for these hard-working gentlemen who have been around for more than 30 years. Proud of their new baby, the US foursome are more than determined to present it on stage, and for good reason: the likes of "In Walks Barbarella", "How to Shake Hands" and "Hot Bottom Feeder" prove to be proper live bangers, just like the fuel-driven likes of "Weird Times" and "Ghoul Wrangler".
Yet despite the showcased energy and good vibes, Neil Fallon seems to be sort of running on fumes and doesn't fill the stage as he usually does. A slight unfitness that fails to hide his comrades' lack of charisma on stage. On top of that, the PA isn't the most adequate for the band, with a lack of medium that reveals a rather restrained and sharp guitar sound that won't satisfy the finest ears. To end all this, if Live Nation's stuck-up promoters intended to ruin the vibe by forbidding crowdsurfing, well, be sure they failed 100%. Life followed its course and kids weren't for most of them ready to be told what to do.

Don't mind me pointing at those dark points: we're having a great time, all the more when the old tunes "Spacegrass" and "Big News (I & II)" echo in the venue, bringing back to mind CLUTCH's funky, jam-inducing influences and freeing the band from the previous songs' restrained feel. Now let's hope the boys will give their all next June on the Hellfest's main stage!
Excitement is growing as

DESERTFEST BELGIUM
takes place in less than two weeks time now. With over 45 bands ranging from doom jazz to heavy psych, from post-hardcore to sludge and noise rock, the Antwerp edition has proven to be one of the fastest-rising event of the scene. Be sure your tastes in Heavy are covered during the second weekend of October each year! So what if we let some of the most significant bands on the lineup pick their favorite act at the festival? Let's roll.
"To choose one band to tell folks not to miss is tough. That said, having just played a number of shows with ACID KING, you definitely want to catch their set. Lori S is ever the righteous luminary she's always been. With Rafa from Black Cobra on bass, and Bil Bowman from Hornss on drums, Acid King is unstoppable. Vibe central. Don't miss them." – Mike Scheidt (Yob)
"YOB are ethereal, majestic, transcendental and heavy as fuck. Plus they're some of the nicest guys on Earth." – Chris Turner (Orange Goblin)
"The one band you should absolutely not miss is ORANGE GOBLIN. Raw, honest, no bullshit, heavy rock that leaves you wanting more." – Matt Brunson (Crowbar)
"CROWBAR. Planets collide. They do when they play live. Definitely one of our big inspirations along the way. An honor to share a stage with them again." – CHVE (Amenra)
"If I could pick one band to not miss at Desertfest at Trix in Antwerp, it would have to be our friends and tourmates, HEADS. from Berlin. Their band is an incredible mix of brutal and oppressive heaviness and dark and moody atmosphere, and if you want to hear the absolute best bass tone of this festival, Heads. is your band. Do not miss them!" – Christian Lembach (Whores)
"The band this year to see is MESSA. It's refreshing to hear a more experimental and even jazz-tinged approach to heavy music at a festival with so many heavyweights. Also, in a scene that sometimes seems really American and northern European-centric, it's nice to see bands from southern Europe making it too!" – Nick DiSalvo (Elder)
"For me, it's got to be ACID KING! Lori S is a freakin' legend. Hugely inspirational to us as a bad ass woman reigning supreme amidst the stoner rock sausage party!" – Harriet Hyde (Black Moth)
"I'll have to go with ELDER. They're definitely one of the best heavy bands out there, the progressive element in their music is really well-integrated, their sound is pretty awesome and all their works to date are top notch!" – John Vagenas (Naxatras)
"HEADS. play that kind of Noise Rock with a powerful rhythm section and heavy bass lines which make you want to liquefy yourself and smash your head on the ground after a couple of songs. That's definitely the kind of band I want to see." – Mathieu (Sofy Major)
"We really recommend you to see SONIC WOLVES. The new guitar player, Jason, is a really close friend and he joined our last US tour to fill in for our main guitarist Alberto. He is an incredible young talent and an amazing human being. Then we are so trilled to know and see live Nick Royale with his wife in LUCIFER because…. Nick Royale is the king of Europe." – Marco (Messa)
"ADMIRAL SIR CLOUDESLEY i) because they are a no-nonsense hard-rocking, good-time band with the best riffs, ii) because they play harder than hell whilst having a jolly good time; and iii) because Louis will be wearing his Jessie Hector inspired trousers!" – Louis Comfort-Wiggett (The Admiral Sir Cloudesley Shovell)
"It's very difficult to pick one band since the lineup is so good, but I would have to say ACID KING. We were fortunate enough to play a few shows with them in Europe last year and we discovered they have the ability to take you to another place, which we look forward to seeing again. Luckily we will get to see them play many times on this tour." – Danny (Child)
DESERTFEST BELGIUM 2018 is
October 12-15th at Trix (Antwerpen)
Check out the website and Facebook page for more info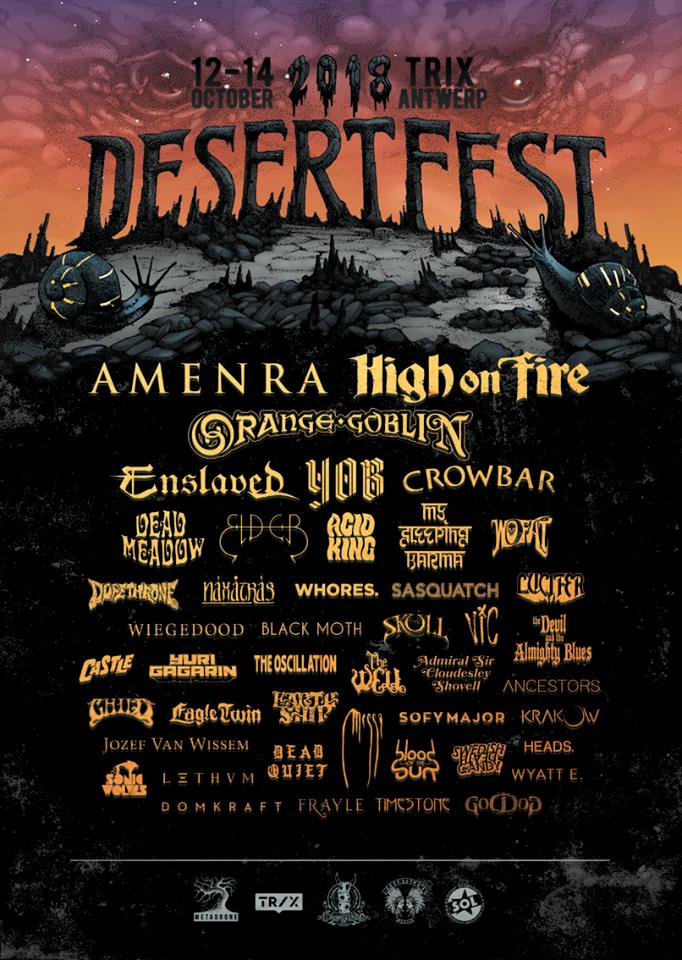 Beginnings are always so fragile… We are in the year 10 018. The universe we know is ruled by Emperor Padishah Sabbath IV. In this day and age, the most valued ressource in the universe is Spice, or Blend. Spice increases longevity, it enhances mind spectrum. Spice is essential to space travel. It has turnt space guild sailors into mutants, for it gives the power to fold up space and get transported anywhere in the universe without moving…
Among these sailors, Poland's SPACESLUG invite you to join their third odyssey to the infinite – "Eye The Tide" – after they barely returned from prior explorations "Time Travel Dilemma" and "Mountains & Reminiscence", in the year of our Lord 10 017.
This new trek goes across arid lands by the borders of immensity, where screams disappear and land on the ground for no one can hear them. This scheme may not sound joyful, yet you are in good hands with the Polish crew: from fragile beginnings on "Obsolith", SPACESLUG weave intertwined, intoxicating vocals – your celestial cocoon – and astral pads that will lift you up in zero-gravity.
To travel towards these unknown lands, our space slug uses the riff as wave mechanics. Lulled by a cosmic fuzz swell, Shai-Hulud moves slowly, perfecting its itinerary through regular, repetitive patterns. Jan Rutka's bass lines ripple and slide to set a bouncy pace.
The path may feel monotonous and redondant at times, inasmuch as the time seems to be stretching on board. If it weren't for the control of Spice by the Polish sailors. Notion of time is ultimately relative and SPACESLUG distort Space, stretch its sonic frame as if to intensify already storming waves ("Words Like Stones"), like meticulous spatio-temporal ellipses made of an indefinable power and abyssal darkness. They even exploit it, faking breaks (the fake end on "Spaced by One") and huge dizzying falls ("I, The Tide"), or playing with contrasts and tones ("Vialys Part I, Part II") and going from acoustic slackening to dark climaxes with an off-putting ease.
Oh, I forgot to tell you something. One can only find Spice on one planet as we speak: the one that gave rise to Weedpecker, Sunnata… and new virtuoso pretenders SPACESLUG. Through the coda of their trilogy from outer space, they rise to the top among their peers, offering a rather lengthy work that also appears to be brilliant, dense and matured – each song being a passageway to a unique world on the edge of doom, psych and drone. Godspeed.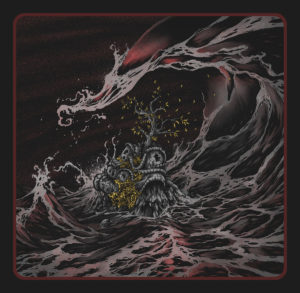 ARTIST: SPACESLUG
ALBUM: "Eye The Tide"
RELEASE DATE: 20th July 2018
LABEL: Oak Island Records
GENRE: Psych doom
MORE: Facebook / Bandcamp
This isn't an album review. There are some people that you wish you had met, and some other you only encountered in your dreams, where the dead are well and truly alive… (Disclaimer: what you are about to read is purely fictional!)
I've been going round in circles in this neighborhood for hours now, looking for the bar where I'm supposed to meet ORANGE GOBLIN's frontman. I was cursing in despair, when some geezer on the corner yelled at me – but I couldn't get a word of what he's jabbering about. I told him to piss off, and guess what, here was the pub! I couldn't wait to sit down and have a chinwag with the founder of a foursome that could easily be described as worthy heir of Motörhead.
– Hey mate, you finally made it! A bit later and I would be pissed.
– Sorry, the area has changed a lot in twenty years and I got lost like a bloody tourist…
– Ahahah, no worries. So, you checked out the new album?
– I would never show up otherwise! Coming here to spout half-baked theories about songwriting, influences and all that shit? That'd be a proper screw-up, if you ask me.
– Ace, I'm happy you're not one of those scribblers coming up with a puff piece.
We started talking about "The Wolf Bites Back" and all these little things that make it sound more accomplished than the previous records, when the old chap who bothered me earlier turnt up and collapsed on our table. Any French guy would have yelled at him, but instead Ben Ward gave him a seat and ordered him a pint. Looked like I'd have to deal with this guy coming out of nowhere anyway. As if my day couldn't get any stranger!
– Ben, can we talk about the album title? It's a bit revenge-sounding, like "watch out, we still around and kicking arses". Which was already the case on "Back From The Abyss", am I right? Is adversity the kind of fuel that makes you move forward?
– I don't know if we're about revenge, but it's been hard to put this one on track (speaking of lines, our hobo is snorting a massive one from the other side of the table). We don't tour as much as we used to and we all got day jobs now, so we get slowed down in our creative process a bit. But hey, I'm not complaining! It just explains the gap between two records.
– So after getting back from the abyss, the Goblin is still just as incisive! Haha!
I was barely paying attention to our old pal, when the latter grabbed a guitar and started playing songs I could even identify… until he started singing.
– Holy shit, this voice… He sounds just like…
– Lemmy, yeah I know. Crazy, huh? He does it all the time. Okay, not that I want to kick you out, but there are other press folks coming…
– No worries, if only I didn't get lost, we'd have more time. Thanks a lot for your time Ben, until next time!
I'm still not sure of what happened after, but I'm pretty sure I heard Ben say "c'mon 'Pa, we should go now, you almost got caught". "For fuck's sake, if I can't even play my own songs in a pub now…"
As worthy heirs of of God himself, ORANGE GOBLIN are back on top form with "The Wolf Bites Back", one of their biggest and most balanced albums to date. 'Pa would be proud of them.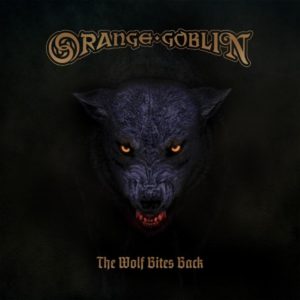 ARTIST: ORANGE GOBLIN
ALBUM: "The Wolf Bites Back"
RELEASE DATE: 15th June 2018
LABEL: Candlelight Records
GENRE: Rock'n'roll
MORE: Facebook / Website
Forget about thrash and bullet belts: we like it filthy and muddy here. German sludge mongers
EARTH SHIP

are back with a killer new video for "Whiplash", which we are chuffed to premiere right now at The Heavy Chronicles.

These past few days, the band has been feeding the Internet with some live/road footage ("A Handful Of Flies" off the new album and their all-time tune "Silver Decay"), just to get our minds ready for their return to the Pelagic Records stable after a brief collaboration with Napalm Records back in 2016.

This "Whiplash" video is taken off their new album "Resonant Sun", coming October 5th in all decent record stores. Expect some high-octane sludge and rumbling grooves, powered by guitarist's Jan Oberg's merciless vocals. Yet EARTH SHIP have remained in the underground for too long, despite an impressive ability to craft absolute anthems of the genre – a bit like bastard offspring of Bison, Mastodon and Red Fang. But this is something we'll discuss in an upcoming review…

Find EARTH SHIP on Facebook, Bandcamp and Pelagic Records.